« Octopus and Diver Printing - part 3 | Front Page | The video is ready! »
Video in preparation - our first 'sequel'!
Posted by Dave Bull on May 3, 2020 [Permalink]
The 'next' blog post on these Conversations was supposed to be one showing some of the printing work on the 'Octopus' project, but that post is getting pushed back just a bit by something else went on here today, something that might be of keen interest to many of our long-time fans. What's unusual about this photo?
It seems like a bit of a strange juxtaposition: this is the room on the 2nd floor of the Mokuhankan building, the place which houses our 'collection' of old prints and books (this is the same room where Print Parties were held in the first few years of the Asakusa shop being open, before those moved down to a new space on the 1st floor). But what's my carving bench doing here? That normally 'lives' downstairs too ...
Well, perhaps a few more snapshots of the room will clear things up. Here we are, with the setup basically finished, ready to record. That white plastic bag on the floor next to the bench is a big clue ...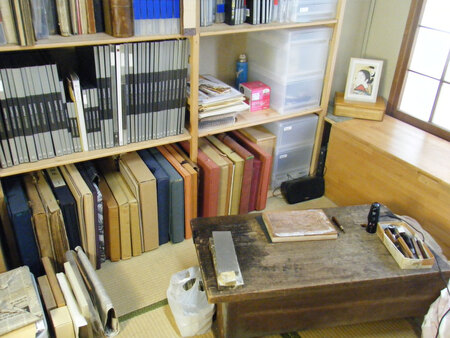 Looking in the opposite direction, we see a duvet on the floor, and my laptop. Can you read what is on the screen?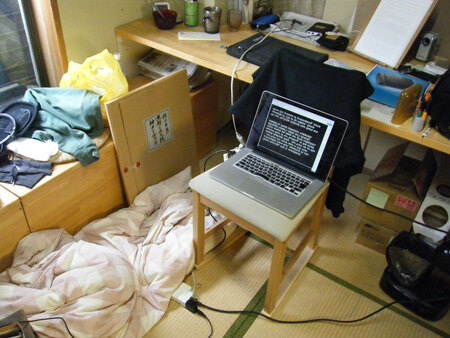 Move the view a bit to the right ... and the setup should be more understandable ...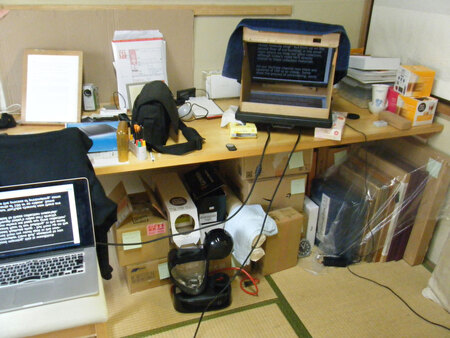 This screenshot from the partially edited project should put all the pieces together!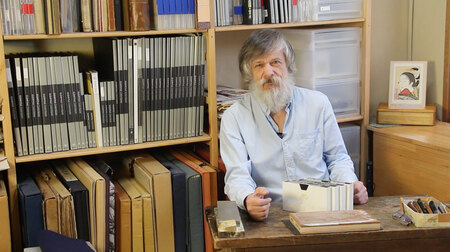 From this viewpoint, you can't see the duvet, which is pulled forward to cover my left foot ...
So when will the finished video be up on YouTube? Well, not tonight, that's for sure. There is a ton more editing still to go, and I also can't ignore the fat deck of wet printing paper that is sitting upstairs calling for attention.
But anyway, this is simply to let the fans know that there is indeed another video coming soon ... just hang on a bit longer please! :-)
Added by: Maarten Daalder on May 3, 2020
So the shop is closed to cut losses? Or just closed due to the pandemic?

Added by: Dave on May 3, 2020
We closed the shop back in March for a number of reasons: to protect our staff, to prevent the spread of the virus, and of course because there were no visitors from overseas coming.
Since then, the local government has requested all shops like ours to close anyway. As I mentioned in this previous post, the shop will clearly remain closed for quite some time, but our publishing activities are going to continue for as long as we are able to keep things running. Although the Japanese Post Office is closed for most international shipping, we have arranged alternate methods of sending our prints overseas.
Will the shop 'return' one day? At this point, nobody can see that far ahead ...

Added by: Maarten Daalder on May 3, 2020
Ah ok. I thought you moved the carving bench because you were going to give up part of lease for the building.

Added by: Dave on May 3, 2020
Aah, I see. Sorry for the confusion; moving it was just for the video, and I did take it back downstairs after the recording this morning. But our lease on this building is in three separate documents, and giving up the 1st floor is one of the possible futures for us ... :-(

Added by: Jacques on May 4, 2020
This new video will be part 2 on the carver Ito Susumu, I think: the videotapes are the tapes you received from the TV program makers amongst others showing you at Ito-san's house ...
Looking forward to see this sequel Dave!

Added by: Dave on May 4, 2020
Looking forward to see ...
You and me both! 28 years, these tapes have been waiting! 28 years!