« Octopus and Diver Printing - part 1 | Front Page | Octopus and Diver Printing - part 2 »
Posted by Cameron Hilker on April 20, 2020 [Permalink]
It has been an eventful month for us, as I'm sure it has been for you. The COVID-19 pandemic is changing the world as we know it, and we hope you are managing to stay in good health as we learn to navigate our new environment.
The biggest change here at Mokuhankan has of course been the closing of our physical shop in Asakusa. But although many of our fans are disappointed that they were unable to join a Print Party this spring, the shop closing has meant that we have been able to concentrate all our energies on making actual … you know … woodblock prints!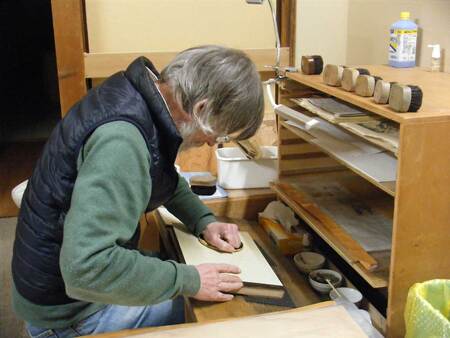 Dave - holding down the fort in Asakusa - is acting as 'Command Central', assigning the jobs, preparing the paper with the proper sizing, and then arranging for all the materials to be sent out to each of the printers working at home. And then a couple of weeks later, the delivery man shows up with a package!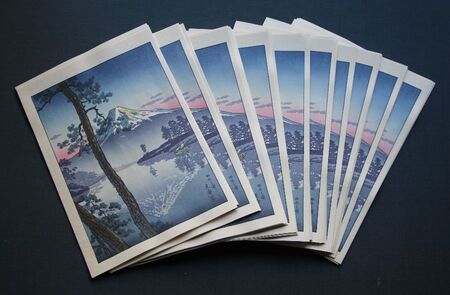 This is the Koitsu design 'Fuji from Tago Bay' freshly re-printed by Top Gun Chiharu Kawai, working from her family home out in Nagano Prefecture. She has done a fabulous job capturing the mist below the mountain … [Order page]
---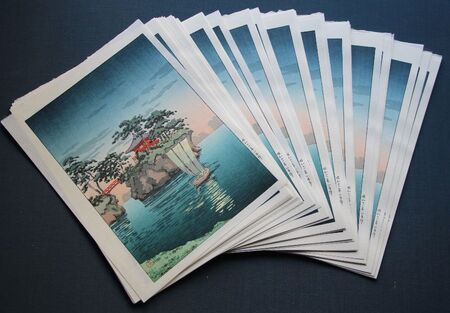 Coincidentally another Koitsu image, this one is 'Matsushima', just completed by Shun Yamamoto, working at home in a northern suburb of Tokyo … [Order page]
Dave has now checked each of these batches and sent them over to the Ome shipping centre, where they will be prepped and packaged, ready for shipping.
---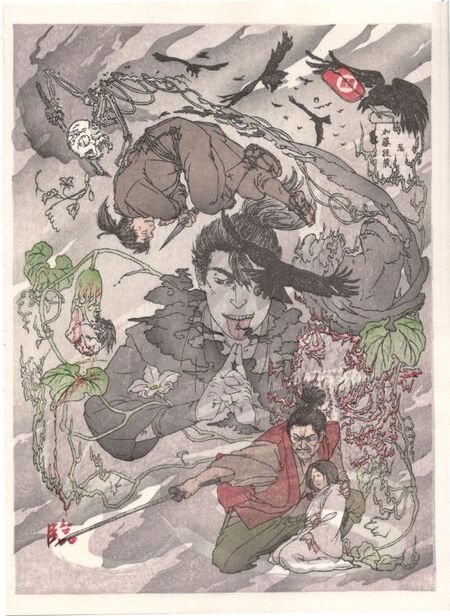 This one is a little bit different - not a Mokuhankan publication. But even though they have never seen this before, many of our fans will instantly be able to guess who designed (and carved, and printed) it … yes, our Print Party staff member Ayumi Shiba, known for her ghost and horror prints! Ayumi-san's initial batch of her latest design - famous ninja warrior Danzo Kato - is now available through our web shop ...
---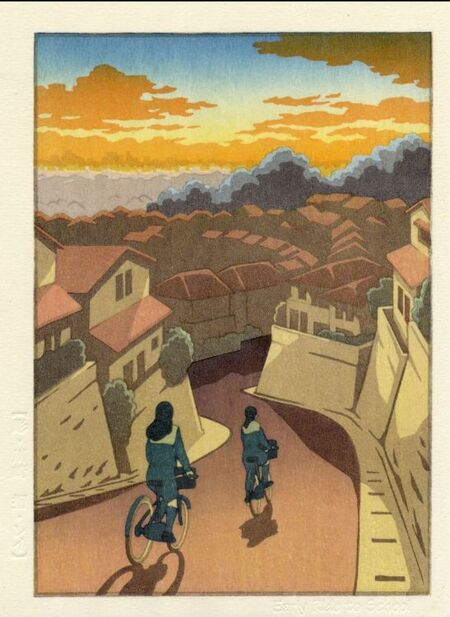 Our 'core' business of producing subscription prints is moving along at a steady pace, even though some of the subscribers are having to wait longer than normal for their prints to arrive because of postal delays around the world. We normally don't show the images until after they have shipped, but this proof copy of Early Morning Ride (the May print), produced by our printer young Rei-chan, is just too beautiful to keep under wraps! [Information page]
---
Is that all the news we have this month? Nope … we have one more!
For our final announcement this time around, we have something that - admittedly - is not for everyone. In fact, knowing this, we won't show an image of our newest print here on this page. But if you have been aware of a project that Dave has been working on in the background for a couple of years now … an image involving an octopus … you might have been waiting for this long-delayed announcement.
Dave himself has now started work on the initial batch of these prints, but for future batches will turn the blocks over to the staff printers. If you know what this project is about, and if it is to your taste, then you will find more information at this link (Note: contains erotic content ...).
That's all for now … Thank you all very much for your interest in our work, and for your support of our activities.
Please do what you can to stay healthy and stable during these difficult times!
Dave
Asakusa, Tokyo