« How are we doing? Part one ... | Front Page | How are we doing? Part three ... »
How are we doing? Part two ...
Posted by Dave Bull on April 30, 2016 [Permalink]
Today's post is more difficult than yesterday's. We've got some problems here at Mokuhankan, and one of them in particular is pretty serious. At the moment that I sit here and write this, I can't see a way clear, and whether or not we will find one is still an open question.
So let's get to it! Let's start with lesser issues ... the ones I know we can deal with.
* * *
Subscriptions
Ever since I sent my first print out into the world - back in 1989 - I have made a living based on a subscription model. Making prints - especially the complex and detailed kind that I love - is a very time-consuming and intensive process, and it is just not possible to spend one day carving, interrupt that for exhibiting, then back to printing, etc etc. So I separated the making from the distribution. For over 20 years, I held an exhibition once a year to collect subscribers for the coming 12-month period. The remaining 11 1/2 months were devoted to intensive printmaking work. Sticking to this system turned out to be a very good idea, and I was able to raise my family, keep food on the table, and even purchase a home, all by woodblock printmaking.
So when I 'opened up' a few years ago, and initiated this Mokuhankan venture, I was determined to make subscriptions an important part of our affairs. We began with a set of 'Chibi Heroes' designs from Jed Henry, as part of the Ukiyoe Heroes prints he and I make in collaboration, and have continued since then with other designs.
Here's a graph (at the same scale as yesterday's graph) of our revenue from the Mokuhankan subscriptions:

The Chibi Heroes did well - as a kind of trial balloon - and then when we began the Portraits set the following year, things just took off. This is what gave us the revenue to get the Asakusa project under way (which we 'topped off' later with the Great Wave Kickstarter campaign.)
But as you can see from the graph, we haven't been able to sustain that level of subscription income. The current Portraits series (the 2nd set) are coming out very nicely, and the set has well over 100 subscribers, but we're not even at 1/2 the level of popularity that the 1st set reached.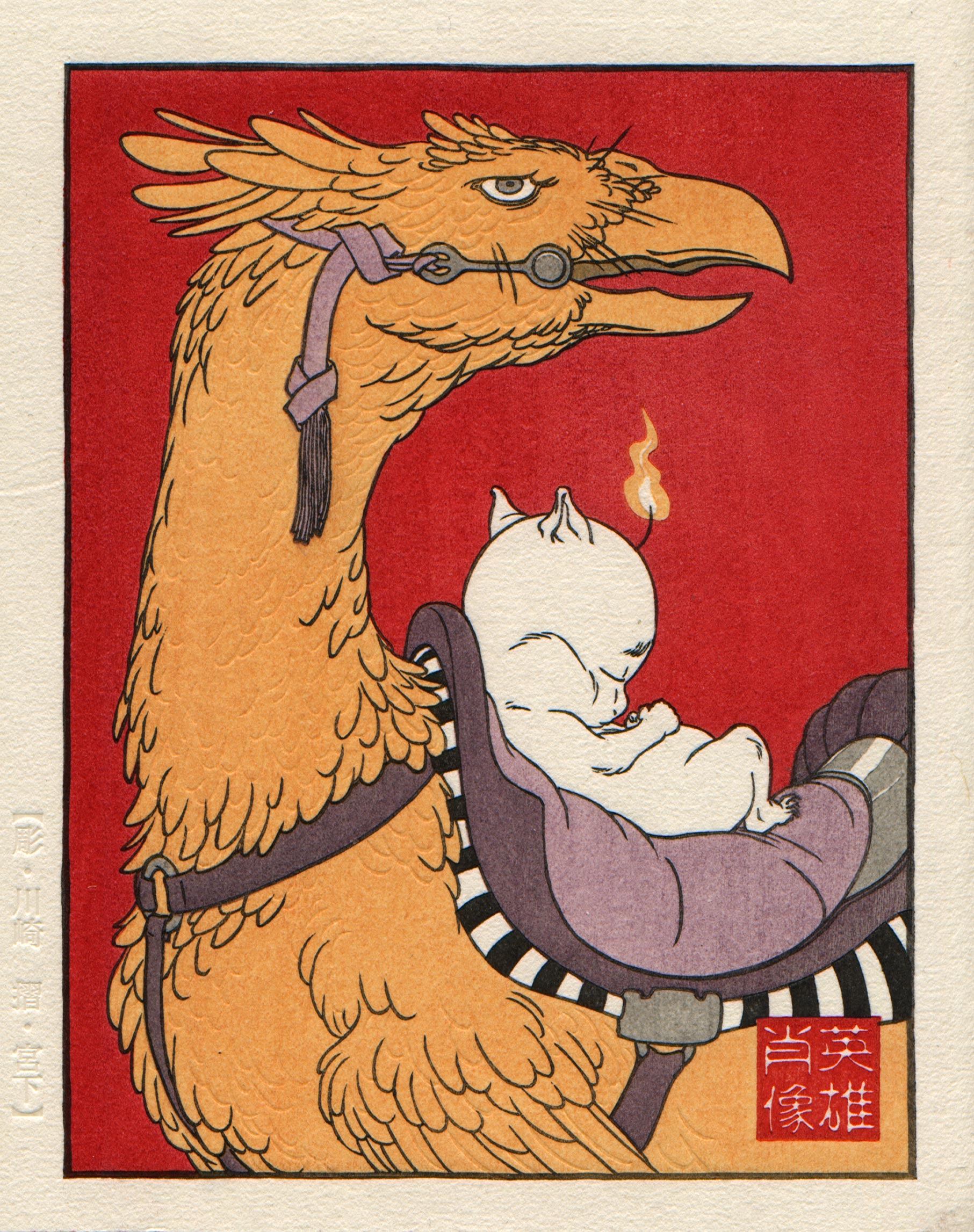 This is quite a big problem for me as the owner of this place, because having a good strong 'base' of subscription income lets me cover the payroll at the end of each month. As you saw from the previous graph yesterday, other income can be wildly variable, and it is very difficult to find cash to pay the staff sometimes. A healthy subscription base makes it possible for me to do that.
With this in mind, we've now begun to add some more arrows to our quiver. Beginning next week, the series of prints that I created a few years ago, but which has been out of print for some time - the Mystique of the Japanese Print - will be available in a brand new Mokuhankan edition, printed using my original blocks by our most senior staff printer Mr. Kenichi Kubota.
We've got the first four prints done and on the shelf, and are now in the final stages of getting the packaging ready. We expect to be ready to begin sending out the first print (and paulownia case) once our two shipping ladies return from the Golden Week holiday period next week.
Kubota-san is going to work using my original version as a reference, and the prints should be visually identical. These new ones will be distinguished from my older version by the new 'Mokuhankan Baren' seal impressed on each one:
There is more information on the web page here, for anybody interested.
I'm quite hopeful that this 'new' series will help us close the gap in our revenues; there have been dozens of people asking me for it in recent years, and I'm very proud of the set. It provides a wonderful survey of the traditional Japanese print over the years, and I'm very happy to have it come back to life like this.
Babies
Eh? What?
As many of our followers of course know, just at the end of last year we took a lease on the 3rd floor of the Asakusa building, and began building a new workroom for our printers up there. Staffer Lee-san worked hard on this through December, and got it ready for action just as everybody was off for the year-end break.
The two main benches near the window were prepared for our two full time 'in-house' young printers - Kanai Chiharu and Ayumi Miyashita - and the other two spaces were available for other staff members to use when and as they had time.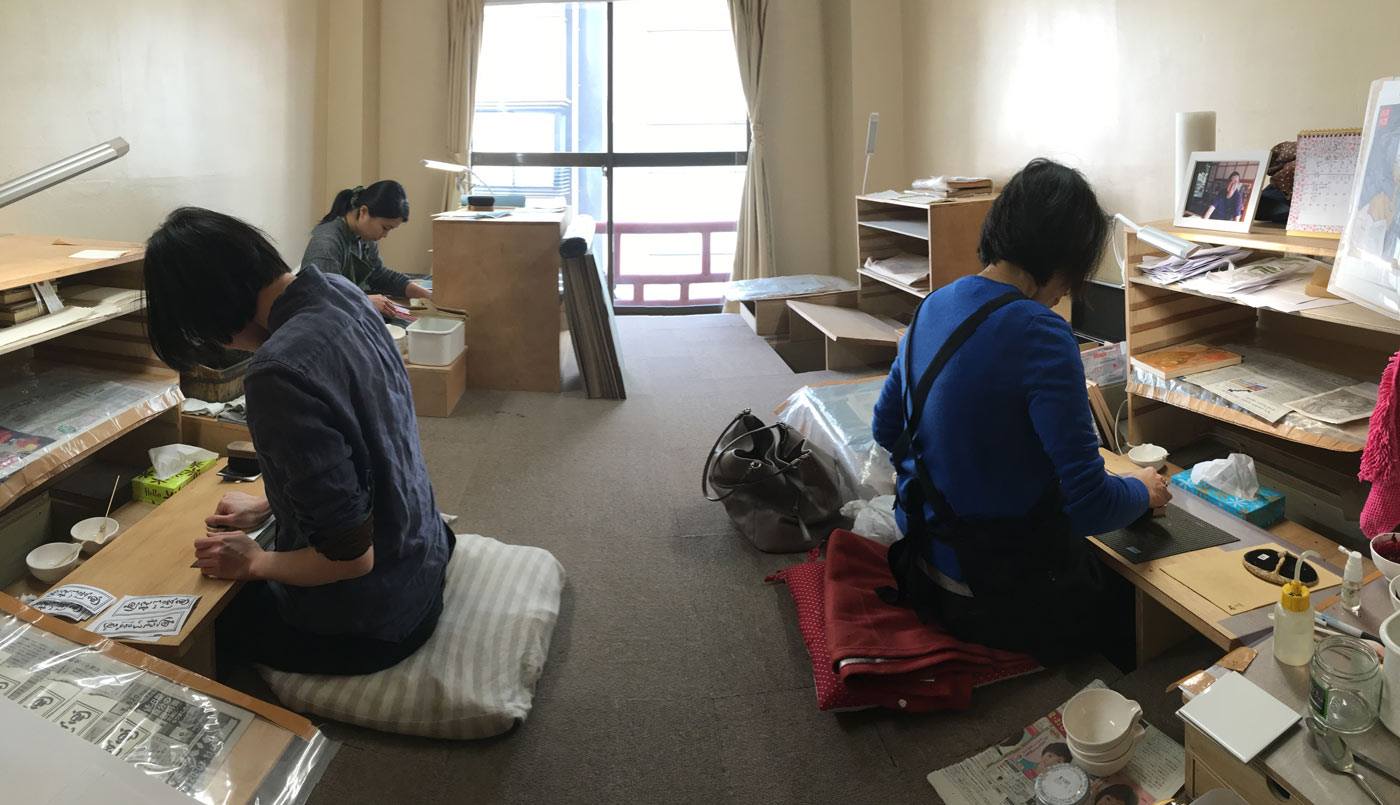 It hasn't turned out that way. Kanai-san came to me on the morning of the first day back after the break with the news that she was expecting a baby. A half hour later she was gone, something I should emphasise right up front was not my idea, but hers. We haven't lost her completely, as she will be doing work from home when she is able, (and we saw her here recently for a one-day 'drop in' to do some proofing work) but as far as intensive daily work on stacks of prints go, it's game over. It has been very frustrating to have this happen just at the same time that we took on the project of reprinting many of the old Doi Hanga Company blocks.
And it gets worse. (Although I have to apologize to Ayumi-san for putting it that way.) Just a couple of weeks after that, Ayumi-san came to me with her news. Not a baby ... at least I don't think that's happening just yet. She's at the first step ... she'll be getting married in June. She says she intends to stay and work for the immediate future; but she can't promise how long. Her new husband is a junior policeman, and is likely to be posted here and there over the coming years ...
So our two main in-house printers - both of them after years of training finally able to do top-level complex work - dropping out of the game is a huge blow for us. I suppose I should have been ready for this; when hiring young women this is the sort of thing that comes with the territory, but I simply didn't expect it to happen this way, and so soon. (Kanai-san is in her late thirties, and Ayumi-san only 22.)
Pop Culture
It gets worse. For the past few years, we have been using the services of three professional printers who work in their own homes: Kenichi Kubota, Shinkichi Numabe, and young Hirokazu Tetsui. Kubota-san is still around, standing by waiting for work (more about this below). Tetsui-san has told me he will be unavailable to us for the foreseeable future, and the reason behind this is particularly painful for me.
Many of you have perhaps seen publicity about various new 'Ukiyoe Pop Culture' work now on the market. Not quite sure where they could have got the idea from, but a number of enterprising publishers have jumped into the field to put out hand-made woodblock prints based on popular culture themes: famous rock bands (Kiss, Iron Maiden), manga/anime (Lupin, Naruto, Doraemon), manga/movie (Ghost in the Shell), and iconic movies (Star Wars). The field has exploded, and carvers and printers all over town are working overtime. Tetsui-san ... is busy.
As for Numabe-san, he is also 'off' our work for a while. This is not because of the pop culture boom. Numabe-san's main work (other than what he has been doing for us) is for two publishers: Shobisha (who own a dozen or so Hasui block sets), and the Yoshida family (reprinting Toshi Yoshida's designs). Both of these sources have now put so much work on his desk, that he is booked through January next year. Why are they suddenly ordering so many prints from him? Because over the past year a certain little shop in Asakusa :-) has sold so many of their prints that inventory of their most popular designs has run out, far sooner than they had expected and prepared for.
Here's a shot of Numabe-san working on the Hasui print 'Shiba Benten Pond' from the Shobisha catalogue (we've sold dozens of these over the past year ...):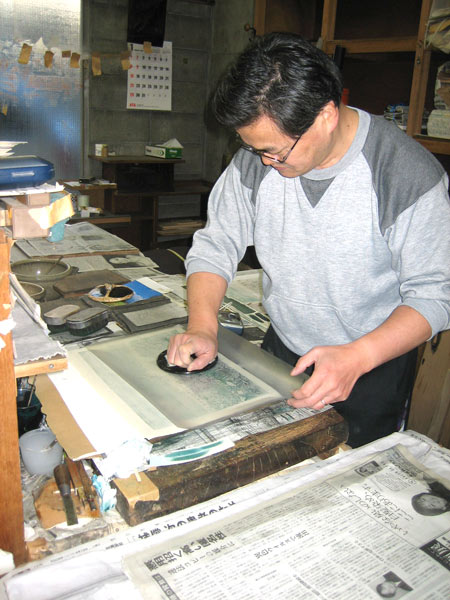 We'll be happy to have all those prints back in stock once they are available, but having Numabe-san unavailable for our own work is a tough blow ...
OK, that's enough for now. I'm not finished with this 'State of the Union' update, and there is yet some much more difficult news to bring you, but let's save that until tomorrow ... Right now, I have to get upstairs for some more dosa (paper sizing) testing ...
Added by: Dave on May 1, 2016, 10:10 am
I'm surprised to hear that the 2nd Portraits series isn't doing nearly as well as the first...
Of course, the "manga book" came in between the first and second series. I'm guessing it wasn't nearly as popular (probably not as many people were familiar with Hokusai and his works, anyway).
I wonder if the people who participated in the first series are even aware there's a second series going on now?
Either way, I'm bracing myself for tomorrow's bad news... gambatte kudasai!

Added by: Stu on May 1, 2016, 10:46 am
Hmmmm... If you are restarting distribution of Mystique of the Japanese Print with new paulownia cases, does this also mean that Arts of Japan will again be available for subscription? (I'd love to do my part to increase your subscription income!)

Added by: Dave on May 1, 2016, 12:02 pm
Stuart, the Arts series is a bit of a different problem ... There are at present just over 80 people in the middle of that one, but it has now been nearly two years since I last sent a print! Asakusa planning began that spring ...
Have I given up? No no ... of course I have no such intention. But when can I get a chance to make the next print? I'm honestly not sure ...

Added by: Slawik on May 1, 2016, 8:33 pm
Hi Dave,
I'm also surprised the 2nd portrait series is not as successful as the first one, especially with Jed asking our ideas for the portraits...
Have you considered the price as a potential obstacle for the subscribers? Don't get me wrong, I'm not saying the prints are overpriced, but I used to pay 20€ for the first series and the price has jumped to 34€ for the second. It might have prevented potential subscribers from joining in...

Added by: Dave on May 1, 2016, 9:15 pm
Slawik,
Actually, the price hasn't changed in a couple of years. When I first opened up the subscription form for the original Portraits series in November of 2013, I set the price at $25 per month. Within a few weeks, I had done some more careful calculations and realised that this was too low to cover our costs, so I quickly reset it to $35. I of course didn't ask the initial group of people who had already signed up to pay the newer price; I let them continue the entire first set at the lower rate. (You were one of these people).
When the second Portraits set began this year, I kept the same price of $35. In your case - paying in Euros - I can't control that; simply we set the base price in $, and then set the Euro (and Pound) prices based on the current exchange rate. Your price increase has mostly come from the lower Euro ... sorry!

Added by: Dave on May 1, 2016, 9:49 pm
I should perhaps add a bit more about the price ... it gets worse (do I use that phrase too much this week? :-)
When I set the price for Portraits #2 in December, the $/Yen was at about 120 yen per dollar - quite good for me. This was one reason why I had no pressure to raise the price; I would get more yen per customer $. (The prices are set in $, but I have to convert that revenue back to yen before I can use it to pay staff, etc. etc.)
Unfortunately, not more than a couple of days after we got going, in early January the rate changed dramatically, has continued to change in a direction bad for us, and at the point of writing this note, I now receive less than 106 yen for each $. From the collectors point of view - paying in $ - the price hasn't changed, but at this end we now receive about 15% less revenue from each print than I had budgeted for.
Will it recover? If I knew the answer to that, I should be in the currency speculation business!

Added by: Preston on May 2, 2016, 12:49 am
Dave,
I am so sorry to hear of the "and it gets worse" news...
I almost dread hearing your continuation of news in tomorrows' update.
Please know that you have MANY fans and supporters, and we a know that your hard work and creativity have brought you this successful point, and the same traits will see you through this next bump.
Our thoughts are with you....

Added by: Guillaume on May 2, 2016, 2:26 am
Very unfortunate that the Portraits II series isn't as popular as the first. Honestly, Jed is knocking the designs out of the park and I'm enjoying this series even more than the first. More proof that marketing often trumps the product. If only we could get a large YouTuber to mention the series again...
Hopefully Ayumi-san will be considerate of the position you are now in and keep producing for you even if living further afield. It's a difficult and delicate situation without a doubt, and I'm dreading to hear what could possibly be next.

Added by: Charles on May 2, 2016, 6:00 am
I'm not sure if they're related, but you were producing quite a few Youtube videos when making the first series of Heros prints. Could those be related? I find that interesting videos of craftsmen, especially ones who can communicate what they're doing clearly and in an interesting manner, are very popular now. I do realize that you're very, very busy and there may not be the time for making these videos, but it may be worth looking into if it attracted buyers. I'm not sure if you do any type of e-mail news letter, but it could be something to look into where you could send an email to someone who bought a print before alerting them that you're releasing a new series. Regardless, just my two cents! Hope you're still enjoying yourself and not getting too stressed out !

Added by: Dave on May 2, 2016, 8:06 am
... a large YouTuber ...
Yes, that was of course a hugely factor in the success of the Portraits 1st set. For those who don't know what we are referring to - YouTube star TotalBiscuit mentioned our series and praised it highly in one of his videos, and we received many subscriptions as a result.
It's not really possible for me to quantify it exactly, but it could be argued that our 2nd series is doing just as well as the 1st, but without that 'one time' boost. Perhaps we're like Apple this year - revenue is down, but only because it was so spectacularly high the year before!
* * *
... you were producing quite a few Youtube videos ...
This is clearly a factor. YouTube is without doubt the most powerful way we have to communicate our enthusiasm to people, and the 1st Portraits series was issued while I was still fulfilling the original Kickstarter campaign, and putting out videos regularly.
It has become very difficult for me to do any video this spring, because of a number of factors: the busy shop situation, taking time off for two trips for NHK (and the Canadian demonstrations), and of course the struggles discussed in Part Three of this update, which have halted the Doi Hanga project (the topic of the recent video series ...)
But no question about it - I have to get back in front of the camera, and the sooner the better!
* * *
Hope you're still enjoying yourself and not getting too stressed out !
Yes, absolutely! And this is a concern to many of the staff here; "Why is David so relaxed and peaceful? He should be ready to throw himself in front of a train ... Doesn't he care about us and the business?"

Added by: Drew on May 7, 2016, 2:50 am
YouTube was how I first came across your work and inspired me to purchase the Great Wave print. And I will be purchasing the Mystique series when I get home from travelling. It's a great medium for establishing a 'relationship' between the maker and the customer, and lets people feel part of the process, in a way, and gives them an appreciation for the intensity and quality of the work. But it has to be keep current. Even a couple of minutes posted on YouTube every week, could yield results. For example, how about posting these updates on YouTube, instead of written pieces on the website? It could even take less of your time, and still allows people to contribute via the comments section.

Added by: Dave on May 7, 2016, 8:28 am
YouTube ... has to be kept current ...
Yes, I know ... The main reason behind the current delay in getting the next video up there has simply been the tsunami of activity that has swept over us over the past couple of months.
After the shop closed last night, I had to get a colour block carved so that Ayumi-san could continue with printing work today (August's Portrait print needed another block), and by the time I got it done, it was after midnight ... The night before, it was another series of sizing tests (during which I learned some interesting things) ... Tonight will have to be a flash trip out to the Ome workshop, because I haven't been there in over three weeks and the staff needs some things done in order to keep their work moving along ... Day after day, there is always so much waiting. I'm sorry to put it this way; I myself dislike the way that some people are so keen to impress on us how 'busy' (and thus important) they are. Am I just doing the same thing? I hope not ... :-)

Added by: drevpile on May 31, 2016, 12:23 am
Just discovered your prints and web-series. Amazing / fascinating stuff. Sorry to hear you are struggling though. Have you looked at a model like Patreon https://www.patreon.com/ or such like. Just a thought?
Anyway, I'm looking forward to ordering something soon. Possibly a Hasui print, or something else like http://mokuhankan.com/catalogue/0045.php or http://mokuhankan.com/catalogue/0280.php I'm not quite decided.
Anyway, hope things work out for you all. Your art and craftsmanship is quite inspiring.

Added by: drevpile on May 31, 2016, 12:27 am
or this: http://woodblock.com/arts/prints/print_08.php ! :)