« Doi Hanga collaboration video - Part 4 | Front Page | How are we doing? Part two ... »
How are we doing? Part one ...
Posted by Dave Bull on April 30, 2016 [Permalink]
Time for a catchup. The past few months have been 'extreme' for us here at Mokuhankan, and I use that word as a noun, not an adjective. We've posted a bit now and then over on our Facebook page, but it's difficult to talk more deeply about any given topic on that platform. Facebook is for the quick update, not for anything approaching 'analysis'. So it's time for me to try and bring our fans/community up-to-date with some very important things happening here.
I have so much to include that I'm going to break the content up into more than one post here on the Conversations blog, and I'll divide it by 'thumb direction' :-) Let's begin with the 'Thumb Up' side ' the positive news. Tomorrow (or when I can), I'll look at the other side. Just which will be longer I can't say just yet ' :~)
* * *
Asakusa Shop
Might be best to start with a little chart: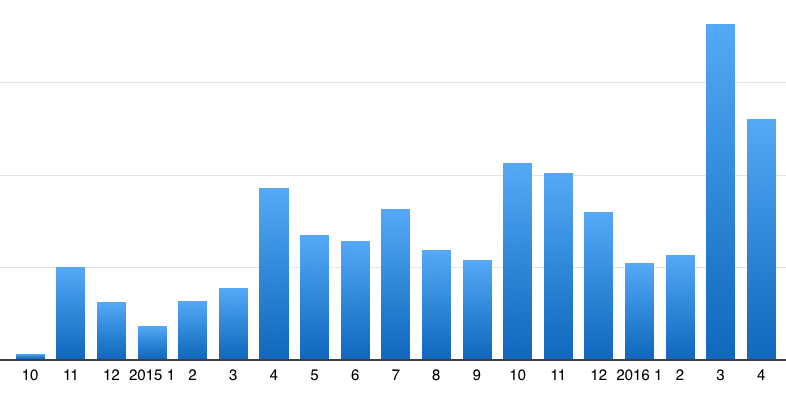 This shows the monthly volume of business in the Asakusa shop since opening day (October 31st 2014). And right there - in the rightmost two columns - you can see why we haven't been posting much recently. We've been run off our feet this spring.
When you look at the pattern over the course of a calendar year, you can see that our shop is going to have a very clear seasonal pattern. Spring and Fall - cherries and maple leaves! - are going to be our peak times.
March 2016 was more than 5x March 2015, so as we moved into April we were terrified of what might be about to hit us. 'Luckily' things settled down a bit and the pattern this year was a bit different - April was only 1.5x the previous year.
What is coming up over the next few months is completely unknown to us, but it's looking pretty good we think. We're getting huge benefit from the Lonely Planet coverage and from our 'perfect' rating on Trip Advisor, and with a general organic growth on top of that, we're going to be steadily busy it seems.
Seen as an independent 'line item' in our overall financial structure, the Asakusa shop is still in the red, as employee costs and construction expenses are still substantial, but with this kind of growth, profitability is just a matter of time.
Guidebooks
I mentioned Lonely Planet, but it's not just overseas guidebooks that have paid attention to our venture. We've been picked up by various local guidebook publishers as well. 'The Tokyo unknown by the Japanese' was one such book, and it features locations well-known to foreigners, but less so to the locals - which perfectly describes us!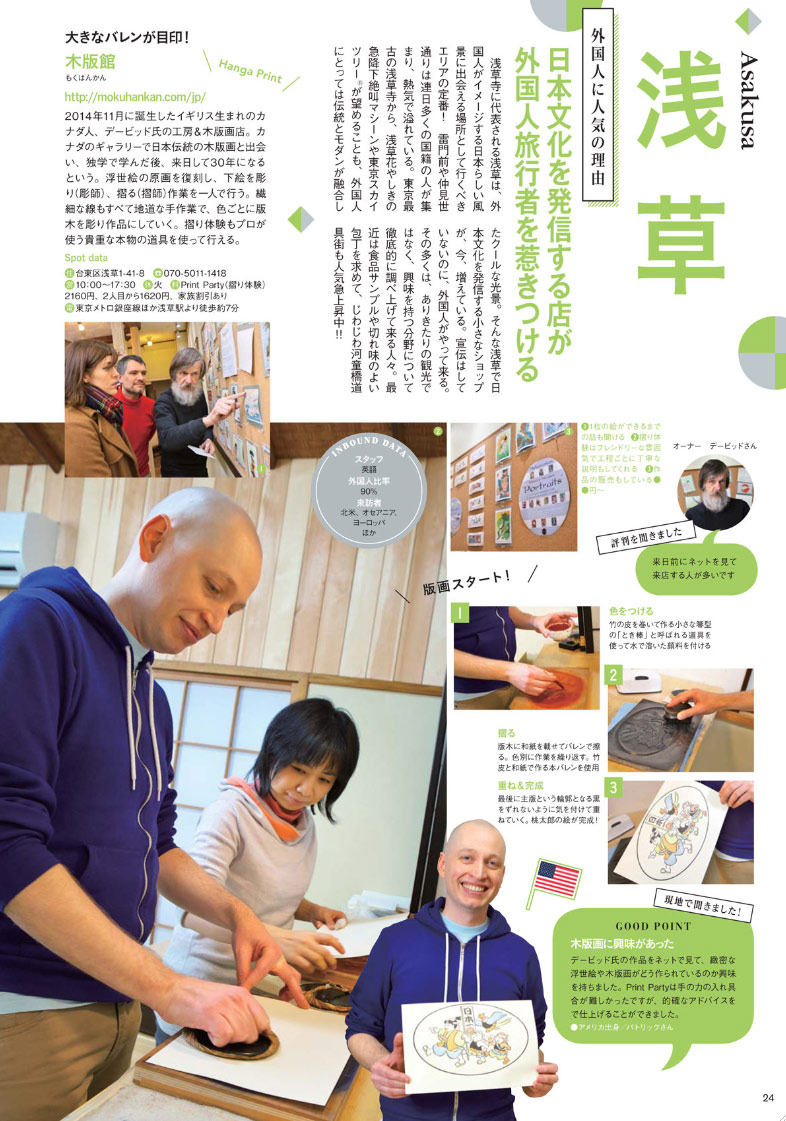 ...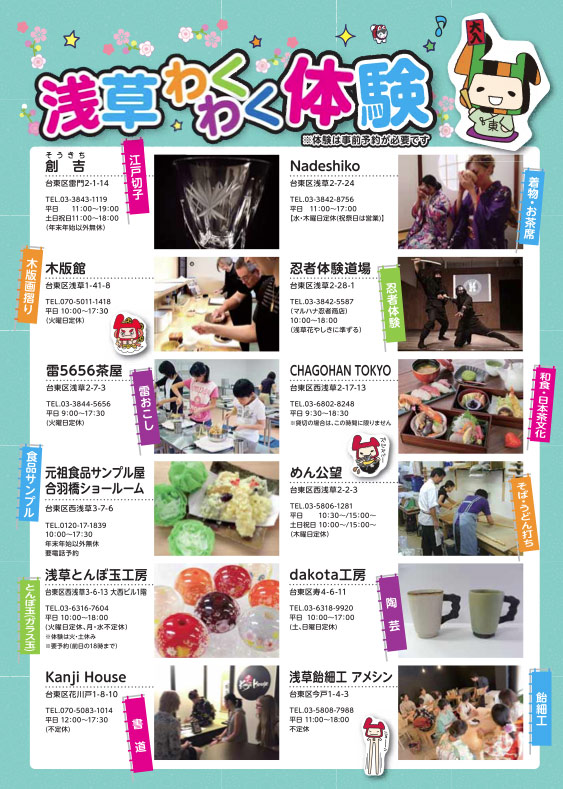 TV Coverage
All through 2015, we had very few domestic customers. The shop is up on the 2nd floor of the building, with a very small entrance, and although this street is extremely busy almost every day of the year, we get very little walk-by traffic in the shop. We've tried various combinations of signs down at the entrance, but those stairs are a huge barrier to potential visitors.
We knew that this would be the case when we started; indeed it's the main reason why the rent is manageable (as compared to the 1st floor). But this is now beginning to change, and the main reason is that over the past months, we've had a very nice run of domestic TV coverage. We had been sending out letters and flyers to a lot of media outlets ever since we opened, and it only takes one or two of these to hit the target to start a steady 'run' of results. Once one TV program covers us, other channels see that and approach us in turn. We had seven programs cover us in 2015, and already this year there have been three or four, with more asking ...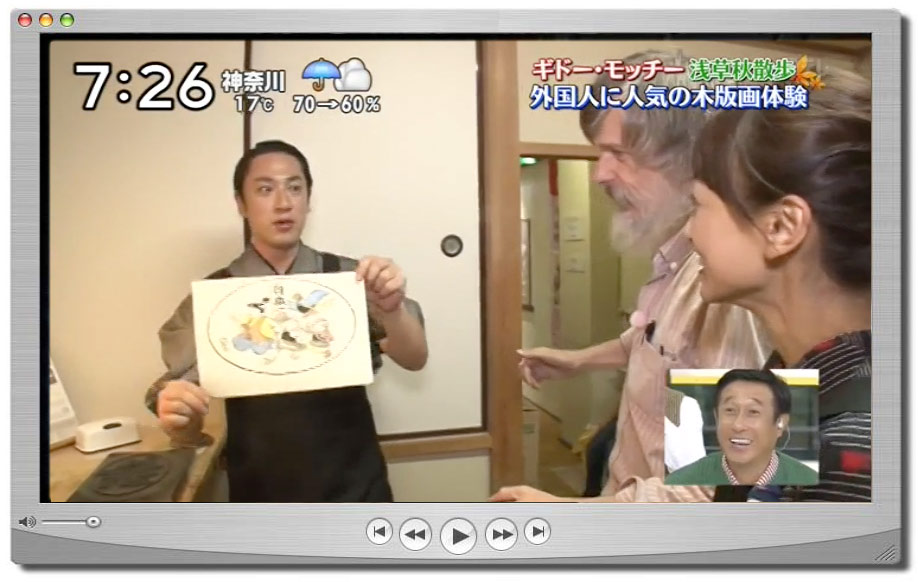 ...
...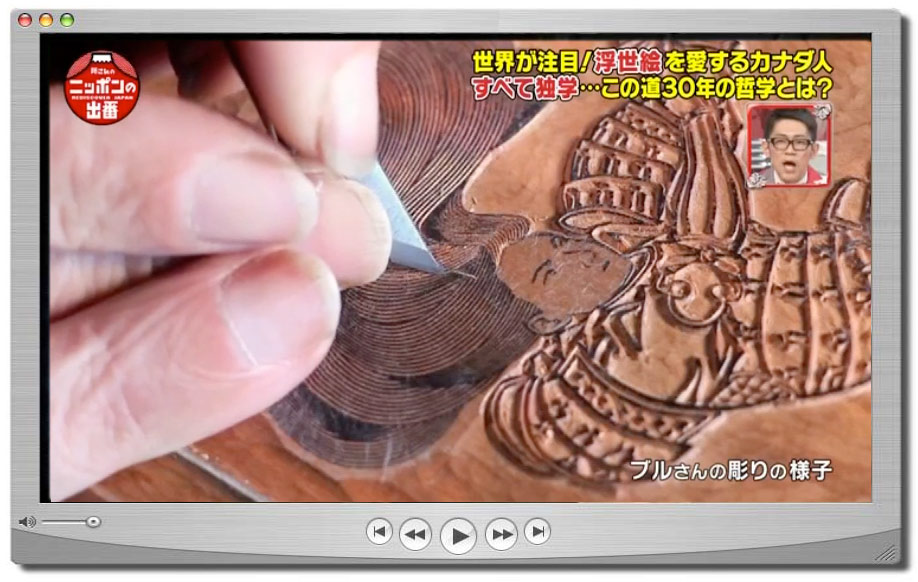 This has made a tremendous difference in our domestic traffic, with far more people now 'venturing' up the staircase than before. There is also another effect, in that when I sometimes go downstairs and stand on the sidewalk outside our front door, just to watch the flow go by, I frequently get recognised by passers-by, many of whom approach me ' 'We saw the program the other day ' gambatte kudasai!' Fun!
So that's an overview of how things are going in Asakusa these days ' But there are a number of other parts to our business: subscriptions and online sales, not to mention the actual printmaking itself. Let's talk about those tomorrow ' :~)
Added by: Sam W. on April 30, 2016, 1:27 pm
Great to hear Dave! It's been great to watch this venture go from the studio by the brook to a store in Asakusa ramping up it's business! Looking forward to more posts in the near future.