« Chibi Heroes - next pair under way! | Front Page | Ukiyoe Heroes - Work begins on Fox Moon »
Ukiyoe Heroes - Print Party!
Posted by Dave Bull on September 29, 2012 [Permalink]
It's been a month now since the end of the Ukiyoe Heroes Kickstarter campaign, and work on getting all the 'rewards' into the hands of the backers is moving ahead steadily. I have already posted about shipping the Rickshaw Cart print to Jed, along with hundreds of the little Chibi prints, but fulfilling all the rewards will involve more than just shipping prints across the Pacific. One of the reward levels of the campaign involves travel the other way!
Meet Grace and Dennis, who flew to Asia this week for a visit to our workshop for a Print Party, which was one of the reward levels available during the Kickstarter Campaign.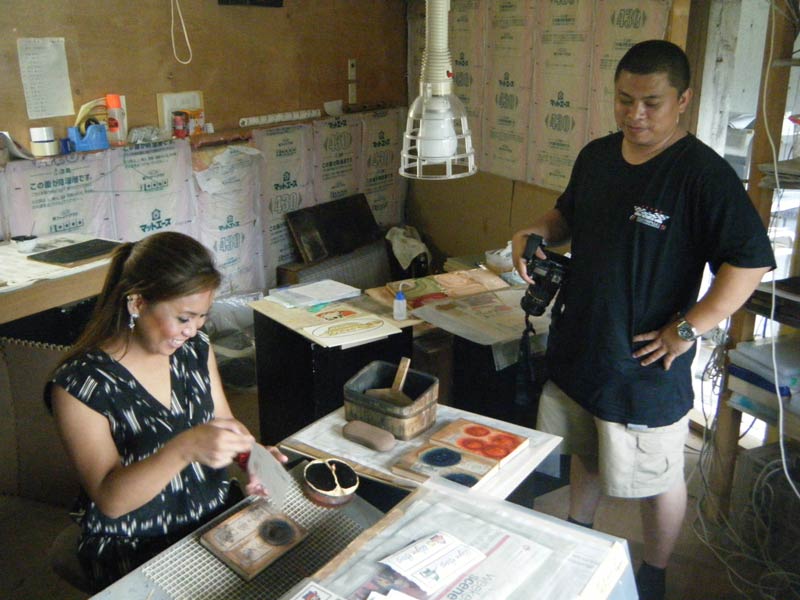 Jed described it like this:
PRINT PARTY! "" Visit David Bull's studio and get a lesson in printmaking! Plus, you receive 1 of our main woodblock prints, and both Chibi Heroes prints. (Transportation to Ome City, Tokyo, not included.) Various dates available.
12 people in all backed that level, and I have been in touch back and forth with them trying to get some of these events organized. This afternoon was the first one we managed to get together. There were no balloons, and no beer, so I don't know if it was actually much of a 'party', but we all spent a pleasant few hours getting to know each other, poking around the print collection a bit, and of course having a go!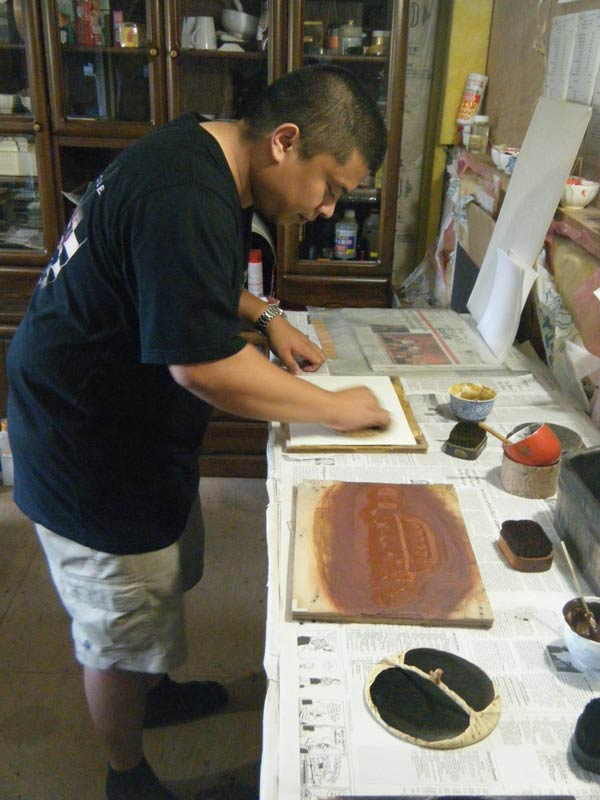 They took a whole batch of pictures, and if their plane back to the US leaves on schedule tomorrow evening (something not guaranteed, as a typhoon is due to pass over Tokyo tomorrow afternoon), they'll perhaps send us a small 'report' on their adventure after they get home ...
With eleven more groups waiting in the wings, there'll be more Party reports coming along over the next few months ...

In other news, I managed to finish up the keyblock for the next Chibi print pair just before they arrived, and will be taking proofs and beginning colour block carving tomorrow.
Added by: Mary on September 30, 2012, 4:05 am
Grace looks like she's having a great time printing!

Added by: julio on October 2, 2012, 1:28 am
Ha, it's good to see those old 'bus' blocks still going strong even after an almost ten year hiatus in Chicago ! Looks like fun for everyone...

Added by: Dave on October 2, 2012, 8:05 am
Yes, the time invested in cutting those has been recouped a zillion times over, and the plywood (!) is holding up just fine! Too bad I don't have permission to use the image though ...