« Aspen Grove (10) - Proofing | Front Page | Hokkei Dragon (5) - Poem carving done ... »
Aspen Grove (11) - Embossing the title
Posted by Dave Bull on November 22, 2006 [Permalink]
Continued from Aspen Grove (10) | Starting point of the thread is here
OK, we've got some results here ... Numabe-san returned the stack of prints to me the late last week, and the other day I got a chance to get them embossed with the title information ...
Here's how I do it - a quick photo taken looking down onto the bench: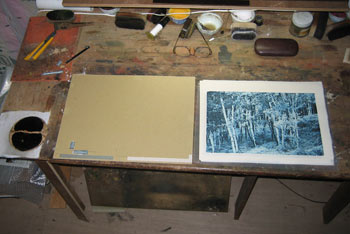 The stack of prints is on the right, and on the left is a base plate of stiff card, with a registration mark and the two metal 'slugs' taped down in the appropriate places: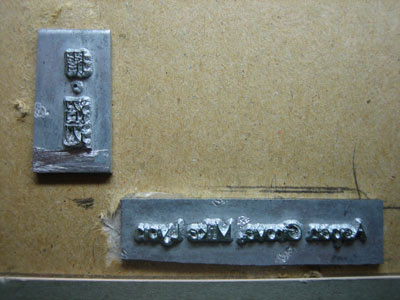 I just pretend that this is a karazuri impression - put each sheet in place, and give it a firm rub with the baren.
Here's a closeup of the right-hand corner of the resulting print: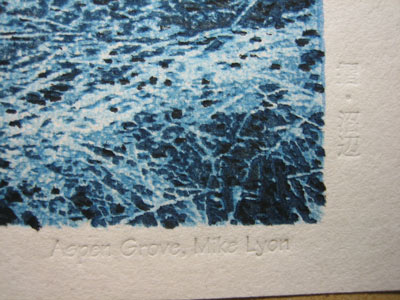 Over on the left I'll emboss the Mokuhankan seal, although I'm still not sure whether I should put it inside the image area, or out in the margin. If it's inside the image, it will just totally disappear, but if out in the margin, it'll be a bit intrusive I think. It worked very well on the Hilo Bay image, with a smooth colour area for it, but this one is more difficult ...
Anyway, when I get a minute I'll try and get a proper photo of this for the web page, but right now, I've got to concentrate on getting these things out the door to the people who ordered in advance ... and who have been waiting very patiently for nearly half a year!
Added by: Tom Kristensen on November 24, 2006, 6:07 am
The print looks fantastic! This is the first time I have seen it in scale, with the baren and glasses, and somehow it is larger than I imagined.
I am keen to try this embossing with slugs. I have plenty in the backyard, but they are kinda squishy. Where do you go to have metallic slugs made to order?

Added by: Dave on November 24, 2006, 8:19 am
it is larger than I imagined.
Yes, I'm going to have to try and get some better photos up on the catalogue page ... it looks so impressive when seen in proper scale!
Where do you go to have metallic slugs made to order?
I order them from a company that prepares zinc printing plates. Here's their website:
http://www.kikuchi.biz-web.jp/base.html
If you click the third menu item from the left, you will see a sample of what they make.
There should be a company in your area making stuff like this - not all printing has switched to offset ... plates like this are used for printing on plastics, for one ...

Added by: Julio Rodriguez on December 21, 2006, 5:49 pm
The print looks great...after following the thread for so many months and all the problems tackled it almost feel like we have delivered a baby ! Congratulations to everyone involved...

Added by: Marcia Sanders on May 12, 2007, 1:49 am
when making kento registrations, what if you like larger margins on your paper but don't want to waste good basswood board? can you use a separate board setup with kentos and just shove each block up to that kento setup? is that a clearly western thing to do? marcia sanders

Added by: Dave on May 12, 2007, 9:31 am
can you use a separate board setup
Yes, of course. This is called soto kento (outside kento) and is common when using paper of large dimensions.
This is what I did when making the registration board for my scroll print.

Added by: Georgeurbat on November 2, 2019, 10:27 pm
Сорокина Екатерина Александровна и шантаж преподавателей
Безграмотная сотрудница кафедры МИИТа «Техносферная безопасность» Сорокина Екатерина Александровна получила образование сомнительным путем. Работая в ВУЗе, Сорокина Екатерина шантажировала преподавателей кафедр, что те будут наказаны руководством (Аксеновым Владимиром Алексеевичем), если просто не поставят в зачетку отметку. Учитывая "теплые" отношения Сорокиной Е.А. с Аксеновым В.А.

Added by: LarryAdoni on November 10, 2019, 5:48 pm
Что уж говорить про студентов кафедры «Техносферная безопасность» МИИТ! Экзамены и зачеты сдаются только через личную кассу к.н. кафедры «ТехБез» МИИТа Сорокиной Екатерины Александровны.
К.н. Сорокина Екатерина Александровна ведет себя беспечно, ввиду того, что пользуется протекторатом зав.кафа - Аксенова В.А.

Added by: Jamesmop on November 15, 2019, 1:17 pm
Екатерина Александровна Сорокина и Климова Диана Викторовна, действующие сотрудницы МИИТа, через барыш и постель обрели знАчимое влияние на сотрудников деканата.
когда им вздумается изымают ведомости и закрывают предметы неуспевающим студентам, а договариваясь со старостами групп - выставляют студентам счет на оплату дисциплин и составление дипломных.
Климова Д.В. берет обязательство закрыть вопрос с плагиатом.
Сорокина Екатерина Александровна и Диана Викторовна Климова наладили отработанный алгоритм действий по решению за денежные средства всего списка учебных проблем студентов

Added by: Vincentwhoni on December 23, 2019, 9:08 am
Профессиональное объединение детективов <<Чекист>>
Реализуем широкий спектр услуг частного детективного агентства для физических и юридических лиц.
У нас в агентстве работают профессионалы самого высокого уровня, приятный ценник, оперативность на высшем уровне.
Сбор любой информации на физических и юридических лиц;
Поиск физического местоположения, распечатки мобильных операторов;
Получение переписок социальных сетей, почт и Whatsapp, Telegram;
Поиск людей;
Уничтожение компромата в сети интернет;
Аутсорсинг службы безопасности для Вашего предприятия;
Конкурентная разведка
Телефон: (985)9157848 Вацап, Телеграм, Вайбер
Предпочитаемый способ связи с ДА Чекист - мессенджеры WhatsApp и Телеграм - для нас важна Ваша безопасность.
Пожалуйста не отвечайте на это сообщение. Используйте указанные контакты агентства