Ukiyoe Heroes 'Portraits'
... taking favorite video game heroes
and putting them back in the ukiyo-e style ...
What are the Ukiyoe Heroes Portraits?
The Portraits - our subscription series for 2014 - was a major 'step up' from our earlier Chibi Heroes series. We made the prints quite a bit larger (13.5 x 17 cm), giving us more 'room' to play with, and have used that space to create fully-featured print designs.
Jed is very good at capturing the essence of the things that he draws, and we are very happy to have brought you a set of twelve designs that show many of your most well-loved game heroes in a new light - as Ukiyoe Heroes!
We have begun taking a new edition from the blocks, and these are available now, with prints shipping at one month intervals.
---
Storage/Display
"How do I store my prints? How can I display them? Do I need to buy frames?" are some of the questions we receive about our subscription print sets, and after much experimentation and research, we have the answer to all those questions in one neat package. Introducing our combination storage/display box!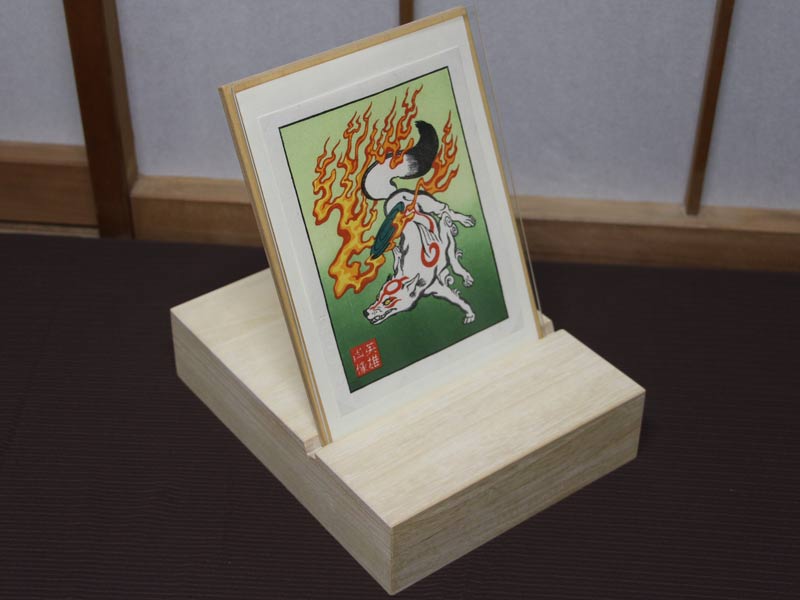 The box is an optional purchase - typically ordered together with the first print in the set. Each box has room for the complete set of 12 prints in this series, and incorporates a display stand with acrylic dustcover. Rotate the prints frequently (and don't place this where direct sunlight will fall on the print surface), and you have the perfect solution for both long-term storage, and daily enjoyment of your collection! Here is the page with photos and complete information.
---
Packaging/Shipping
If you are concerned about how safely the prints might be while being shipped to you, please have a look at how our shipping/packaging works!
---
Under raking light, the wonderful paper texture is clearly visible ... (click for a closeup) ... these are beautiful objects!