« Neighborhood Cleanup | Front Page | New block set for Japan Journey #6 »
Posted by Cameron Hilker on April 3, 2019 [Permalink]
Hi, it's Karen again with another guest post! As it has been recently, today is a busy day with wall-to-wall print parties -- producing some very nice prints by the way -- and lots of visitors to the shop. Work continues behind the scenes, with the printers busy making prints, and carvers carving blocks. Luckily, the blocks keep coming!
Good cherry is hard to come by. One source is old blocks, so Dave keeps an eye out for those that go on sale. He was really happy to get a shipment of unexpectedly large, unexpectedly thick old blocks, and he and Aoyama san were able to re-saw them with a bandsaw, keeping the carved layer intact, and producing new layers of cherry to use. Here's Aoyama san with a batch of recently-unclamped blocks. He's laminated nice thick layers of cherry around a plywood core. The small ones are for the Japan Journey subscription series; the larger ones are for Ukiyo-e Heroes; and the long narrow blocks will be used to print two as-yet-undecided postcard-sized prints side by side: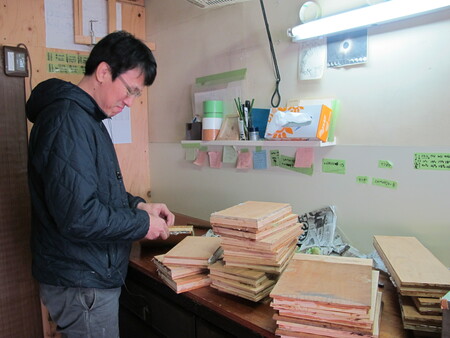 The new blocks need to be trimmed to size. Aoyama san has an interesting setup for doing indoor circular saw cutting: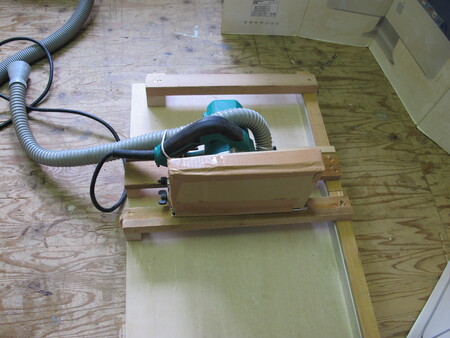 The jig gets a straight cut, the custom blade guard contains the sawdust, and the hose gets connected to a vacuum, so there's hardly any mess.
And here's a cut in action: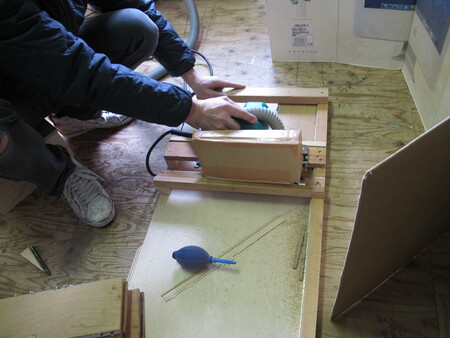 After having the surface planed smooth, these blocks will be ready to carve, keeping the wheels of Mokuhankan rolling!