« Best of Japan! | Front Page | Doi-san's Book »
Posted by Dave Bull on October 6, 2018 [Permalink]
Heads up! Dave will be joined on the live stream on Monday morning (Tokyo time) by a couple of guests from France who are currently here in Japan working on design projects.
Cécile Brun & Olivier Pichard are a young couple who work together as The Atelier Sentô. What kind of work do they do? Here's an image from one of their websites:

This is how they describe what they do: "Our projects are inspired by our travels in Japan. We mainly work with manual techniques: watercolors, printmaking, coloured pencils... Through our work we would like to show an unusual side of Japan, made up of small villages in the mountains, festivals, forgotten spirits."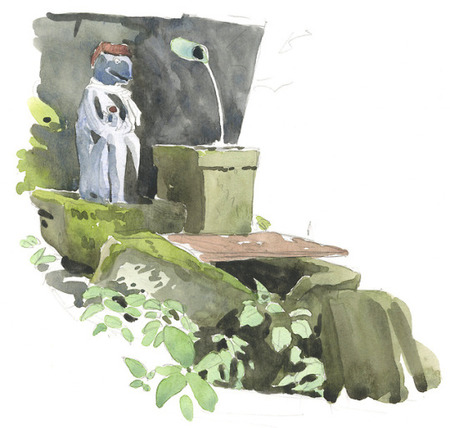 They'll be here at Mokuhankan early in the morning, ready to join the Twitch stream for the day, and I'm looking forward to learning more about their activities.
In the meantime, please browse through their website and blog ... where you can find tons of hugely interesting work!
Added by: neuzd on October 6, 2018, 7:43 am
Hey! I saw these guys' works on etsy a really long time ago, really enjoyed their style.
It's nice that you're connecting (and a confirmation of my amazing taste : P ).