« Construction progress ... | Front Page | Signing in ... »
Construction continues ...
Posted by Dave Bull on September 19, 2014 [Permalink]
Bit by bit we're getting this place together. Ioan has finished the drywalling on all the walls in the shop area, and Lee-san's counter is now 'topped' and waiting for the shelf section. This will be the 'Living with woodblock prints' corner, where people can sit and browse our print sets and desk stands, and get a feel for how the prints will look in their own home ...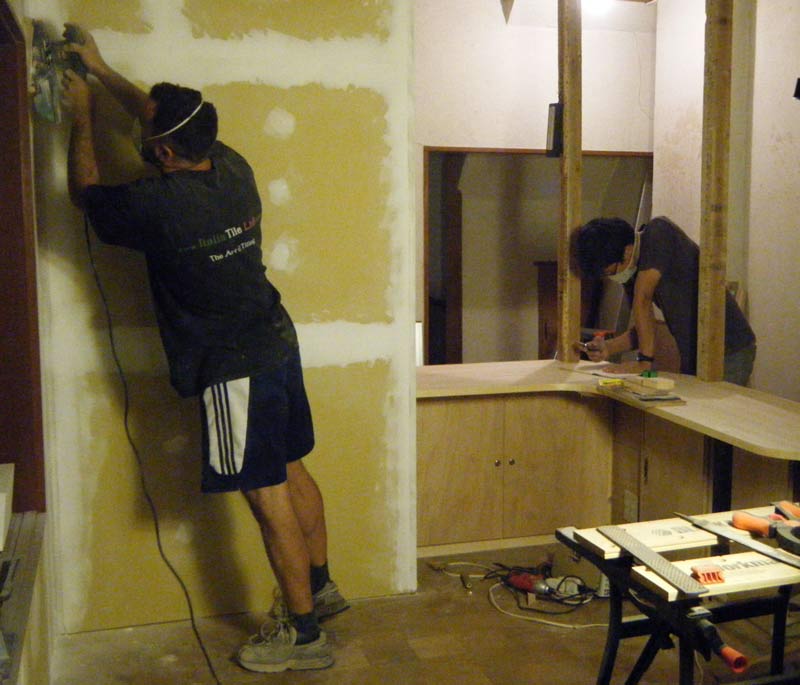 Do you see the darker space to the left of Ioan in this next photo? It's actually a hole in the concrete side of the building where there used to be a window. That must have been many many years ago, because the building next door - which is built right flat against ours - is easily fifty years old. It must have been a sad day ... the people who used this room would have seen the new concrete wall come up and obscure their view ...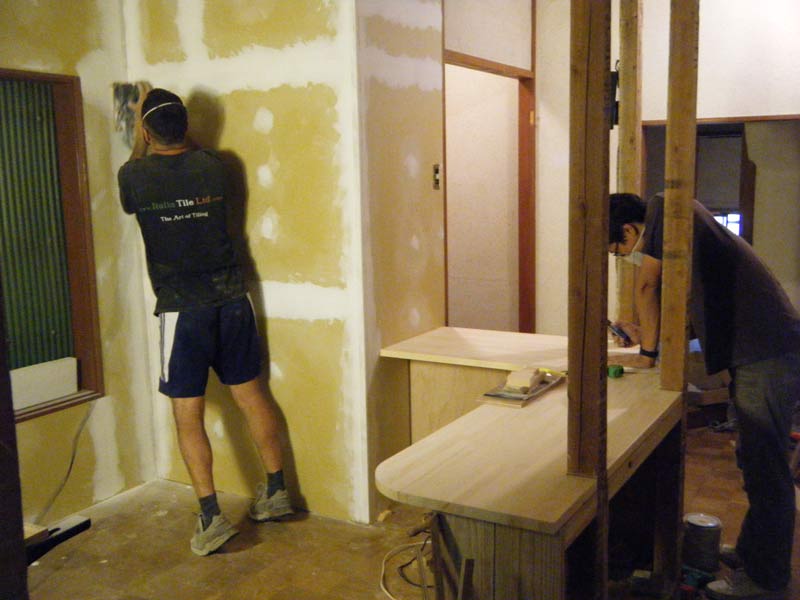 How would you suggest we use that 'empty' window space? We think we have a good plan for it ...
This next photo shows something we expected to come across on the first day we began tearing walls down, but didn't see until just yesterday, when I lifted these floorboards to run some new electrical wiring - a sizeable mouse nest!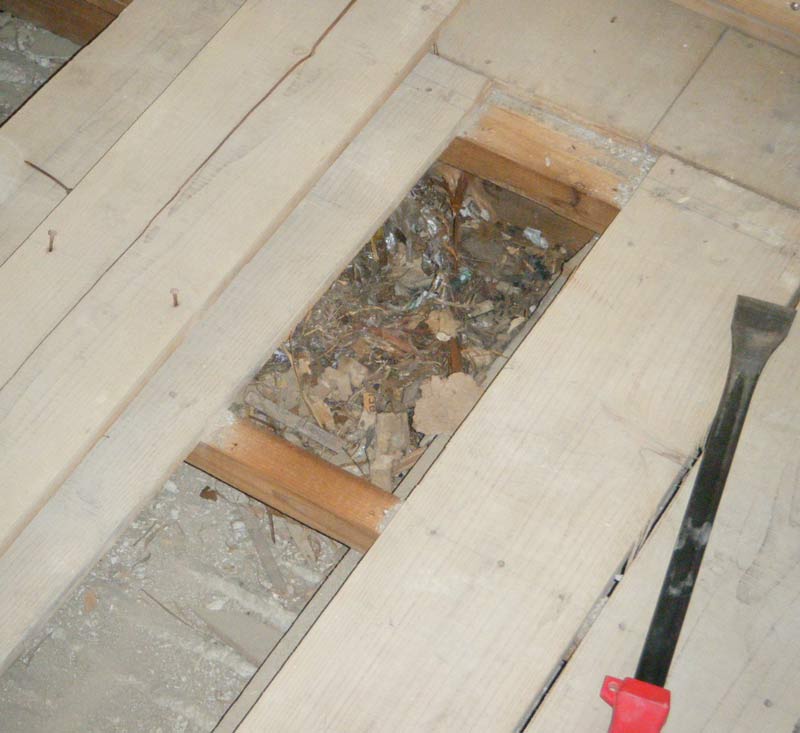 The inhabitants have scattered (presumably to upstairs I think). We're not anticipating a major problem with vermin; in all our time here so far, we have seen absolutely no traces of mouse droppings, or roaches, or anything else in that department. They are certainly in the building, because the guy upstairs does have trouble with them, but I think that if we keep our place clean - and aired and active - we should be OK.
The smallest room in the shop is also coming along nicely - although we are perhaps running a bit ahead of ourselves by putting the vanity in place before we get that column re-painted ...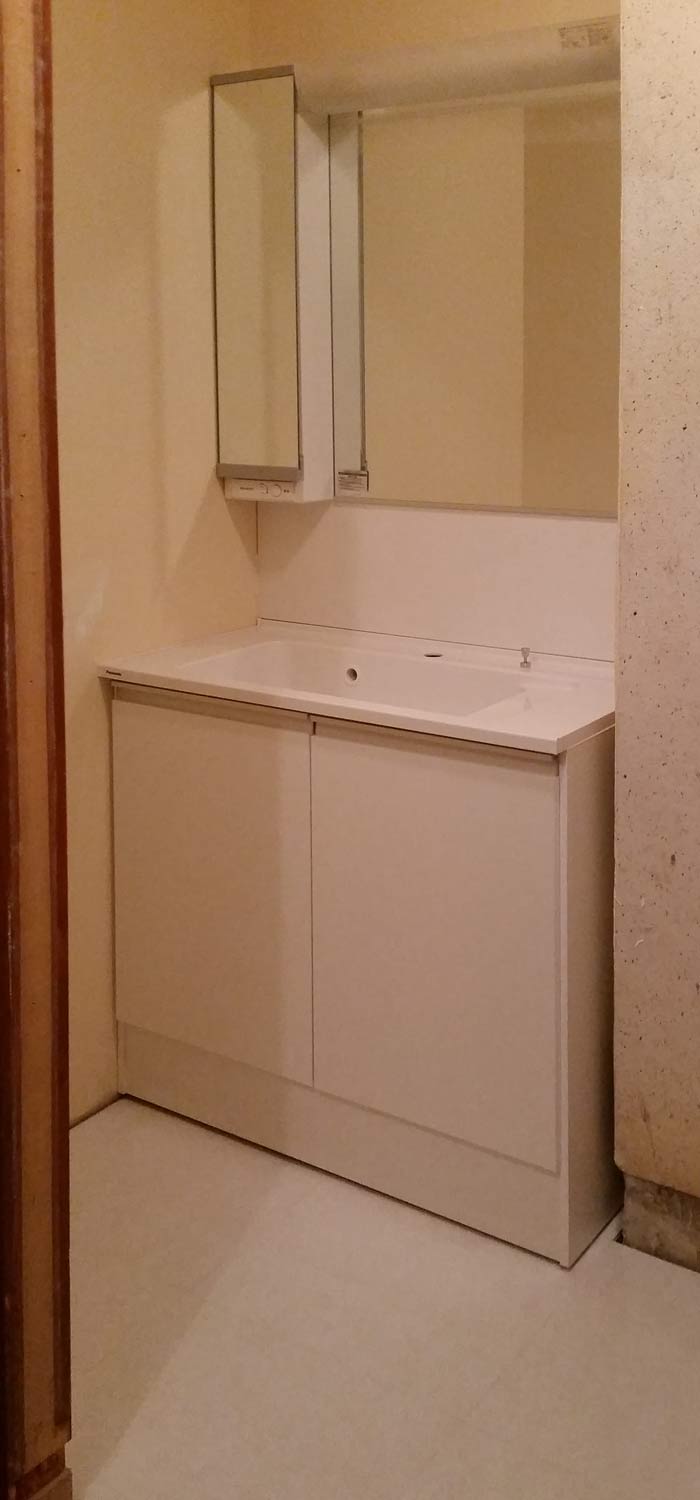 * * *
Meanwhile, out on the neighbourhood streets ...
The other afternoon we heard the sound of somebody playing an accordion drifting in the front window, and when I peeked out, I saw this lady strolling along ...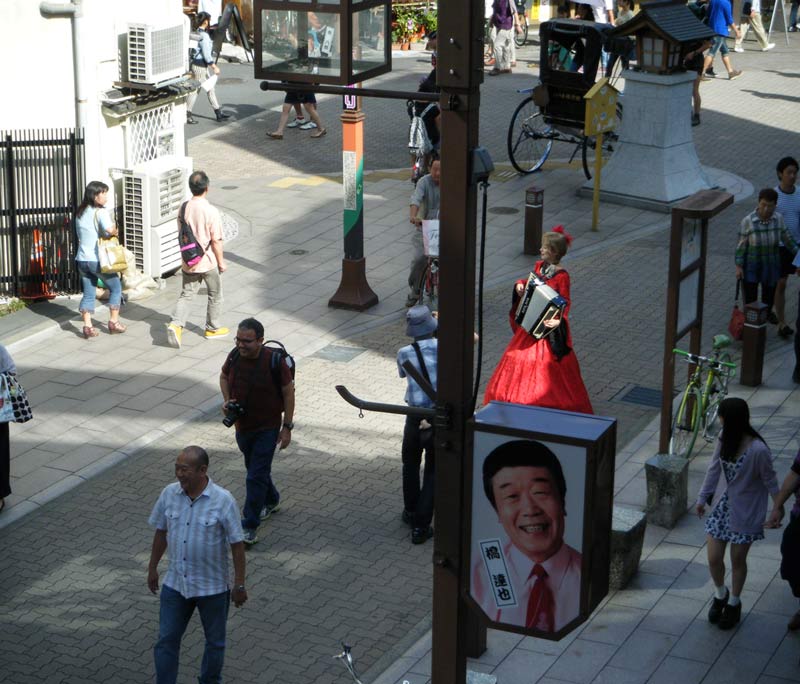 And Lee-san captured this shot of a procession of rickshaw carts taking a wedding party from a local shrine back to their hotel ...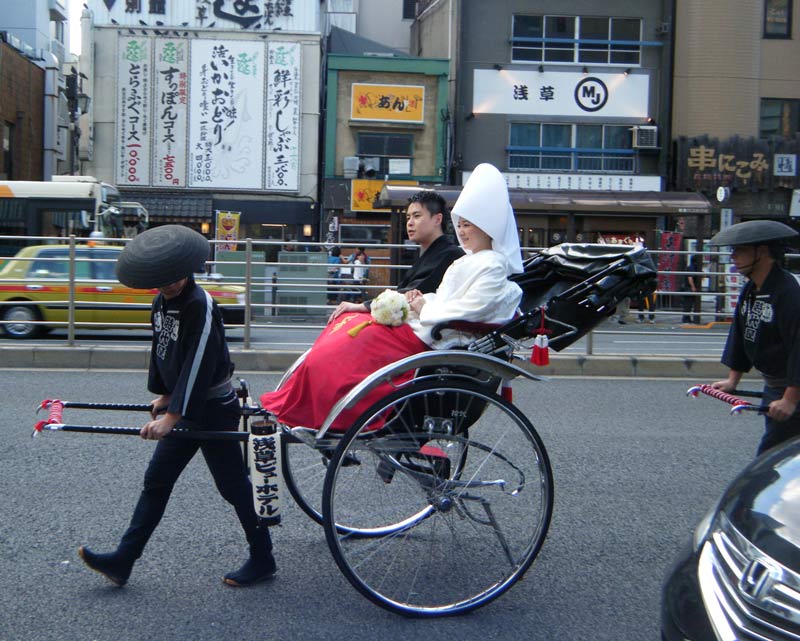 Rickshaw carts ... Hmm ... does that give anybody any ideas about how we might promote some of our Ukiyoe Heroes prints? :-)
Added by: Jacques on September 22, 2014, 4:16 am
The first part is easy: hire a rickshaw and two turtles, and learn one turtle to pull the rickshaw and the other to act as a passenger. The tough part would be to train the second turtle to hold a live octopus and tease it into delivering some of its ink while being transported around Asakusa ...

Added by: Jakub Makalowski on September 24, 2014, 11:48 am
On a side note, if you ever find in need of an extra pair of hands to help out, I'm pretty much free on any given weekend, and the trip is much more manageable than all the way to Ome.