« Life of the Party! | Front Page | Construction progress ... »
Posted by Dave Bull on September 3, 2014 [Permalink]
Or should I say ... 'deconstruction' ... because smashing stuff up is mostly what our work for the past two days has been about!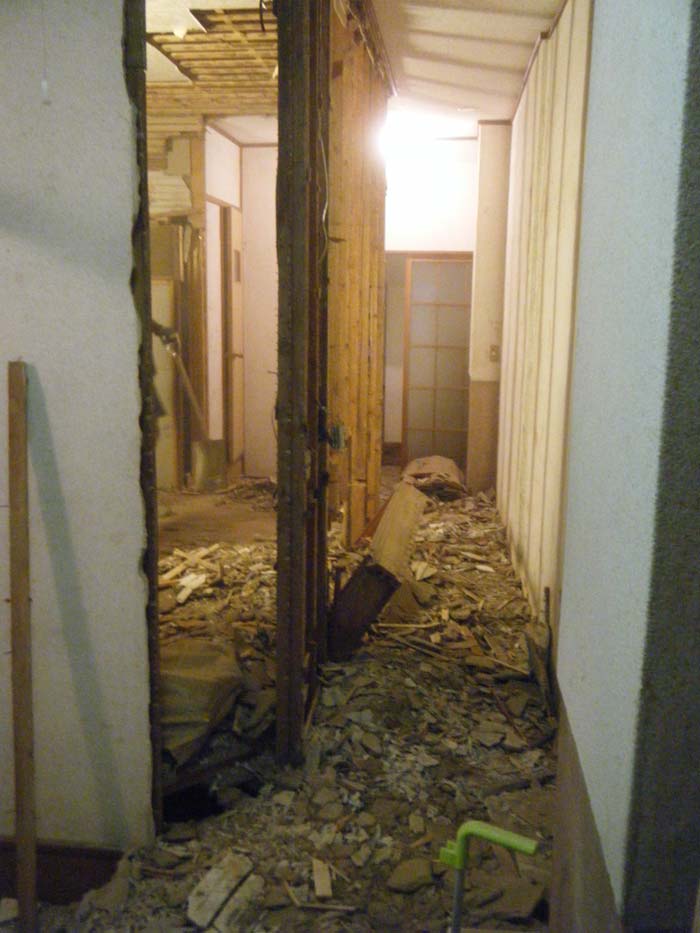 The wall we want to remove has turned out to be much stronger than we had expected, and it took us the best part of two days to get it down. Or at least, get the body of it down; we aren't going to be able to remove it entirely.
It has turned out that this wall is not 'load-bearing' in the sense of holding up a structure, but it is holding up all the suspended ceilings in the central area of the building. And there are two of these, one visible, and one more hidden above it. It's far beyond our time/money budget to strip the entire area - roof and stepped floor - back to the bare concrete, so we've decided to leave a few of those posts in place, and work within the space that is left.
We have figured out a much better plan for the space that what we previously posted here, and will update as we move along. For now, here are a few snaps of the scene of the crime, over the past two days ...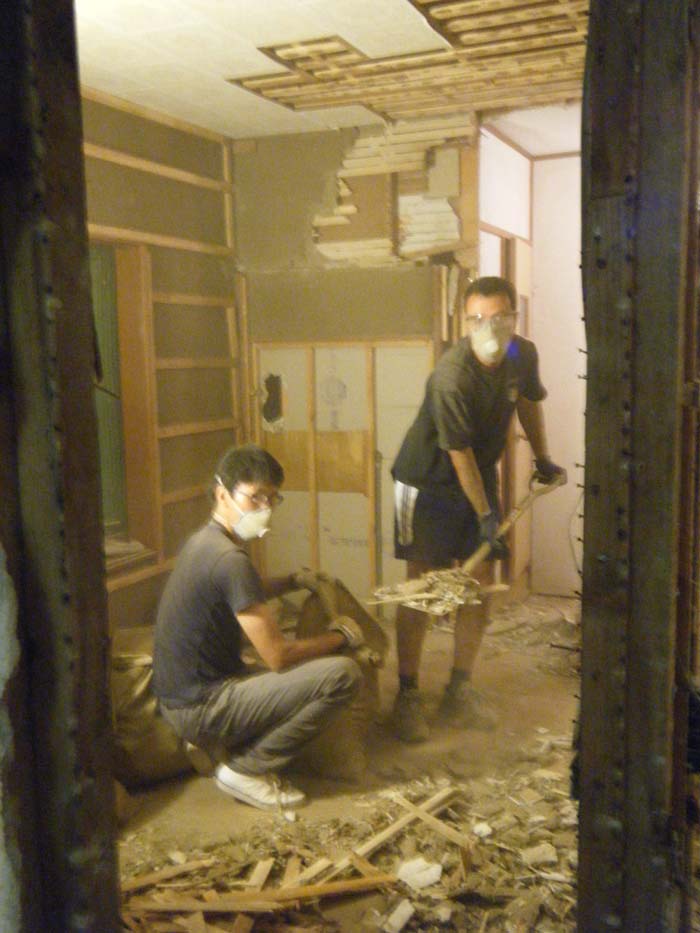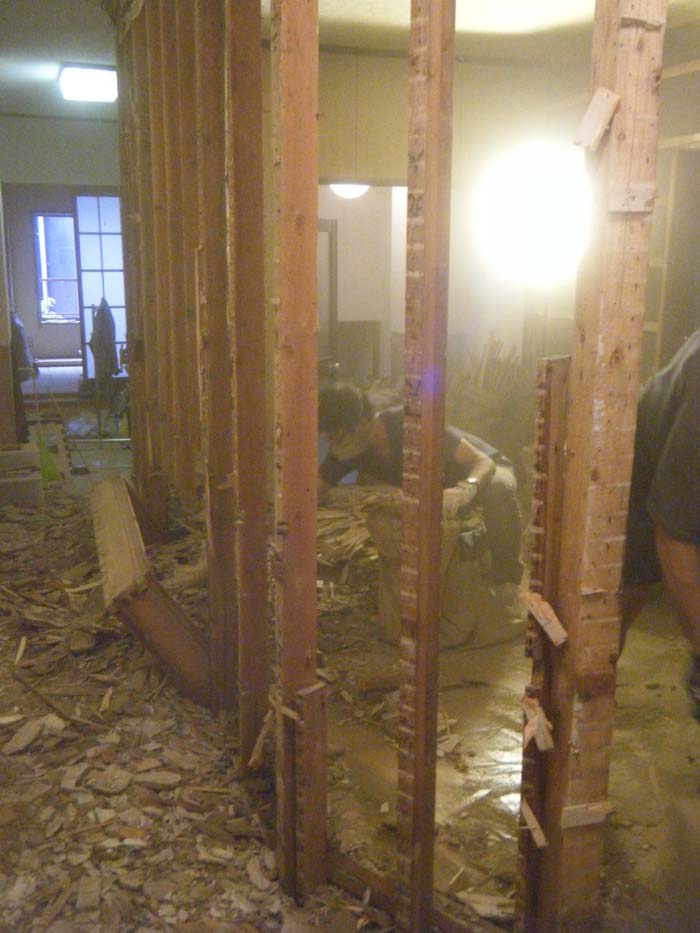 We're not only replacing the toilet unit itself, we're also widening the room, which will come forward another half-meter or so ...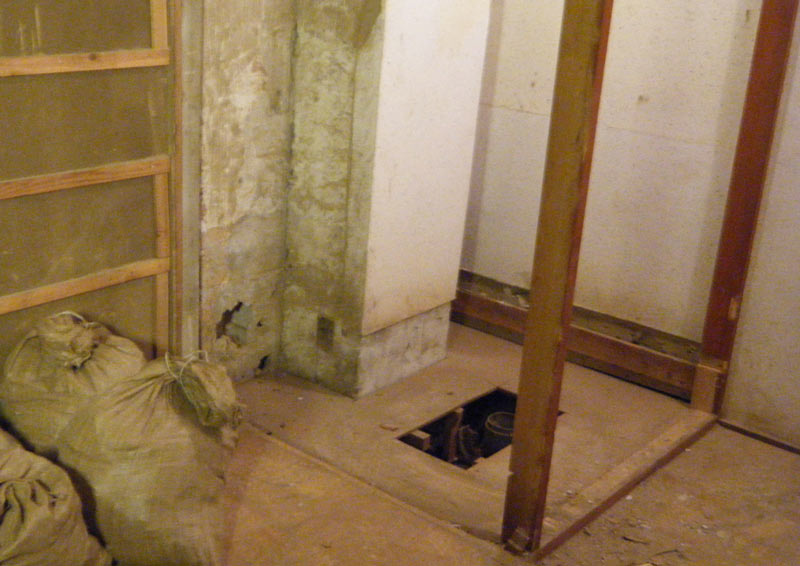 This is the Print Party room - the walls sustained water damage many years ago, before the upstairs roof was repaired, so all the 'rotted' stuff has to come off. This place used to be quite a high-class restaurant, and the previous reform was done quite well. We're going to leave that arched roof in place, but will of course be getting rid of the pendant lighting ...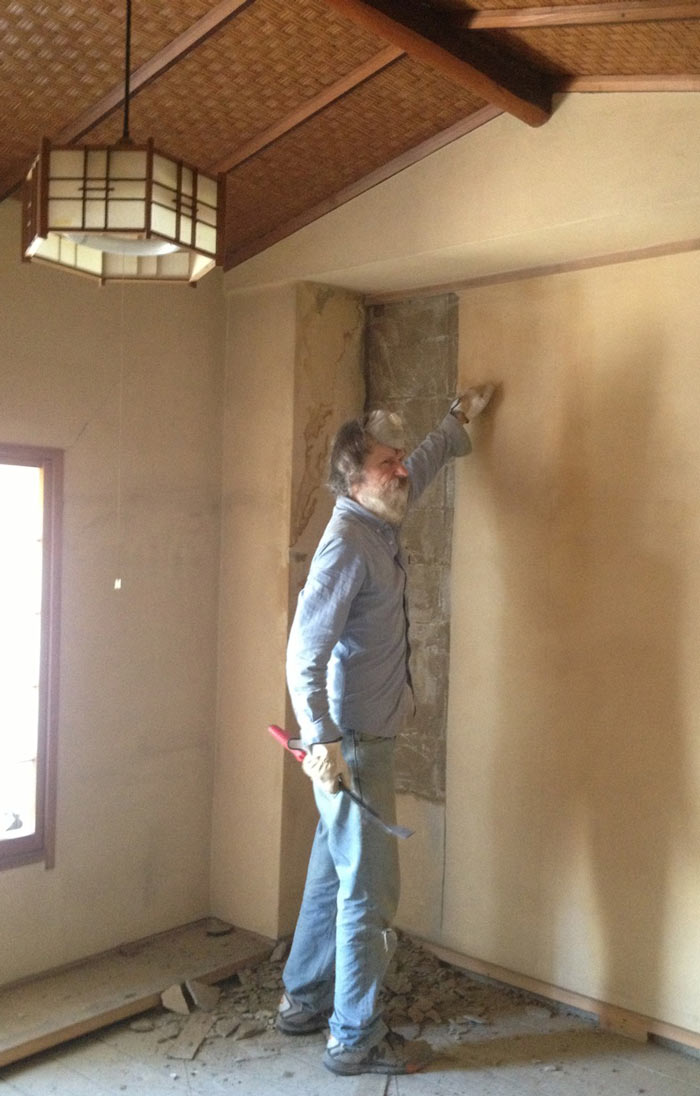 Added by: Margaret Maloney on September 5, 2014, 2:15 am
It all looks very exciting! (And tiring, too. I'm sure you're all sleeping very well after your work these days!)

Added by: Dave on September 6, 2014, 8:41 am
Sleep? What's that?
Well, I have found a way to help alleviate the problem ...

Added by: Margaret Maloney on September 7, 2014, 2:54 am
Ha! Here in New York, it is definitely not the usual thing to allow strangers to sleep on you in the subway. But there have been a few times I've seen it happen. Children often seem to be the exception here. Riders who wouldn't think twice of pushing an adult off their shoulder let a kid snore away, slumped onto an arm, and say to the parents that it's okay, let them sleep.

Added by: julio on September 13, 2014, 7:03 am
Looks like you got demolition down pretty good, here I am not sure they would let you 'take out' so much stuff when leasing a property. Cosmetic work yes, but not major demolition and taking out walls. Wondering if you had time to send some advertising over to the Mokuhanga conference...you know..."coming soon" stuff....

Added by: Dave on September 13, 2014, 11:23 am
here I am not sure they would let you 'take out' so much stuff when leasing a property
We're adding value ... a ton of value ... to the property. The owner is quite happy to let us do whatever we want to this place; it was left untenanted for so long ... she should be paying us to be using the space!