« Grab Bag ... | Front Page | Bird's Eye ... »
Posted by Dave Bull at 3:37 PM, July 19, 2014 [Permalink]
A very big day for us yesterday - it was our first face-to-face meeting with our new landlord, and the official 'go ahead' from her that we will be her new tenant. Two of the staff members and I were waiting outside the door at ten in the morning, as pre-arranged.
After she arrived and let us in, we all gathered in one of the tatami rooms, kneeling there amidst the many many years accumulation of dust, and we made our formal self-introductions. I gave her the present we had brought, as custom dictates, we passed some pleasantries, and she then handed over the keys.
This isn't the legal beginning of everything; I will be meeting with her real estate agent later to put my seal on the lease, arrange the final details about key money, insurance matters, and many other things, but ... we're in.
After chatting with us for a while about the history of the building and how she came to own it, she dusted herself off, and left us to our own devices. (That history is actually a bit interesting. It won't mean anything at all to our foreign readers, but to Japanese people of a certain age ... to hear that this was the location of 'Noguchi Shokudo' will certainly raise their eyebrows. And indeed, the interior 'decorations' that we are about to begin re-arranging, were built by them when they converted this place to a restaurant.)
Are you ready for a short guided tour?
Before we begin, a couple of notes: I only had a point-and-shoot camera with me, and these rooms are extremely cramped and small (the entire building is only 3 metres wide), so it was very difficult to get understandable photos. (And it was also quite dark in there ...). The other thing to keep in mind is that what you see here is certainly not what you will see when you come in the door on Opening Day. We are going to gut this place!
Anyway, let's go. The doorway from outside is quite narrow, but once you step inside you find that the stairs are neither narrow nor steep - very unusual for Japan. The restaurant people created a Showa 'retro' feeling, and once this is cleaned up, it's going to be beautiful!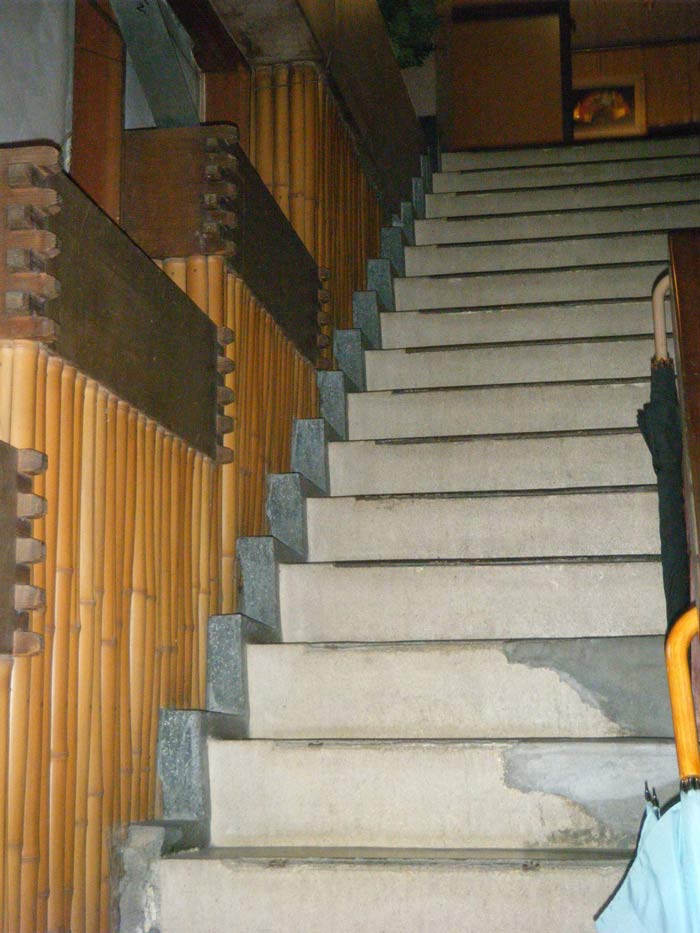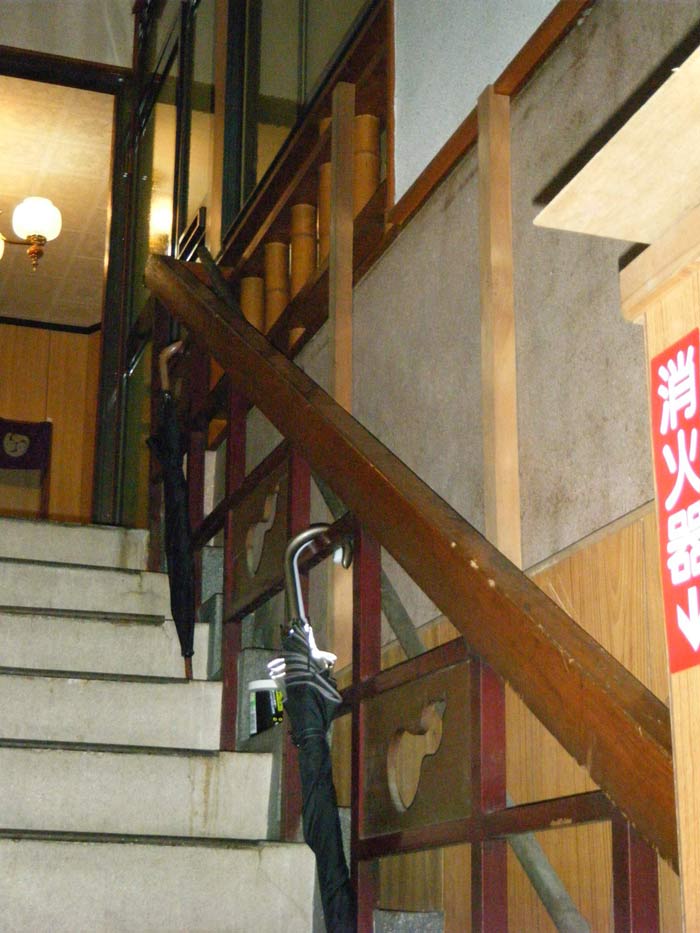 I said a Showa 'retro feel', but that's incorrect. They didn't build retro - they were building modern - that's how long this place has been unused!
Before we explore the second floor, here's the plan that I drew this morning, showing the current state of the building based on our measurements from yesterday. (If you're interested, you might open the enlargement in another window, to better understand where these next photos were taken ...)

After you come up to the landing, turn right, and then step inside, here's a shot looking back down the stairs. The window you see there actually just looks at the stairs ... not quite sure why they would do that ...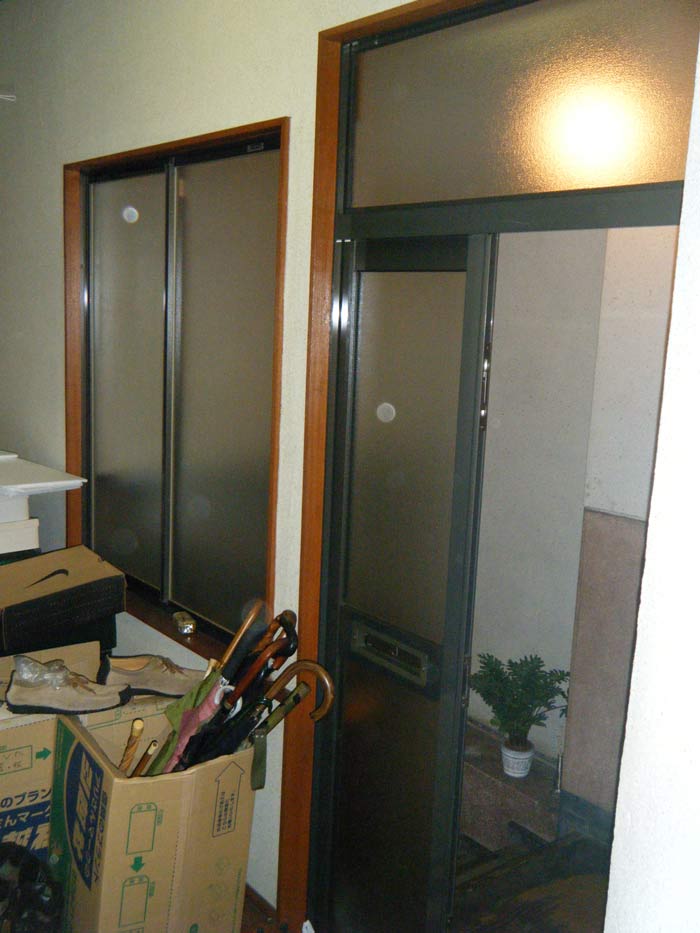 (Many of these photos show various junk that is cluttering the space, and which we'll have to dispose of ...)
Looking down the hallway to the right - towards the front of the building - you see some glass shoji doors. They are the entrance to the Print Party room. Where that junk on the right is stacked will be a place to hang coats, grab an apron, and slip your shoes off, before stepping into the room itself for your Print Party™ experience! :-)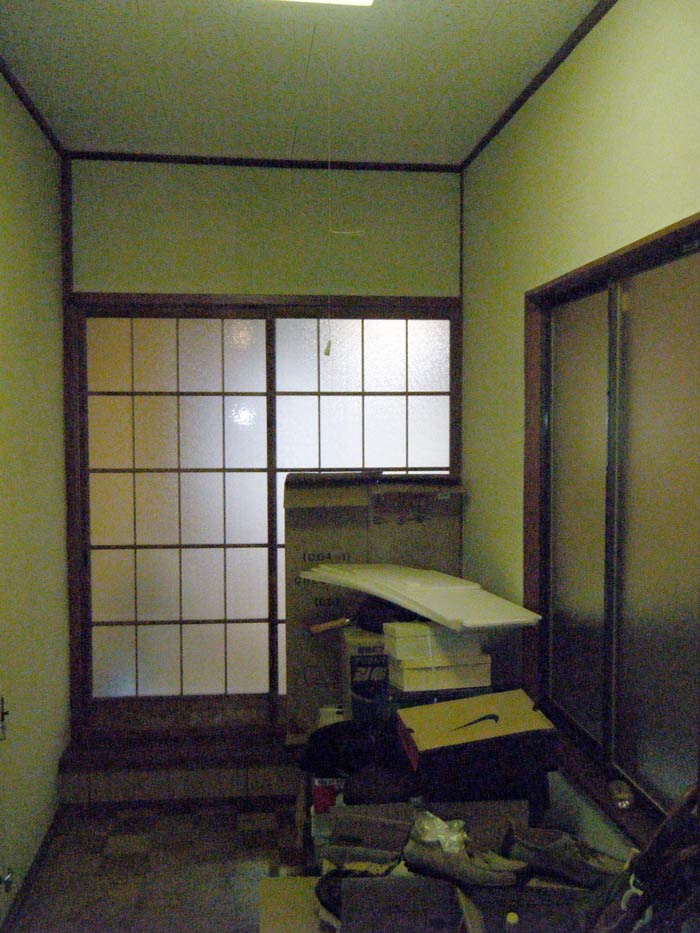 And here we are inside that room. We have a 'little bit' of replastering to do ... (The white 'drapery' you see outside is where some construction is taking place across the street ...)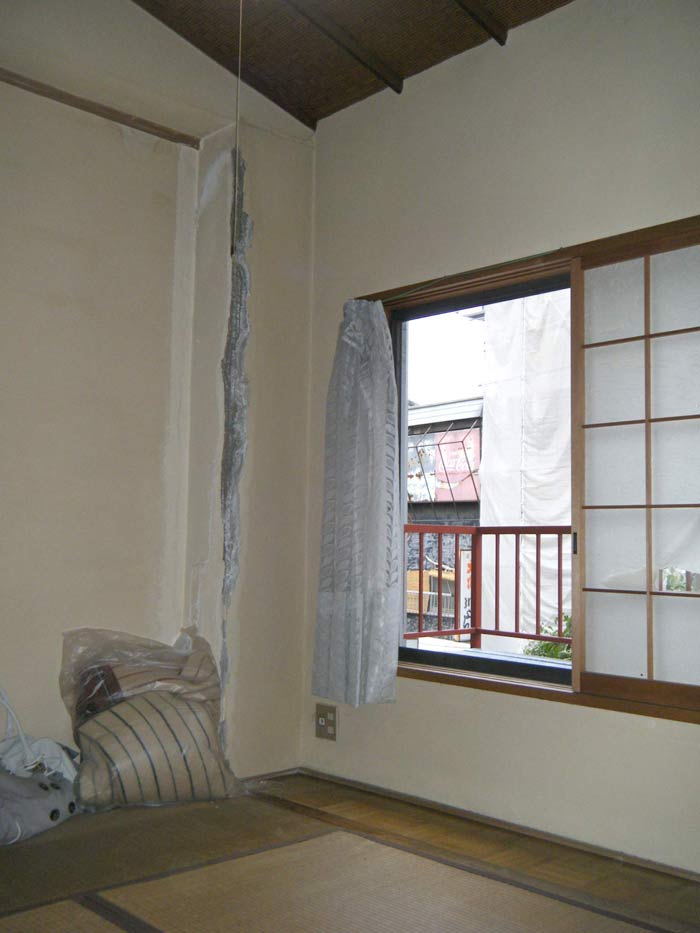 Young Teiko-san was with me doing the measuring, and while she tested out the strength of the balcony, I ran outside for a quick souvenir snapshot: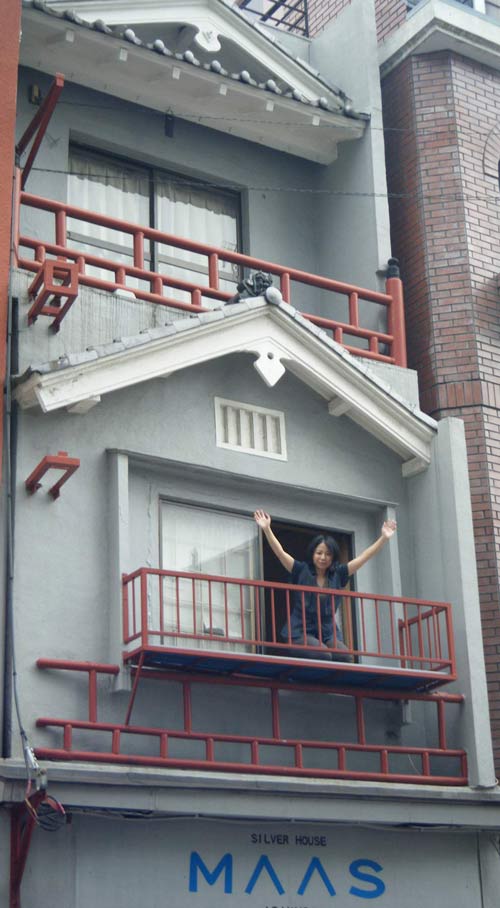 She then pointed off to her right, and when I joined her up there, I saw what she had been excited about!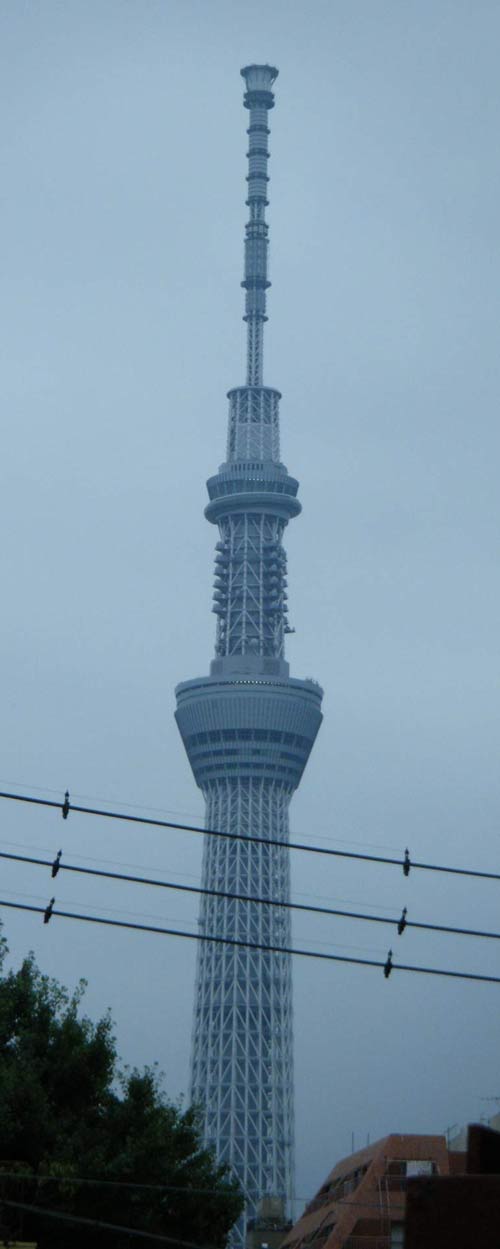 Turning around, and ready to leave that room ...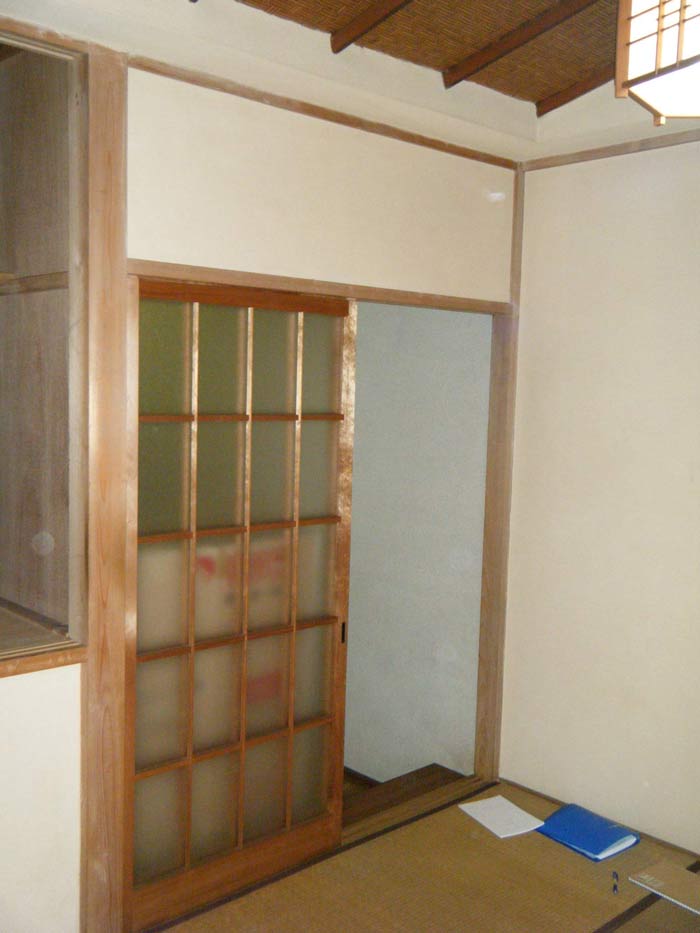 Moving back past the junk on the left, we see a most uninviting aspect: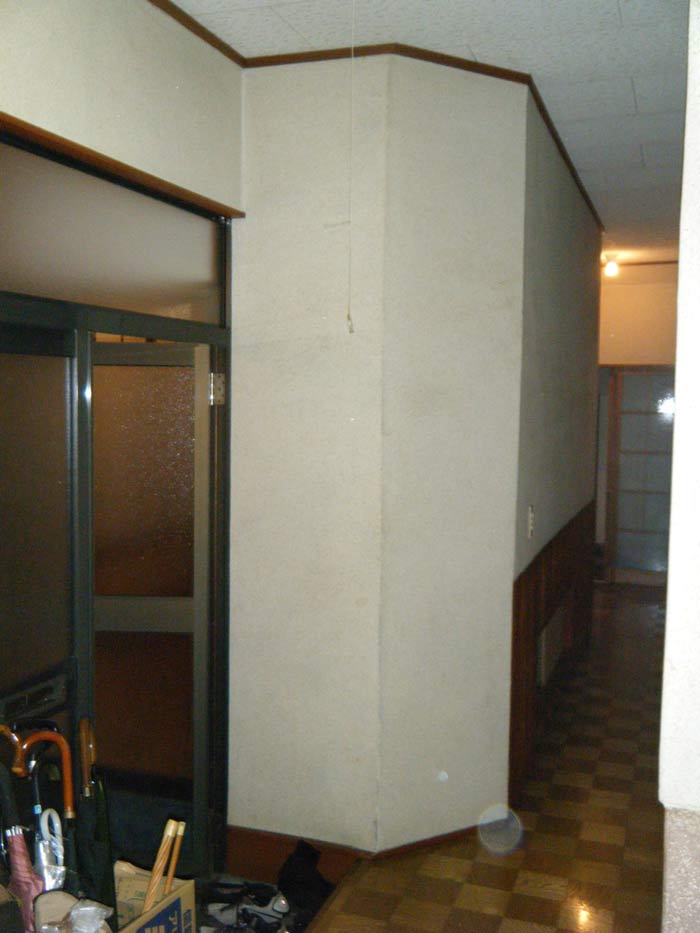 Look at this! Who would design the place with such wasted space as long hallways? We are going to have to do something about this, and ...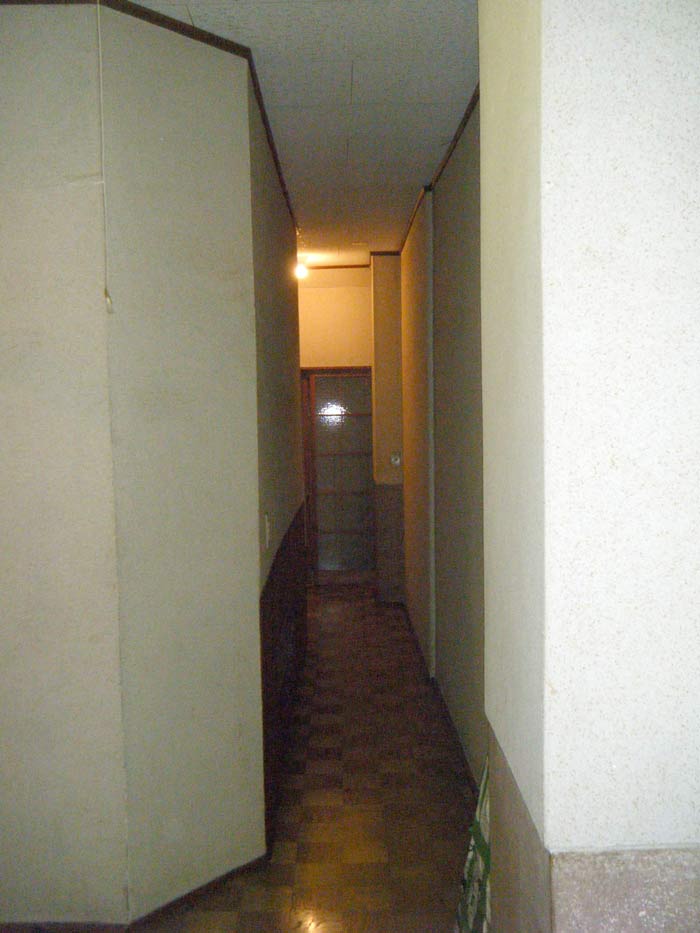 ... this next photo shows where the axe will fall. We're going to tear off the top two thirds of that wall, leaving it only waist-high: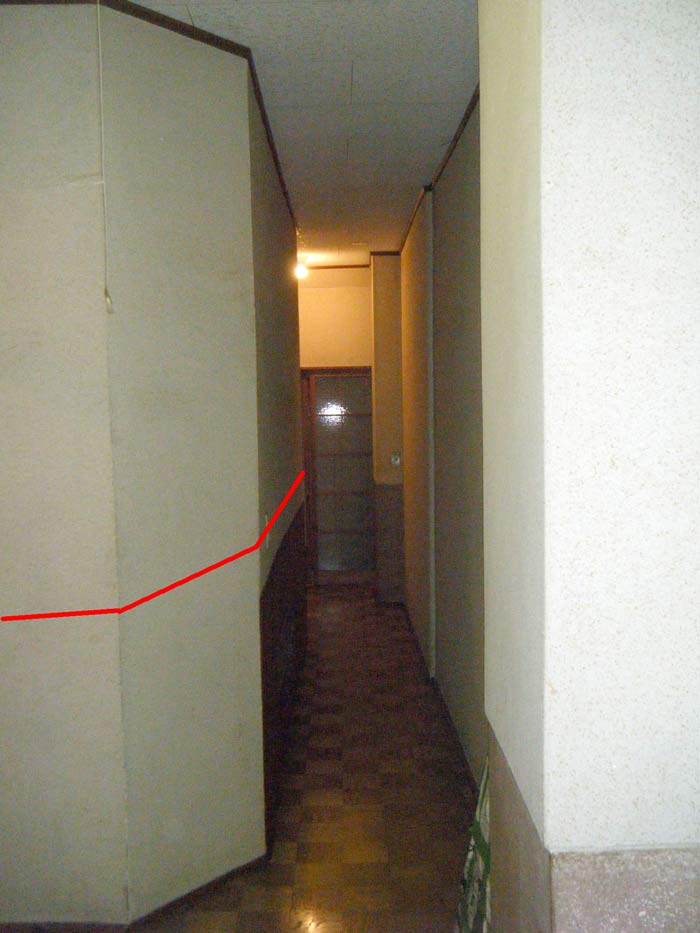 This is the same corner from the other side. We can see why they built a wall there - they wanted to have an enclosed room.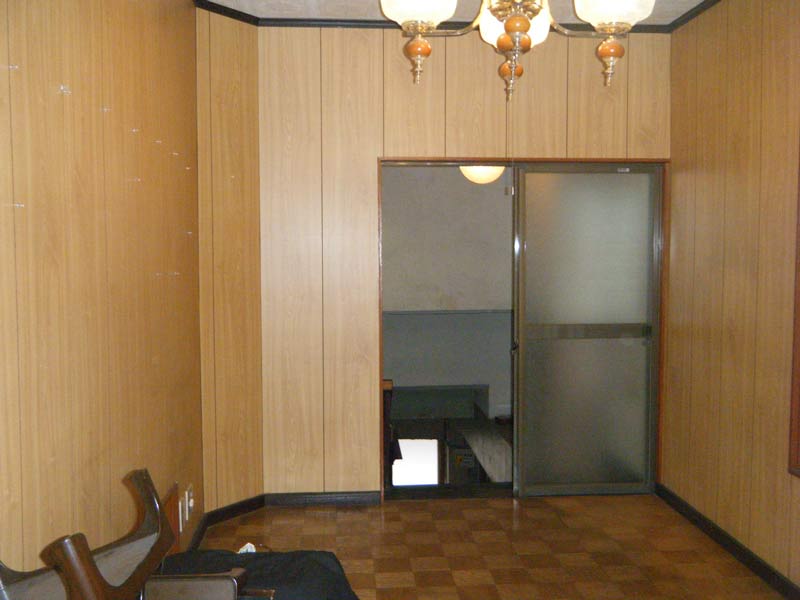 Well, we want it all opened up, so that same axe mark will show the section that will be removed: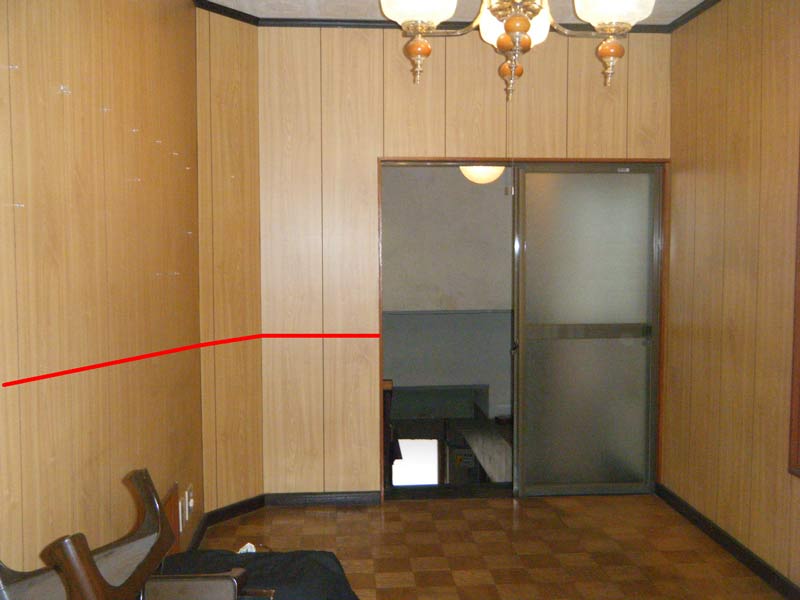 This will later become the central shop area, although you might find that a bit hard to believe at present!
Back in the narrow hallway, past that room on the left, we come across a small door. Inside is ... well, we all know about these, don't we.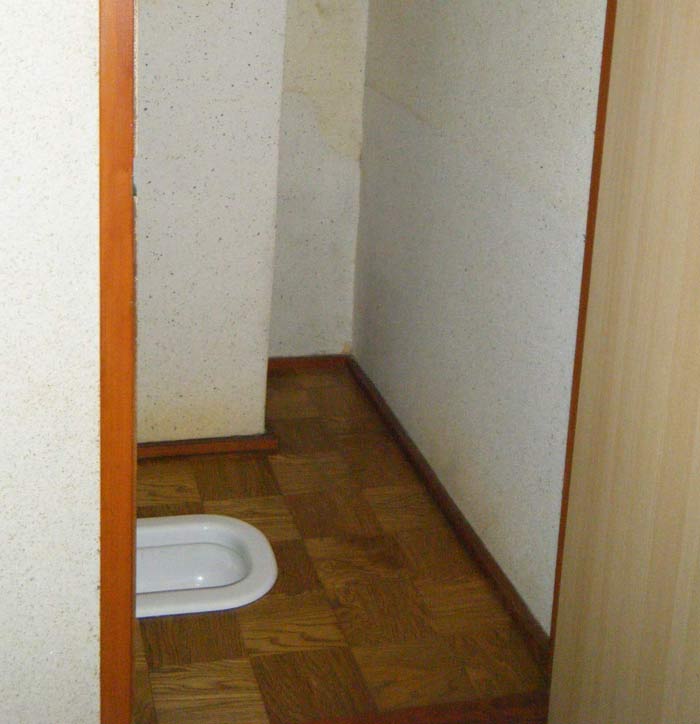 This kind of Showa Retro we can do without, so of course we'll be gutting this entire corner of the space, re-framing a wider area, and installing a completely modern toilet and vanity ...
Moving even further past that, towards the back end of the building, we find another tatami room. (The people who built this did some creative fitting there, and that missing corner of the mat is going to make tatami renovation considerably more expensive than it already is ...)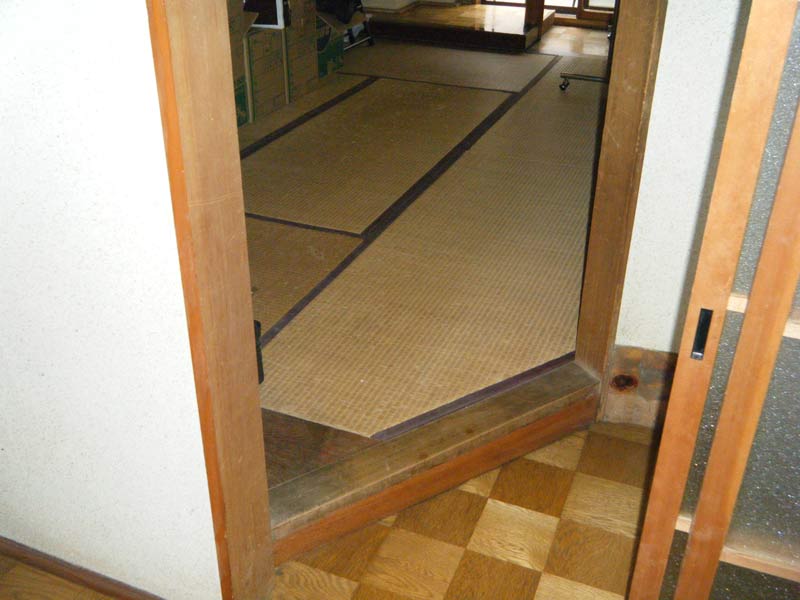 When you visit, you'll find two printers working away here, and as long as you don't mind taking your shoes off yet one more time, you'll be welcome to step up into the room and watch what they are doing ...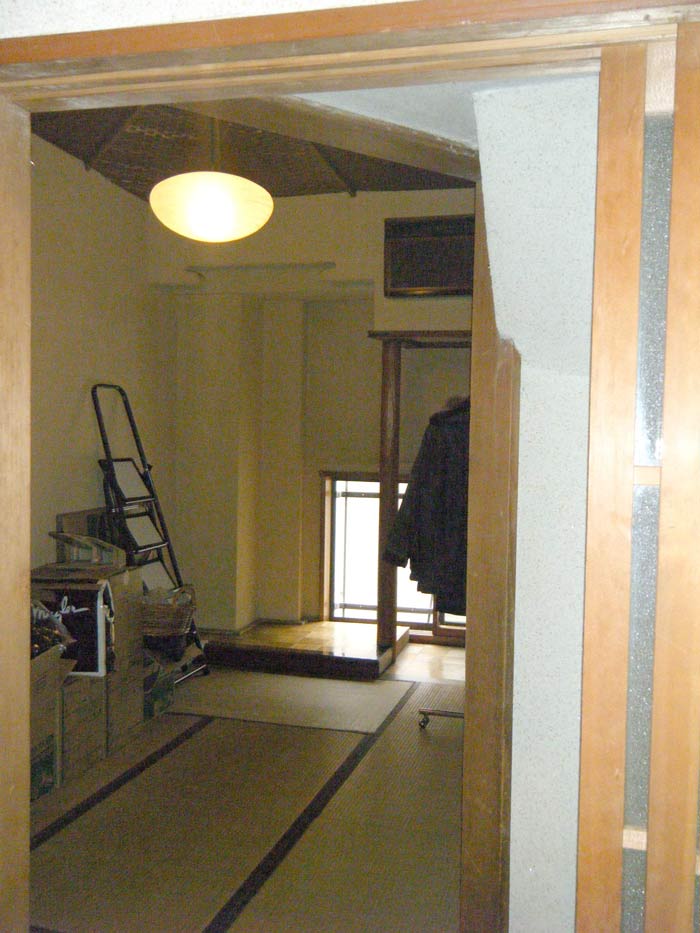 And look at this. They'll be working under a giant recreation of a wa-gasa, a Japanese umbrella. Whether or not this is a portent of possible roof leaks I don't know, but for our first pass at these renovations, we'll probably be leaving this as it is ...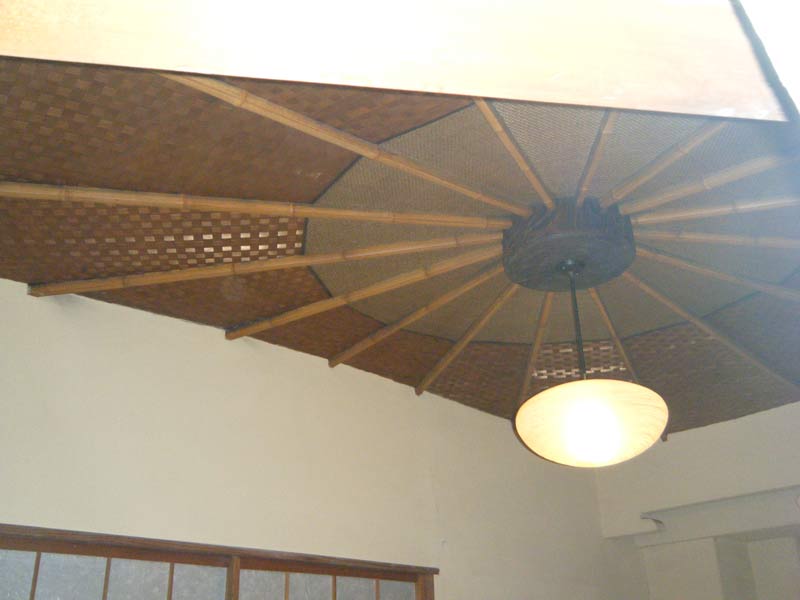 ...
So there you have a (very) rough overview of the space. As I mentioned in the previous post, I've had a bit of difficulty getting some nice illustrations of our plans ready for you to see, so for now, you'll have to make do with the prospective floor plan ...


More later, but for now, I have to get back to my bench ...
Added by: Dave on July 19, 2014 9:16 PM
Note from Dave: I've already been asked to explain why we're leaving the bottom portion of that wall, rather than just ripping it all out.
Taking it completely down was indeed our original plan, but when we measured up yesterday we came across a major problem - the floor levels are different. The enclosed room is around 15cm higher than the hallways. To remove the wall entirely would mean ripping up all the floors as well, and starting from scratch at concrete level.
And almost certainly, 'level' is what we would not find. So Plan B is to leave the frame of the bottom portion of the wall in place and use it as the backstop for counters and display units. The different floor levels will remain as they are, and we'll have to work out how to handle the 'step up' from the hallway space to the room space, in the area near the entrance to the new bathroom ...

Added by: Serge on July 20, 2014 1:23 AM
Hi Dave,
Fantastic and exciting! New adventures indeed. A lot of work ahead, but very promising. When I remember our conversation just over 2 years ago, it seems to be such a different world..... In any case, very best wishes for the renovation. Looking forward to the opening party.
Minna-san, gambate!

Added by: Slawik on July 20, 2014 5:47 AM
What a great project! Travelling to Japan is on my to-do list and I guess I shall now include a Print Party Experience to my plan! Can't wait to see/read more!

Added by: Slawik on July 20, 2014 5:58 AM
What a great project! You wouldn't be allowed to plan so many changes in France since you wouldn't own the building but it seems to work differently in Japan (for the best!). Do you have any idea how long it is going to take you to reach your goal?
Travelling to Japan is on my to-do list and I guess I shall now include a Print Party Experience to my plan! I would definitely wait for you to be ready!

Added by: Dave on July 20, 2014 11:39 AM
You wouldn't be allowed to plan so many changes in France
The typical case here in Japan would be to gut it down to the bare concrete and start fresh. We can't afford to do that, so we'll use as much of the existing infrastructure as we can. And despite that strange umbrella on the roof, having those two tatami rooms there will suit us just fine; it's the central area that we are going to totally transform.
As for the Print Party Experience, we'll be posting more info soon ...

Added by: Barbara Mason on July 21, 2014 12:39 AM
Dave,
We are so excited for you....having known you for so long, since the girls were small, it is such a pleasure to see your dreams coming true. What an adventure this will be for you and your workers.
My very best to you and my wishes for huge success!
In the USA you can pretty much do whatever you want when leasing a commercial building...the inside is yours and sometimes the outside as well...people invest thousands of dollars on the frame for their business. I hope it will not break the bank to get it done....maybe we all need to order a few more prints!

Added by: Sue Kallaugher on July 21, 2014 1:40 AM
Dave, is the flooring wood or wood patterned linoleum? hard to tell from pics. 6" is quite a big difference in floor level but a floating floor added in hallway might be possible depending upon original flooring material. It seems such a pity in the long run not to go for the bigger open space you'd want. Sue

Added by: Larry & Yuki on July 21, 2014 1:43 PM
Dave,
Wonderful progress. How we remember the earliest days. Me getting exercise riding riding from Kurume. You in the pool. Your HUGE apt/studio. The first prints. Getting to knpw your family.
What a great chance to expand your vision. We loved to visit when there is time and room.
Resting in Chiba.

Added by: Franz Rogar on July 21, 2014 8:32 PM
Here's my suggestion: 3 different areas perfectly divided to know:
Public area (green):
Workers area (blue):
- Printer's room (benchs, shoe box, shelves)
- Toilet
- Small shelves (ie. cleaning products)
- Worker's shoe box (sellers, etc.)
Party area (orange):
- Printer's bench
- Seating bench
- Coffee corner
- Closet (should contain both toilet and wardrobe IMHO)
Why this? Sellers and buyers have a toilet. Printers have a toilet. Printer party-ers have a toilet. They don't need to meet each other if they don't want. Same with shoe box except that buyers have they own.
The separation between the public and the workers area can be made with a hanging rope with "no entry" or "private" or whatever like the ropes in the museums or the temples.
Also, the wall to be cut-down, instead of being an straight line, I'd create something different. For example, the cut line, instead of being straight, it could mimic the waves of ukiyo-e style and in the crystal, you could stick some japanese mapple (acer palmatum atropurpureum) leaves floating in the wind... So the light enters and there's some design in it.
And here's my disposition suggestion:



Added by: Dave on July 21, 2014 9:14 PM
Franz, thanks so much for going to so much trouble to think about possible designs for the shop!
Some of your ideas here are good, and some are impossible (there are details of the place that you don't know yet ...)
1) The closet space in the Print Party room is not the kind of space that people can enter; it's just a shelf/cupboard. (It's above the stairs coming up from below ...)
2) The Print Party bench can't be angled like that, because there will be times when three or four people will be working on blocks side by side ... moving along the row as they progress through the print.
3) We can't have the initial access point as you have drawn it, because there is more than a foot of difference between the landing at the top of the stairs, and the room that you have shown in green ... As you have drawn it, there would need to be at least two more steps, and then the stairs would be ending well within the room - not a safe thing at all ...
There is another thing to keep in mind - which I did not mention earlier - and that is that this is all 'temporary'. If all goes well, we will be expanding into the third floor just over a year from now, and then also (perhaps) down into the first floor too. So everything we build here should be 'useable' in the future. The entire second floor will eventually - we hope - be the Print Party space, so there will certainly be no need for three bathrooms ...
(My apologies for being somewhat negative about your suggestions - I'm happy to see that you are giving so much thought to this project!)

Added by: Franz Rogar on July 22, 2014 7:19 AM
No problem. Glad to be somehow helpful :-)
Here's a new mockup with solution to the problems that you mentioned:
1) Now, it's a mere shelf
2) Now, the table is larger (there's now a shelf anyways) and the corner is bigger so you can slide the blocks if needed.
3) The initial point now has 3 steps more without ending inside the public zone ;-) Also, now, there's more space in one wall, which is better because the racks are no longer side of the toilet..............
I do still think anyway, that two toilets should be left. First, because of the one-year-fixed-time as "shop-working_place"-mix of the floor (buyers and workers have separated places) and also because, if needed, in case of any problem, there's a backup and also it could later be changed to other uses easily.
So now, if everything goes right, you will have two "print-party" zones and one "printer" zone alongside.
Hope it could help you in any way :-)


Added by: Franz Rogar on July 22, 2014 7:21 AM
Ops... I forgot to mention I moved the coffee machine out of the "printer-party"-only room to the more generic "worker"-zone one. The reason? I guess it's obvious ;-)