« First steps ... | Front Page | A 'spot' of trouble ... »
Posted by Dave Bull at 6:16 PM, June 18, 2014 [Permalink]
Well, I can't quite believe it, but a couple of months back, I forgot about something that I had been thinking of - and looking forward to - for quite some time before. (I can't think of what might have pushed it out of my mind ... :-)
Long story short, this past April - I don't know the actual day - marked 25 years since I sold my first woodblock print here in Japan. I've now been an honest-to-goodness professional woodblock printmaker for a quarter of a century.
(Applause ...)
Thank you, thank you! :-)
Here I was, one day early that year, with one of the first tests of the first print in the long Hyakunin Isshu series. At this point, I had of course not sold any of those prints; I was feeding my family by teaching English classes (in that same room) four evenings a week.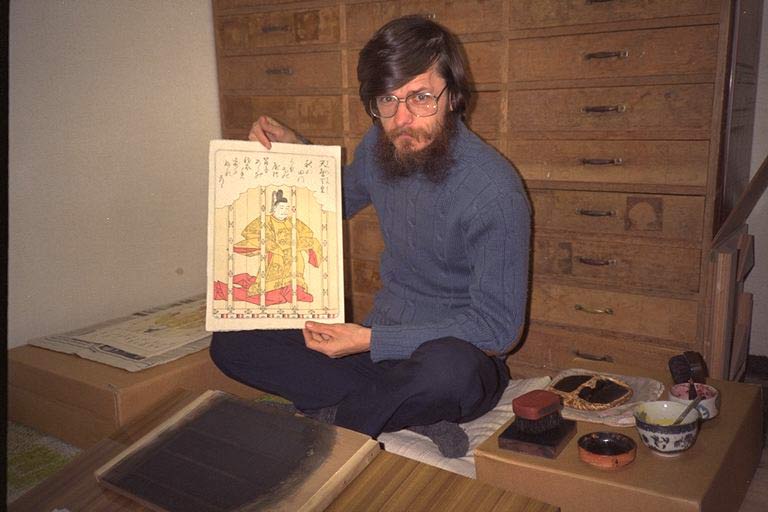 We took this photo, had a bunch of copies run off, and sent it out, along with a short announcement - "Canadian woodblock printmaker David Bull announces a ten-year project to re-create the entire Hyakunin Isshu series of woodblock prints designed over 200 years ago by Katsukawa Shunsho ... etc. etc.", in the hope that somebody somewhere in the media just might possibly be interested ...
Somebody was, and within a few short weeks of sending out that little pamphlet, I was featured in newspapers, magazines, and TV news programs, in a wave of attention that lasted the full ten years, right up until the end of the series in December of 1998: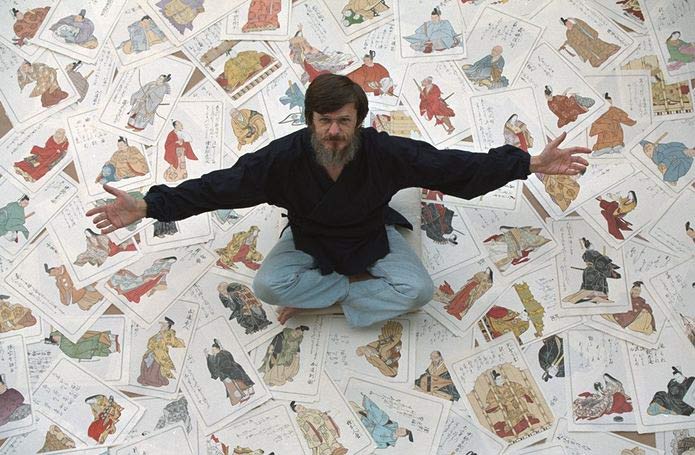 And of course, the ride didn't stop there ...
Anyway, better late than never, I'll raise a small glass this evening ... to 25 incredible years ... Kampai!
Added by: Marc Kahn on June 19, 2014 12:13 AM
An impressive milestone! Kampai...

Added by: Daniel on June 19, 2014 3:10 AM
This is an amazing achievement. Here is to the past 25 years and to the next 25. With all the recent success and the amazing work you have been doing in expanding and training new printers and carvers and the upcoming new facility, I cannot even imagine what exciting things will be mentioned in the post celebrating 50 years.


Added by: Anita Cage on June 19, 2014 4:59 AM
Congratulations on this milestone and all best wishes for the exciting future in store for you and all the woodblock print lovers who will be working and following the growth of Mokuhankan. I am so glad to have found your work a few years ago. I missed the exciting early years but am no less a fan of yours.

Added by: Jacques on June 20, 2014 3:45 AM
What you have been able to achieve these last 25 years using your wonderful technical skills (both analogue and digital), contagious enthusiasm, and perseverance is incredible: many congratulations!

Added by: Dale on June 22, 2014 12:40 AM
Is there a better way to mark that 25 year milestone than to use a quote from an article written for Reader's Digest in 1962 by Mr. James Michener (one of David's 'heroes')?
"Responsible men and women leap to the challenge of jobs that require enormous dedication and years to fulfill, and are happiest when they are so involved."
Dave, a universe of thanks for leaping into the challenging world of woodblock printmaking. Your dedication has indeed taken years to fulfill, and your 'joie de vivre' is evident every single day. I for one am humbled by and thankful for all the amazing work that you do. Congratulations!

Added by: Franz Rogar on June 24, 2014 5:30 PM
What else to add apart from what have been already been said...
...but to whish you celebrate the golden & diamond anniversaries too!