« Chibi Heroes update ... new case! | Front Page | Time for a change? »
Posted by Dave Bull at 6:56 PM, March 5, 2014 [Permalink]
A few days ago I returned to the workshop after a ten-day 'break' over in Canada visiting my family - parents, siblings, daughters, and grand-children ... Ten days was nowhere near enough, but it was all I could spare just now. Our new Portraits series has kind of taken over our lives here at Mokuhankan.
While I was away, the initial batch of print #3 - The Lunatic - arrived from printer Numabe-san.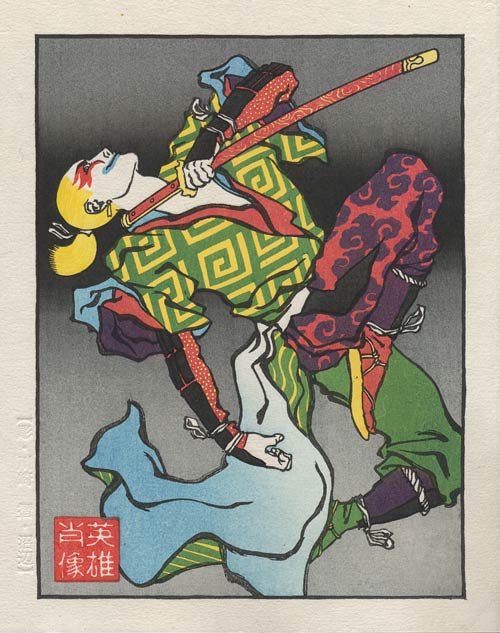 The packing ladies had done all the preparation for shipping, and were just waiting for me to confirm that the prints were 'OK', before getting them all packed up. They were indeed all acceptable - as we expect from Numabe-san these days - so while the ladies got busy finishing the preparation, I fired up my bookkeeping software and initiated the automated monthly billing procedure. Payments have been streaming in over the past couple of days, and today the first batch of 130 or so went off to the Post Office.
That leaves around 100 more, and they will leave bit by bit over the next week, as those collectors send their payments in.
But 25 of the collectors will not be getting their prints sent that way in the usual envelope-style packaging. They'll be getting a larger boxy package ... Yes, the first batch of cases have been finished by Dani-san!
For any of you who might be thinking these are a bit late, I have to tell you that it's a miracle we're getting them at all. Here's his home and workshop around two weeks back: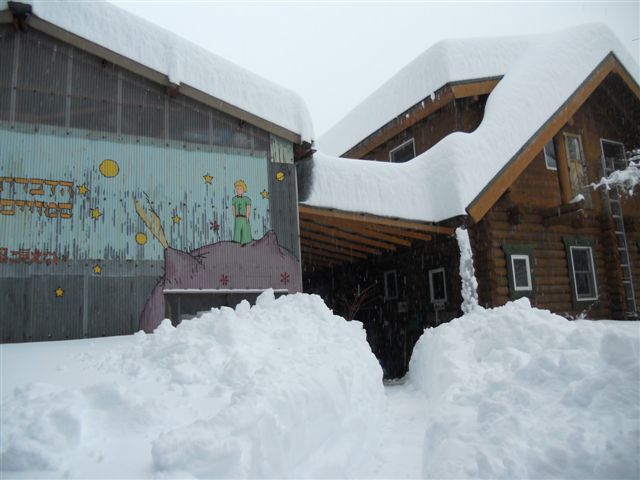 He's way out in the country, and when that snow hit, was left completely to his own devices; he and his family dug themselves out, but the rural roads were not cleared at all, and they had to make 3 hour trips on foot to the nearest town to get food and supplies.
The snow eventually got cleared away, his normal business could resume, and yesterday afternoon he drove over here with the first 25 cases. Later today, we will be running these down to our local post office, each one with the current print inside, and off they'll go.
He is scheduled to be back here in the last week of March with the next couple of dozen, and that pattern will continue until we've dug our way through all the pending orders.
Added by: Dave on March 5, 2014 7:01 AM
I didn't mention it in that short post, but the print itself is actually quite astonishing. Jed and I made a huge mistake with this one; it is far too complex and detailed for this 'little' Portraits series, and in retrospect we can see clearly that we should have increased the dimensions and put it into the main Ukiyoe Heroes series.
I've had to pay more than we can afford to get this one printed, and even then, Numabe-san has worked for less than he would like for a print of this complexity. Feedback so far has been pretty enthusiastic though - it had better be! - so I guess it will work out in the end ...

Added by: Albert A on March 5, 2014 7:42 AM
I have to admit, when I saw it I was surprised at how many detailed patterns were included, especially the dotted sharkskin pattern and the sheathe of the sword; either of those would be very easy to overprint and wipe out the detail...

Added by: mike on March 12, 2014 5:02 AM
I just received this print today and it is astonishing. The amount of detail in something this small is amazing. It's a great design and great execution. Every month I am so thrilled that I subscribed to this series. The box came today, too and it's great to be able to display and keep the prints as they were meant. Thanks again so much. I can't say enough how much I'm enjoying this series.