« Entry of the Demon King! | Front Page | More tool adventures ... »
Posted by Dave Bull on December 13, 2013 [Permalink]
We're getting things a bit out of order with this post; that's simply a reflection of how scrambled our production process is here these days!
Our printing crew is mostly busy with preparing the edition of the first print in the new Portraits series - the Wolf Goddess. The ones who have finished their particular batch of that, have moved on to work on a batch of the New Year greeting print (which this year for the first time has not been carved by me ... more on that later).
We're also intending to run off a big stack of the image we used for a New Year greeting last year, as we need those for the 'signing bonus' print we offered to all new subscribers of the Portraits series. Our three 'outside' printers are also all busy at the moment with jobs for us, and our two packing ladies are busy with two main jobs - getting the final Gift Print orders out the door every day (we're approaching the post office mailing deadlines, so that work will be over very soon), and in setting up their system for the packaging and mailing of the new Portraits series prints beginning in January. (We have a very nice new type of shipping package planned for those, and people who have seen my sample prototype have all said the same thing, "It looks beautiful! How can you afford to do that!?")
I myself am working on the block set for the second print in the Portraits set - the Demon King, and as soon as that is done, I will jump in and lend a hand to the printing crews, wherever I'm most needed.
Anyway, enough talk, time for an interesting photo!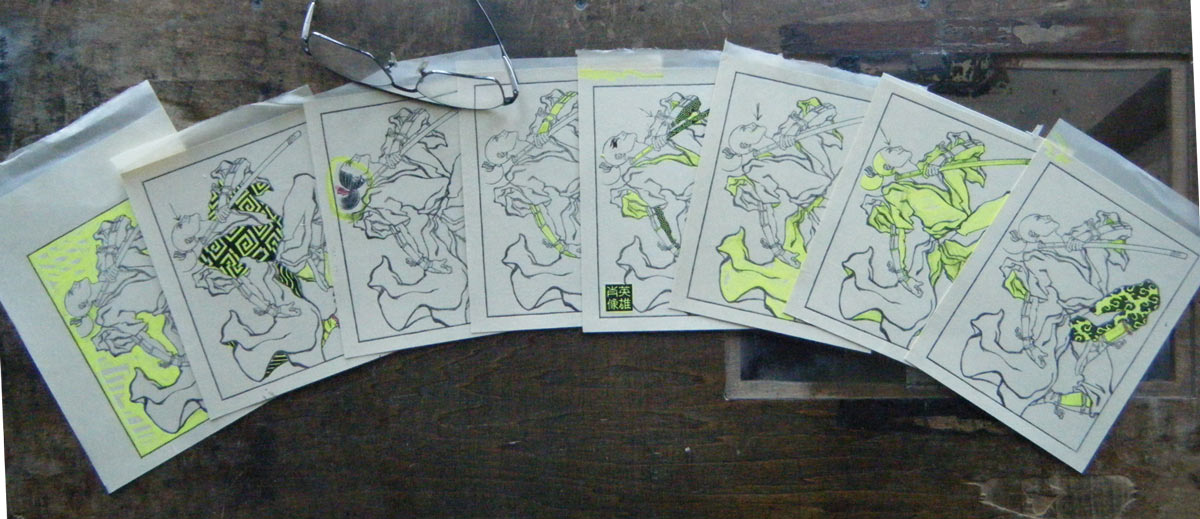 So what's this? Where does this fit into that long list of work underway?
These are the colour separations for the third print in the Portraits series! A couple of weeks ago, I passed on the bad news that the young lady we had been talking to about joining us as a carver decided not to accept my offer of employment, but the story isn't totally bad news. She still wants to do work for us on a 'time available' basis, working from her home down in Kobe.
This is a 'better than nothing' deal for me of course, so we sent her home that weekend with the tracing and a blank piece of wood for that third design (the one Jed calls 'The Lunatic'). She had perhaps felt like she was letting us down by not accepting the job offer, so she tried to make up for that by getting the key block finished in record time - it arrived just the other day. I responded in kind, prepared these colour separations, and sent them back to her today, together with four blank pieces of wood on which to carve them.
This is going to be one complicated little print, and we've already had to 'talk' to Jed about taking it easy with the complexity. At a price of only $25 each, and considering that they are being made on one of the most expensive papers in Japan (Iwano Ichibei-san's Echizen Hosho), we don't have a whole lot of margin left, and nine impressions including three gradations is just too many.
But we'll take it as it comes during the year. At least our main 'mission' looks pretty stable for a while: getting beautiful woodblock prints into the hands of people all over the planet, and providing work and training for the craftsmen at this end. I now cut cheques - some of them quite substantial - to eleven people at the end of each month ... eleven! I can't believe it! ... (And that count doesn't include either Jed or myself!)
Added by: Guillaume on December 14, 2013, 5:25 am
I must say I'm quite excited about the 'Lunatic' print, my favorite of the portraits designs so far. The collection is already really impressive and we've only seen a quarter of the designs.
Was it chance or design that it should ship around the same time as the 'Flight of Fantasy' koban print?
(Both are based on Final Fantasy 6 for any reader that's not aware.)
This subscription is so compelling and good value, I hate to think you're cutting it so close financially. Please let us know of the best way for to support and encourage this type of project even more for those enthusiasts among us. Perhaps a 'Patron' tier for 35$ a print? I'd still consider it a bargain.

Added by: Dave on December 14, 2013, 9:10 pm
The Final Fantasy connection was not scheduled at all; the two sets are being developed completely separately, and actually we never even thought about this until you brought it up. What is a kind of connection is the fact that both of the FF prints are totally over the top, and completely uneconomical to produce. Only nut-cases like Jed or I would be making them under these circumstances.
What I think is probably going to happen going forward from here is that either he or I (or preferably both of us) is going to finally get to the position where we are able to hire a proper business manager, and that person is going to apply some common sense to these productions - I mean in the sense that we will finally get them priced rationally.
The new Portraits series was originally conceived as a kind of 'Chibies Plus'. The original Chibies served their purpose very well: providing excellent training for our undeveloped printers, giving people a taste of what woodblock prints were like, and helping to establish a steady income for our workshop. But for the 'sequel' we wanted to move our printers' skills up a rank, and also put a bit more depth into the designs. Pushing the paper size a bit larger, and the price up by $5, gave us margin to do that, we thought.
But now that the first three designs are on the table (and in production) it has become clear to me that we have actually created 'Ukiyoe Heroes Lite' - a selection of prints that are scaled down from the main Heroes, not scaled up from the Chibies. These shouldn't have been priced at $25, but at a level substantially higher. The third Portraits design is more time-consuming and resource intensive than the 'I Choose You' Heroes design!
But it can't be helped - we're deep into it now, and there is no turning back. And it is already 'working', in the sense that our printers are already raising their game. They have all seen my master spreadsheet for the series, and they understand clearly that we are going to live or die on such things as how well they can keep the spoiled prints to a minimum (the paper is very expensive), and on how efficiently they can use their time (I bear all their commuting costs - standard practice here in Japan). They have improved on both points while working on this first print ...
So damn those torpedoes - full steam ahead!

Added by: Guillaume on December 15, 2013, 2:06 am
I can see the motivation for pricing the Portraits aggressively. Once the sunken cost of carving and proofing is passed, it makes sense to want to produce them at a certain volume. Having an option for paying above the base price, Kickstarter style, might help offset those initial sunken costs. (I'm sure I read about an optional 'student surcharge' somewhere on your site, a great idea.)
Speaking of 'nut-cases', I discovered this incredible accomplishment of wood carving this morning:
http://www.thisiscolossal.com/2013/11/zheng-chunhui-tree-sculpture/
I guess there is something to be said about a little passionate insanity!

Added by: Dave on December 15, 2013, 7:43 am
pricing aggressively ...
Yes, the fact that the price is so low (or 'reasonable', if you wish) is obviously a major factor in the success of the subscription project. If Jed and I were to let the bean counters take over, it would have been priced far higher, resulting in fewer (if any) collectors coming aboard. I fantasized above about having a business manager getting involved, but such a person would clearly have to learn that our venture - hand-making woodblock prints in the 21st century - simply won't work when standard business analytics are applied to it.
But there's a better balance in there somewhere ...