« Full House! | Front Page | It's over ... let's get started! »
Posted by Dave Bull on November 1, 2013 [Permalink]
The crew here has been busy over the past couple of weeks working on a large batch of Jed's 'I Choose You' design. All five of our staff printers are on this job, and it has needed a lot of organization to make sure that there are no fights over who needs which block on which day!
I took a bunch of video during the work, and will try and find some time to get it edited and uploaded soon, but in the meantime, here's a shot of the result - one from each of their batches: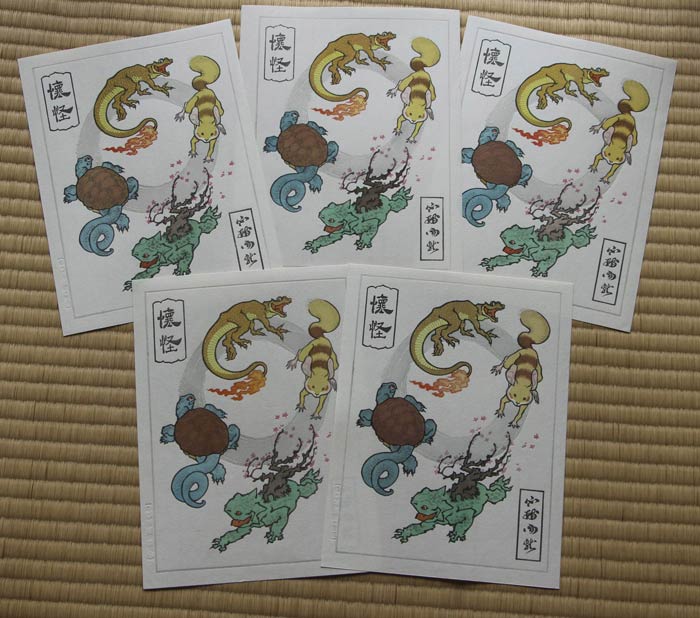 They have done very well at keeping close to the master copy I created for them during my initial proofing of the blocks. The five versions are not completely identical, as there is inevitably a 'personal touch' that comes into each printer's work, but we think they are all good expressions of Jed's intention.
Each print carries an embossment with the carver and printer names. How's your Japanese?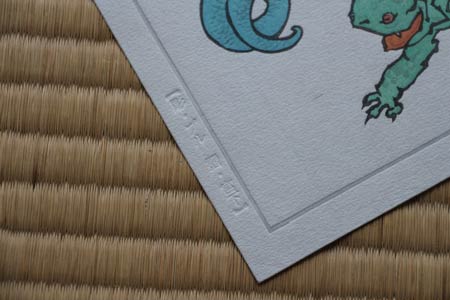 That says "Carved: Bull / Printed Miyashita" (Ayumi Miyashita is our youngest printer ...)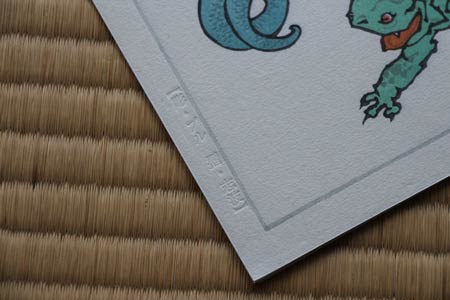 That's from Ayumi Shiba ...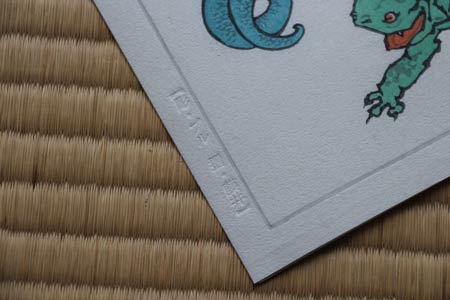 This one is Teiko Fujii (Patricia) ...
This is Yasue Tsushima, who has been with us the longest ...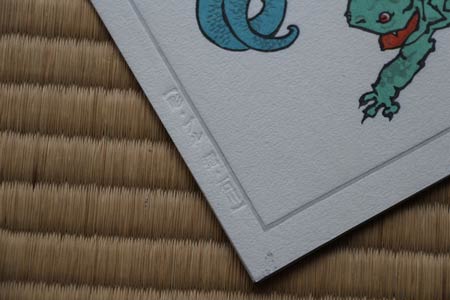 And finally, Yoko Ishikawa.
Tomorrow's work for me is to inspect all their batches carefully, culling any that don't make the cut. I'll then hand-off to our packing lady Yasui-san, who will carefully trim them to the correct size and get them on their way to Jed for signing, sealing, and shipping to the eagerly waiting collectors - some of whom have been waiting more than a year, since they placed their order during last year's Kickstarter campaign.
Good cooking takes time!