« Journey's End... | Front Page | Certain Victory! »
Chibies done ... Portraits to start ...
Posted by Dave Bull at 12:19 AM, October 10, 2013 [Permalink]
Here we are, with the final pair of Chibi Heroes prints!


And now that the entire set of 24 is done, we can finally get them to all line up together for a family photo:
What a great little set of prints this is! (I mean, a great set of little prints ... :-) As I mentioned in the post a couple of days ago, the fact that we are now finished making the prints doesn't mean the set is no longer available. We intend to keep them in our catalogue for as long as there is interest, and they are available either as a monthly subscription (as they were over the past year), or in a single batch of 24. The Chibi website will stay in the same place as before ...
And now ... with that 'out of the way', let's get on to the next big thing ... announcing ... the 'Ukiyoe Heroes Portraits' series!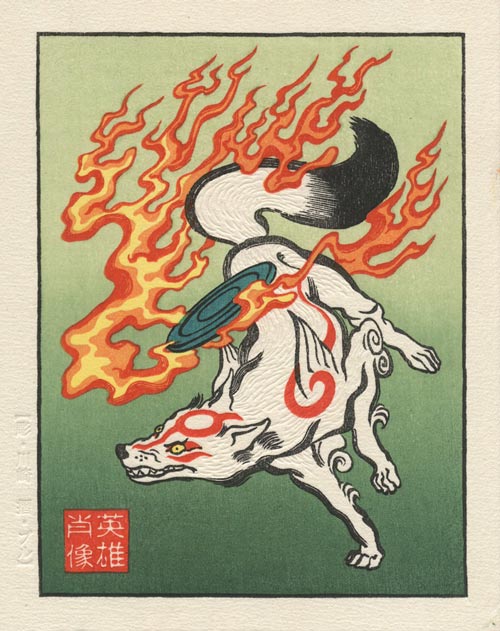 (As you read in the post a couple of days ago, we're still at the carving stage, so I can't show you a 'real' print yet; this digital Photoshop layout will have to suffice. The first proof is still a couple of weeks away.)
The series is simple in concept ... here's the intro text from the new website: "The Portraits - our subscription series for 2014 - will be a 'step up' from our earlier Chibi Heroes series. We're going to make the prints quite a bit larger (13.5 x 17 cm), giving us more 'room' to play with, and intend to use that space to create fully-featured print designs."
The emphasis through the course of the Chibi series was on the 'gags'. Jed took each character (or group of characters), put them into a 'situation', and drew them in a general ukiyoe style. It was all very light-hearted fun. As you can see from the initial two sample images here, with the Portraits we're going to take this to a bit of a 'higher' level, both in visual concept, and in the physical prints.

We're going to stay very much within our main remit - images of famous game characters drawn with a Japanese fude and edited into a form reminiscent of traditional Japanese ukiyoe designs - but are going to move away from gags, and present the 12 characters themselves as the focus.
The prints themselves, in addition to being much larger than the Chibies, will be more fully carved and printed. Even in these Photoshop mockups (made from scans of Jed's actual brushwork) the quality of the linework is immediately apparent, and when you see the actual prints, with their full colouring and multiple layering, you will understand just how far advanced over the Chibies these are.
We could not possibly have done this a year ago. It is only because of the practice and training that the women here have undergone over the past year while producing the Chibies, that we are able to propose this new series, especially at this price, which honestly speaking is far lower than what it 'should' be for work of this quality.
Anyway, enough talk from me. Please visit the new website to get all the details, and - if you wish - to sign up to receive these beautiful prints over the course of the coming year. Subscriptions are open as of right now, and the first print will be delivered in January, with the rest following at one month intervals.
We thank you very much for your support!
Added by: Robin on October 10, 2013 1:12 AM
Thanks for this series, it has been fun, getting new ones every month for my stamp-book, like some sort of advanced stamp collection.

I think this new project sounds even more fun with more detailed images and a case for them to be displayed on and Im sure that I will subsribe to it aswell.

Added by: Marco on October 11, 2013 3:31 AM
Thanks for keeping up the collaboration with Jed, the new series looks really promising and I can't wait to receive it.