« Block Party! | Front Page | Pending announcement ... »
Posted by Dave Bull at 1:56 PM, July 3, 2013 [Permalink]
'New' as in 'new to Mokuhankan', the designs we added to our catalogue today all have the same origin - they appeared in Dave's Surimono Albums years ago.
We've got three of them, each by a different printer. First up, is our newest issue from young Ayumi-san (who just turned 20 a couple of weeks ago ...) It's a reproduction of a Meiji-era kuchi-e by Tomioka Eisen: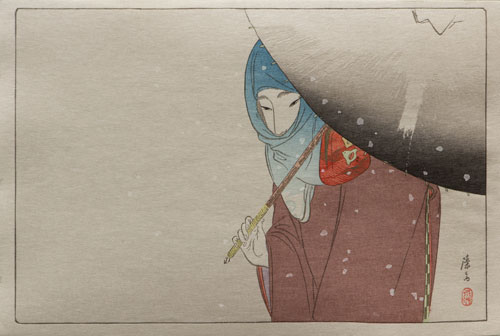 The second is one that we have long had requests for - an image from the original 'Sword and Blossom Poems' book published by Hasegawa back in 1907. And at that time it was an adaptation of a Hiroshige design published in the mid 1800s. This batch has been made for us by our regular 'outside' printer Shinkichi Numabe: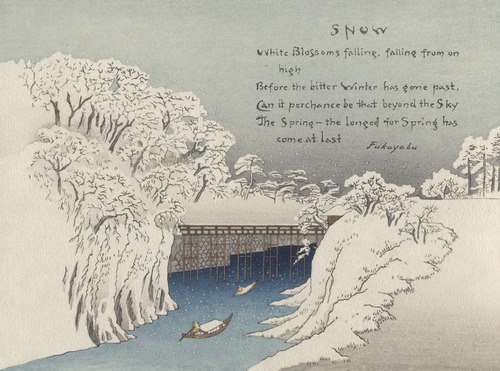 And last in today's collection is a design made up of elements created in the early 20th century by Takahashi Shotei, and re-printed for us now by young Teiko Fujii-san: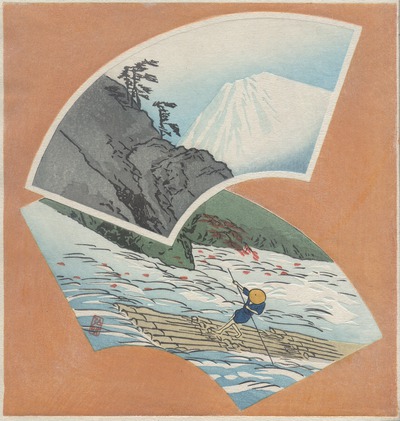 You know where to get them ... just head over to Mokuhankan and look in the catalogue under 'Landscape' and 'Bijin-ga' ...