« Status update ... new items ... | Front Page | Added to the catalogue - 'Girl and Blossoms' »
Posted by Dave Bull on March 6, 2009 [Permalink]
Here we are with a long-overdue update on what's happening with this Mokuhankan venture.
I get the occasional email from a fan or collector asking about when more items will be appearing in the catalogue, and whether or not I will actually be publishing more new print designs. After all, it has been two years now since any new images appeared here, and I can understand that people might have given up waiting!
I can reply right away that yes, there will be more prints here at some point, and that far from being 'abandoned', Mokuhankan is playing a very important role in my activities. But expanding the catalogue is having to take a back seat these days to the more mundane job of just keeping my head above water.
But that's not meant to be a negative statement - Mokuhankan is actually hugely successful. Let me explain ...
Here is a breakdown of what sort of items are in the Mokuhankan catalogue at present:
| | |
| --- | --- |
| | |
| Classical reproductions | 4 items |
| Modern works | 2 items |
| 'Gift' prints | 3 items |
| Re-prints from Dave's albums | 9 items |
| Printmaking eBooks | 3 items |
| Dave's story books | 6 items |
| Miscellaneous | 2 items |
Not much to show for nearly three years ... 18 prints (more than half of them just reprints from existing blocks), a few eBooks, and Dave's little essay 'hobby'! But from this very sparse little catalogue, there has been just shy of three million yen in sales generated since we started! (At today's exchange rate, that's just about $30,000)
Here's a little spreadsheet showing the income and expenses:
Points to note are:
1) Most of the income is from overseas - internet sales of course. I have done next to no promotion here in Japan, and have done nothing yet about getting these prints into shops here, something that is a major part of the overall plan for Mokuhankan.
2) I hired printers to do the printing in the first year, but through 2007~08 have not been able to afford to do that. What little printing has been done, I have done myself.
There is a 'paper profit' of around 1,500,000 yen. Where did this go? Why wasn't it re-invested in the business to issue more prints?
The answer is that I 'ate it'. It went towards paying my mortgage, the groceries, etc. etc. Mokuhankan is being treated very unfairly; it is being asked to contribute to my living, while it is still at this 'new-born' stage. Of course that money should never have been taken out of the business - it should have gone towards hiring people to get more prints into the catalogue. That would have resulted in more sales, and more income ... and etc. etc.
But anyway, not to complain. The important point - for me - is that yes, people are interested in these prints, and willing to buy them. I'll just have to press forward as well as I can, trying whenever possible to put more resources into this project, both yen and time. That's going to be difficult for at least the next year, until I can get the final four prints in the My Solitudes project done, but hopefully, when I am then considering what direction to move, Mokuhankan can play an important part in the choice.
But this week, there is a chance to move forward a little bit. I have just sent out the 'Seacoast in Winter' print, and before I get started on the next one, I am going to steal a bit of time for Mokuhankan. A number of the items in the catalogue are getting very low in stock, and need to be reprinted. These are prints that were previously part of my Surimono Album #1. That became 'sold out' last year, so I put some of the designs into the Mokuhankan catalogue, starting with a few extra copies that I had in my files. Those are now gone, and it's time to get the blocks out ...
So here is my work for the next week or so - reprinting each of the following six designs: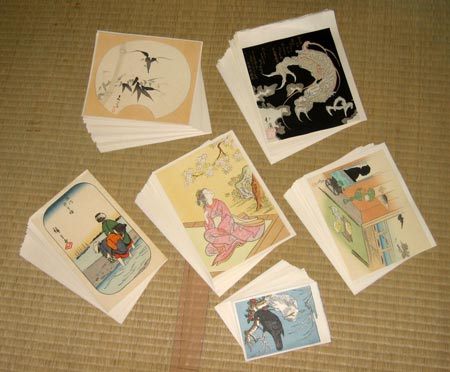 The sample images are seen there, stacked up with 20 sheets of blank washi each. Printing only 20 copies of a print is insanely stupid. To do just one more copy ... make it 21 ... takes just a couple more minutes. ... 22 ... 23 ... But of course, that argument is infinite. And I simply have no choice; if I don't get started on the next Solitudes print soon, I will be in deep trouble very quickly, so I just have to shrug my shoulders, ignore this 'inefficiency', and just get this done.
Five of these six are simply to restore inventory, but one of them - the attractive Sukenobu design of the young girl under cherry blossoms (from that Surimono Album #1) - is new to Mokuhankan, and will be appearing in the catalogue in a few days, as soon as it comes off the blocks. I hope it will be of interest!