« Spring update ... | Front Page | Mixed up blogs ... »
Added to the catalogue - 'Girl and Blossoms'
Posted by Dave Bull on March 28, 2009 [Permalink]
The batch of reprinting mentioned in the previous post has now wrapped up, and the stacks of blank paper have magically been transformed into prints!
They're not all packaged yet, but I'll be doing that over the next few days in my off time from work on the latest 'My Solitudes' print.
Most of these images were re-prints of items already in the Mokuhankan catalogue, but one of them is being newly added - the Sukenobu design of a girl sitting under cherry blossoms that was originally part of my Surimono Album #1.
It's been a full ten years since I cut the blocks and made the original 200 copies. When I sat down last week to make this reprint, I felt that the colour scheme I used back then was a bit weak, so had no hesitation in making a few changes. Nothing dramatic, but I do feel it looks better this way ...
Old version:
New version: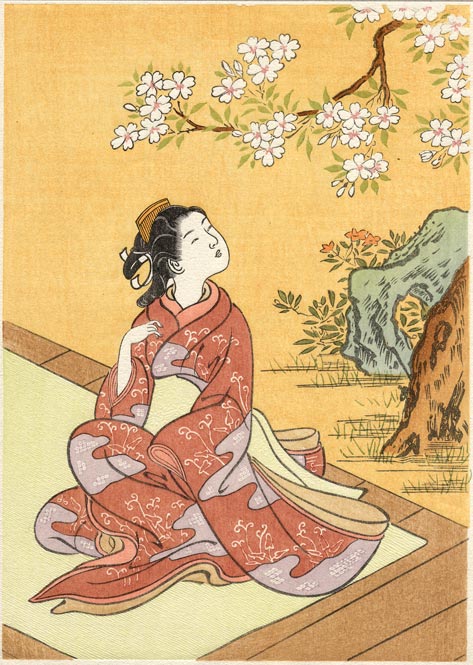 (Actually, a big part of the difference apparent there is the poor quality of the scan from ten years ago. Someday, I'll have to find the time to re-scan all that old stuff ... Someday!)
Here's the order page for the new print ...