« Discussion on identifying print 'batches' ... | Front Page | Six new prints added to Mokuhankan! »
Hokkei Dragon (6) - Proofing ... last chance for pre-release discount!
Posted by Dave Bull on January 18, 2007 [Permalink]
Continued from Hokkei Dragon (5)
Finally! We have a print to inspect!
I got a couple of dozen scroll prints sent off to the mounting workshop two days ago, so that meant a bit of time available for this job ... I finished up the final colour block, got some paper wet, and started some test printing. Here's the scene on the bench - this is the fourth sheet off the blocks, and I think we're ready to go!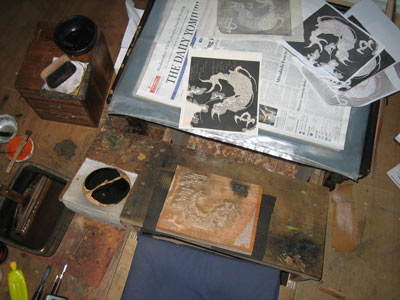 Here's a close-up of the print. The overall balance isn't quite right yet - the dragon himself needs to be more 'dirty', his outlines need to be darker, some of the edge gradations need to be cut back and softened a bit, and the gold-coloured spots on his skin need to be brought out more, but we're within striking distance ...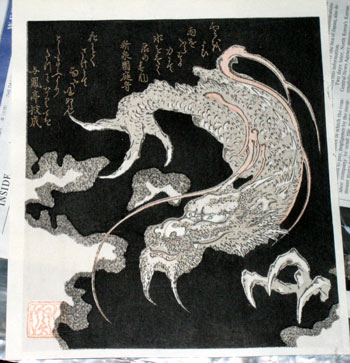 So, with now only two days left before the exhibition, I don't have a chance to make too many copies of this one just yet (9 people have sent in pre-release orders, and they've been waiting so patiently!), but I'll get a small pile of paper wet tonight, and see if I can get a small batch done before the weekend ...
Then, it'll be time to get them put into the Mokuhankan catalogue!