A Kyoto Journey
A second set of shin-hanga style designs from Jed Henry
More beautiful landscape prints!
Back in 2019, Mokuhankan worked with Jed Henry to create a series of subscription prints quite different from all the work they had done to date - The Japan Journey, a series of landscape views of the country.
They had planned it for a long time, with the intent of learning how to create images in the shin-hanga fashion, rather than the old ukiyo-e. The series was (and still is) massively popular, and over the course of the year's work, both sides (designer and printmakers) learned a great deal about how to 'build' that type of print.
So we're back! Jed has asked us for years to do a series based on imagery from Kyoto, a place he is very familar with from repeated visits. In late 2022 Dave gave him the go-ahead, and the craftspeople here are already busy with the initial design.
The prints are exactly the same dimensions as the previous Journey set: 12.5 x 17 cm (approximately 5 x 7 inches). Some will be vertical format; some horizontal.
What will you see? Will this be a 'tour' of 'Famous Places in Kyoto'? Absolutely not. These will not be 'pretty picture postcards' for the tourist shop. There will of course be quiet temple gardens, but there will also be concrete and wires. This will be Jed's view of Kyoto as he has experienced it.
IMPORTANT NOTE: Although this set will contain 12 prints, the same as most of our subscription series, it will be issued at the pace of one every two months, and will thus take two years to complete. The initial print will be published in February 2023, and the next in April, etc. etc. (alternating with the prints in our Hokusai Reborn series).
We hope you will consider joining us on this interesting Journey! [Subscription page]
The Set of Prints ...
---
Storage/Display
"How do I store my prints? How can I display them? Do I need to buy frames?" are some of the questions we receive about our subscription print sets, and after much experimentation and research, we have the answer to all those questions in one neat package - our combination storage/display box.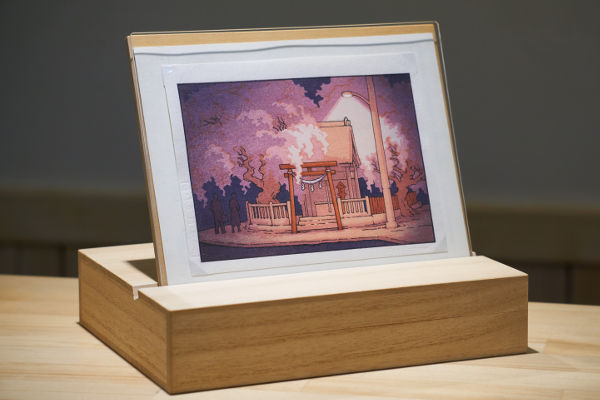 The box is an optional purchase - typically ordered together with the first print in the set, but also available later as an 'add-on' option. Each box has room for the complete set of 12 prints in this series, and incorporates a display stand with acrylic dustcover. Rotate the prints frequently (and don't place it where direct sunlight will fall on the print surface), and you have the perfect solution for both long-term storage, and daily enjoyment of your collection! Here is a page with more photos and complete information.
---
We hope you will consider collecting this interesting set of prints!