'Embrace the Delight'
The 2022 subscription series from Dave Bull and Jed Henry
This is not possible ... is it?
More than 60 prints. Hand-carved, hand-printed woodblock prints. That's what you will receive over the course of the year of your subscription to our 'Embrace the Delight' print series (running from January ~ December of 2022)
That may seem quite a stunning statement, but those of you reading this who are also regular viewers of our Twitch stream - where we frequently Show & Tell prints from our Collection - will be able to guess what this is about. Yes. Matchlabel prints.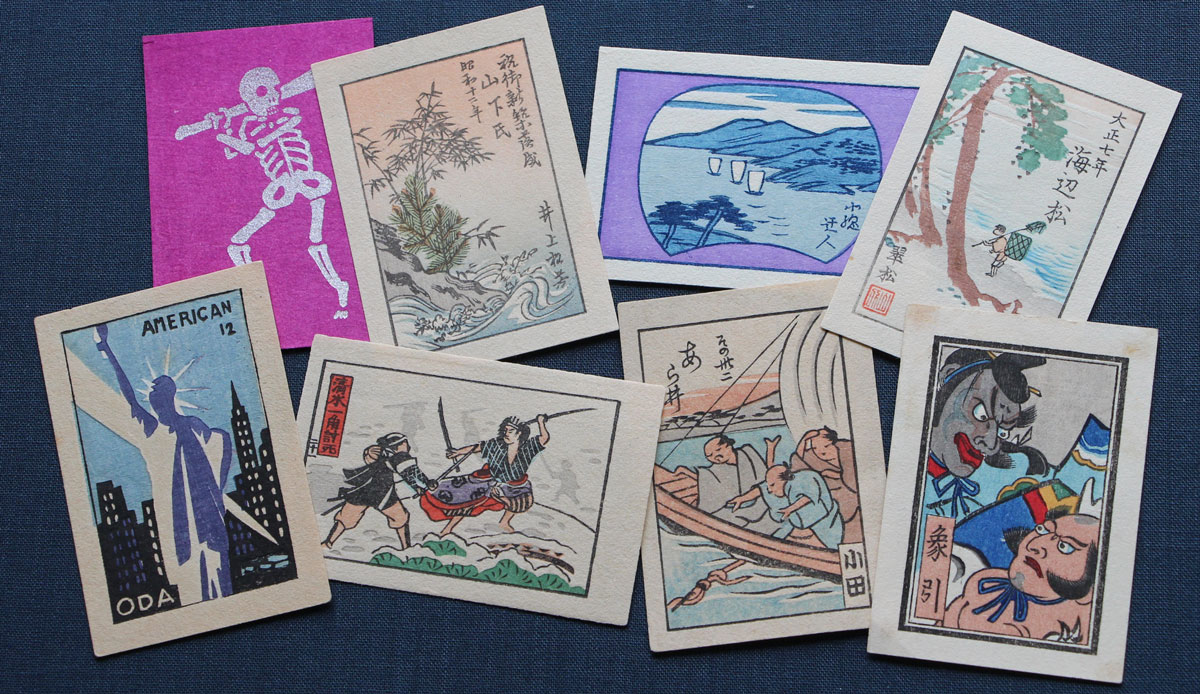 We are going to move back in time, almost exactly a hundred years, to an era when the production of collectible sets of such delightful woodblock prints was common here in Japan. Over the course of the coming year, the team at the Mokuhankan workshop are going to create a new group of themed matchlabel prints each and every month.
Themes
Half of the groups (in the odd-numbered months) will be reproductions of matchlabel prints in our own Collection; the kind of thing you see in the photo above - nature, landscape, kabuki, etc. Now that will be fun, but making only reproductions of prints that already exist is not the best use of our skills here, so in the alternating months, designs will be created specially for this series by our long-term partner Ukiyo-e Heroes designer Jed Henry. What will those be? We are expecting a variety: there will be some of Jed's own characters, we may see treatments of some familiar characters from the Ukiyo-e Heroes world, and I believe I heard him say, "There will be dragons ..."
The Prints
All the prints will be in the traditional 'matchlabel' format, 6 x 4 cm (roughly 2 1/2 x 1 1/2 inches), some groups vertical, some horizontal. The number of prints in each monthly group will vary from 4 to 10 depending on the level of complexity (we're shooting for an overall average of 5~6 prints monthly).
Storage of your collection as it grows during the year is very simple. The prints fit perfectly into 'stockbooks' created for stamp collectors (see sample below) and which are available anywhere. (Or we can of course supply one for you.)
The prints are small and easily packaged, so the monthly postage charges for this series will be very low, and because each set arrives in your mailbox as an AirMail letter, not a 'package', it should be ignored by the Customs agents in most countries.
Our design/carving/printing team is gearing up for a challenging and fulfilling year of work! We hope you will join us for this unusual - and very special - printmaking project!
Group #1: five Kacho-e (Nature) designs

The January group are reproductions taken from a set of nature designs originally published in 1937.
Group #2: Fox and Cat

Introducing 'Fox and Cat' - a new character pair from Jed Henry.
Group #3: Landscape fan designs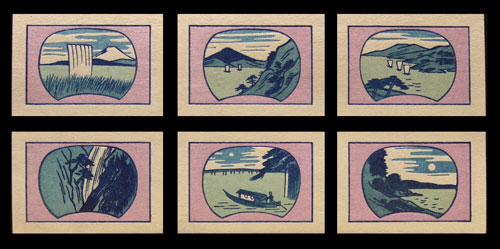 These are taken from a group of early Showa-era landscape designs, originally intended for 'Summer Greetings'.
Group #4: Dragons!

Jed-san having some fun with a pair of flying dragons!
Group #5 (shipped in May): Kabuki Ju-hachi-ban

Five of the designs in a traditional set depicting the '18 Famous Kabuki Plays', created by the Ichikawa clan back in the Edo period.
. . . more to come . . .
---
Storage/Display
Here is an image of the postage stamp album that we are using to store the matchlabel prints in the Collection here at Mokuhankan. The black backing sheets set off the prints beautifully. 'Stockbooks' of this type are available anywhere, and you should be able to find a good one locally. If not, the one shown here is available from us.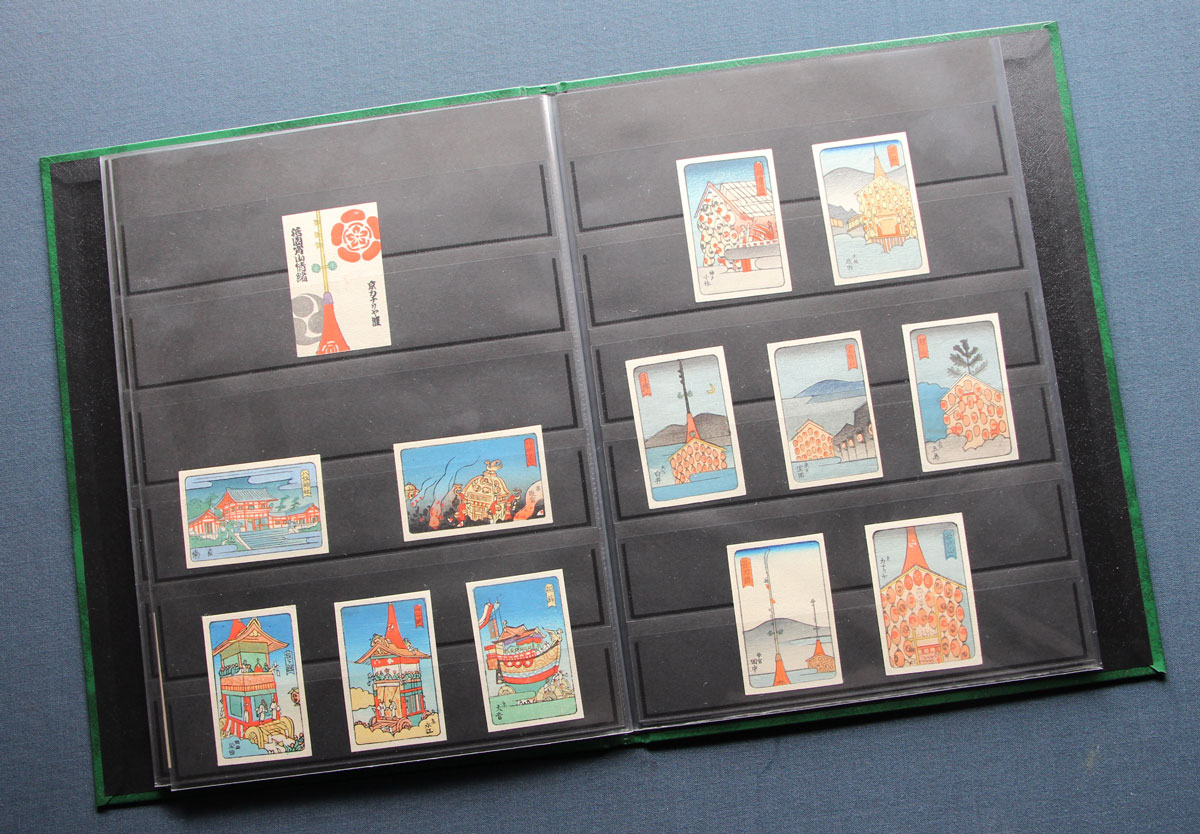 Another advantage of this particular album is the way that the inner pages are not permanently fastened into the album, but can be slipped out from their sleeves. This means that if you just 'happen' to have the paulownia box we supplied for our Scenes from Nature subscription series, you have a place to display these!
[Update on storage: we've heard from a number of friends and collectors about other ideas for storing these prints. It seems there are many products on the market these days that provide safe 'archival' storage for such things as baseball cards, board game supplies, and all manner of anime and game-related cards.]
The Mokuhankan update video that introduced the series:
We hope you will consider collecting this interesting set of prints! (Price and postage information for all our sets is on the subscription page.)