« New video ... new series! | Front Page | Printing POV video ... »
Posted by Dave Bull on July 1, 2021 [Permalink]
Today marks the 35th anniversary of my entry to Japan ... Thirty. Five. Years.
Incredible.
I had previously been refused both Cultural, and Student visas on application back in Vancouver. We came anyway, and - as expected - I got a three month tourist visa at the airport.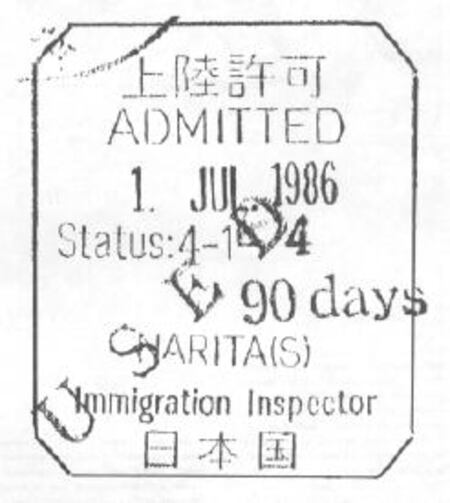 More about the episode in an old old issue of my Hyaku-nin Issho newsletter.
Added by: Delphine on July 2, 2021
Happy 35th anniversary!
What a gift for all of us!
So happy you met that 'guy in the mirror' !
what an amazing artistic and cultural experience and most likely to last for a long long time
Merci

Added by: Amanaka on July 14, 2021
I hope those 35 years have been all you could ever want and more(:

Added by: Jeff Aasgaard on July 21, 2021
Congratulations on 35 years in Japan!
I moved to Japan in the early '90s but moved back to the US in 2007. Each year I visit Japan in the summer (I have kids and this is their summer vacation) except for 2020 and 2021. I cannot wait to return in 2022.
Please keep doing what you are doing to keep the traditional arts alive in Japan!