« New video ... new series! | Front Page | Printing POV video ... »
Posted by Dave Bull on July 1, 2021 [Permalink]
Today marks the 35th anniversary of my entry to Japan ... Thirty. Five. Years.
Incredible.
I had previously been refused both Cultural, and Student visas on application back in Vancouver. We came anyway, and - as expected - I got a three month tourist visa at the airport.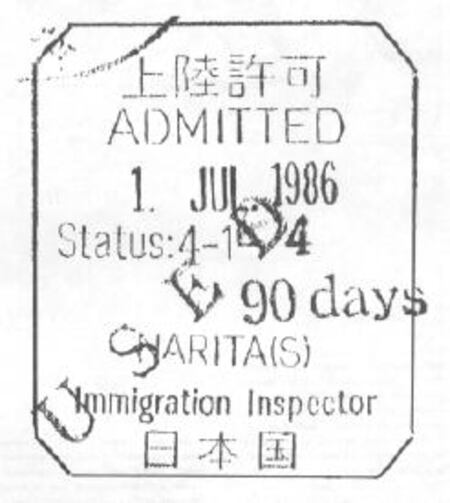 More about the episode in an old old issue of my Hyaku-nin Issho newsletter.
Added by: Delphine on July 2, 2021
Happy 35th anniversary!
What a gift for all of us!
So happy you met that 'guy in the mirror' !
what an amazing artistic and cultural experience and most likely to last for a long long time
Merci

Added by: Amanaka on July 14, 2021
I hope those 35 years have been all you could ever want and more(:

Added by: Jeff Aasgaard on July 21, 2021
Congratulations on 35 years in Japan!
I moved to Japan in the early '90s but moved back to the US in 2007. Each year I visit Japan in the summer (I have kids and this is their summer vacation) except for 2020 and 2021. I cannot wait to return in 2022.
Please keep doing what you are doing to keep the traditional arts alive in Japan!

Added by: Marius Stanz on July 27, 2021
Hello Dave
Congratulations on your 35 years in Japan.
When we make decisions in life, we make good and bad ones, we either press a green button or a red one. In your case coming to Japan was a green button, maybe it didn't shine green from the word go, but still it turned out to be green!
I recently received my copy of the Great Wave woodblock print and was in absolute awe over the quality and beauty thereof, again a green button for you.
Wishing you many more green buttons and happy days.
Greetings and kind regards from South Africa.

Added by: Dave on July 27, 2021
Marius, thank you for your nice comments!
I have to mention - when we saw your order last month for a print to be shipped to South Africa, I was very worried. I'm sorry to have to say this about your country, but we have 'lost' most of the shipments we have tried to make there, and I was thinking that we should just refund your money and give up.
I decided to try though, and then - after we made the shipment - when we saw the news about the latest social unrest, I basically said to myself, "Well, good-bye to that print ..."
But I was wrong! I was so happy to get your email letting us know the print had arrived ... and safely! Thank you so much for 'thinking green' ... :-)