« Time for a 'different' video ... | Front Page | Update message for our Patreons … »
Asakusa print shop closes ... not us ... the other one!
Posted by Dave Bull on March 19, 2021 [Permalink]
Our Asakusa shop opened back in late 2014, and grew vigorously over the next few years. We weren't the only print shop in the area; Sakai Kokodo - in business since the Meiji period - had a shop in the main Nakamise street, the row of shops leading up to Sensoji temple.
A couple of years after we opened, the owner of that shop paid us a courtesy visit one day, and as it turned out, that happened to be quite a gang-buster day for us; I barely had time to chat with him because we were so busy. It seems that he must have gone away thinking to himself, "Hmm .... ", because some months later, his company opened a second shop just a few doors away from us, in the next block.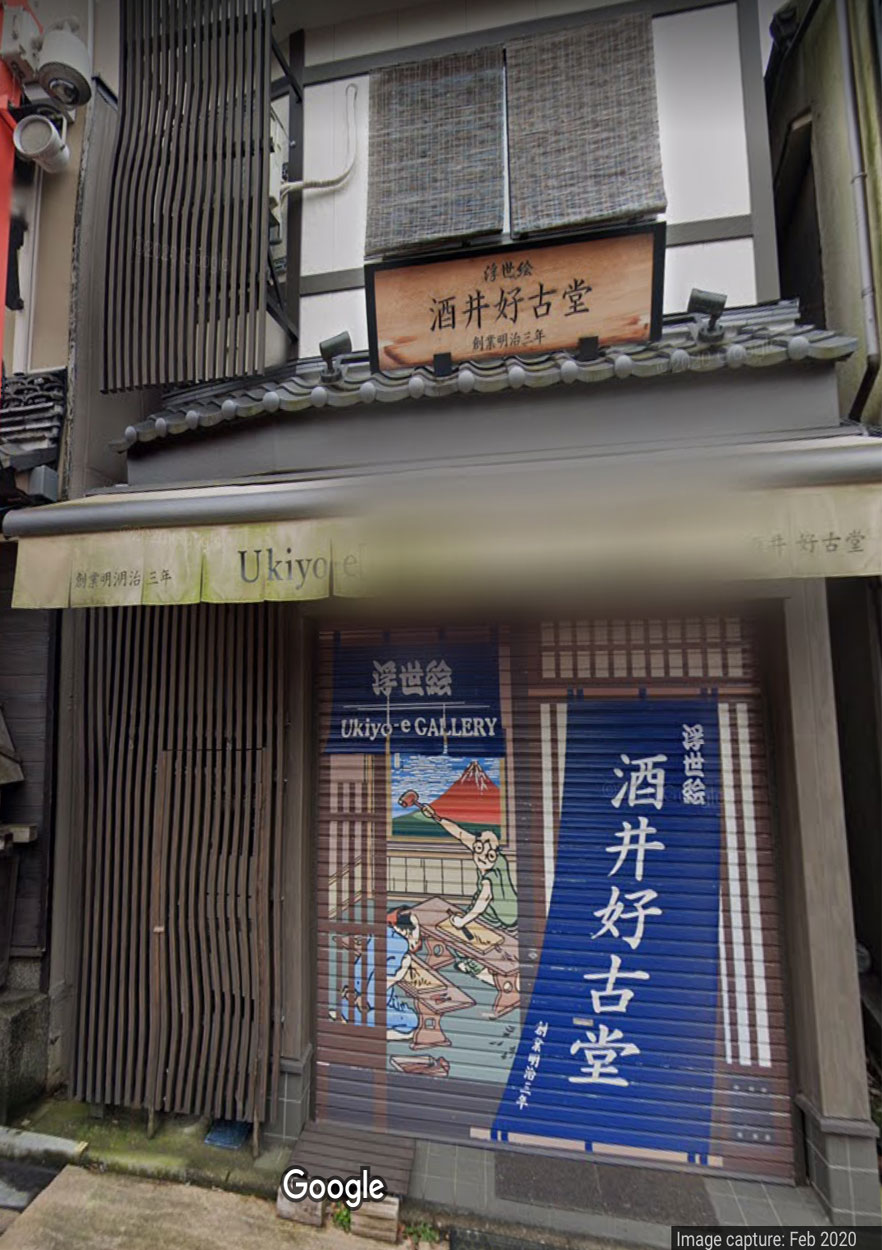 I remember that well, because I had found out about it from one of our staff members who had passed by and noticed their new sign being hung. She came running, "Bad news! Competition opening up! ..."
After I learned the details, that yes indeed, we were going to have a strong 'competitor' next door, I reassured all our staff members. "People, please relax. There is enough room in this city for a dozen print shops! Imagine for a minute how it could be: Sakai-san has opened in the next block; perhaps Adachi would open right next door to us ... then Takamizawa on the other side .. What would you think about that?"
My point was clear - such a situation would be fantastic for us! Every single visitor to Tokyo who had even the slightest interest in ukiyo-e prints would be certain to come and visit this street. It would be heaven! We have enough confidence in the quality of our prints, and in the value we are bringing to society, that there is no need at all to worry about 'competition'. Honestly speaking, we simply don't have any.
But alas, that 'vision' of mine was not to be. And in fact, we are now moving even farther away from such a chance. At the end of last month, Sakai Kokodo closed that new shop, after just three years in that location. The sign has not yet been taken down, but a new tenant has begun work inside ...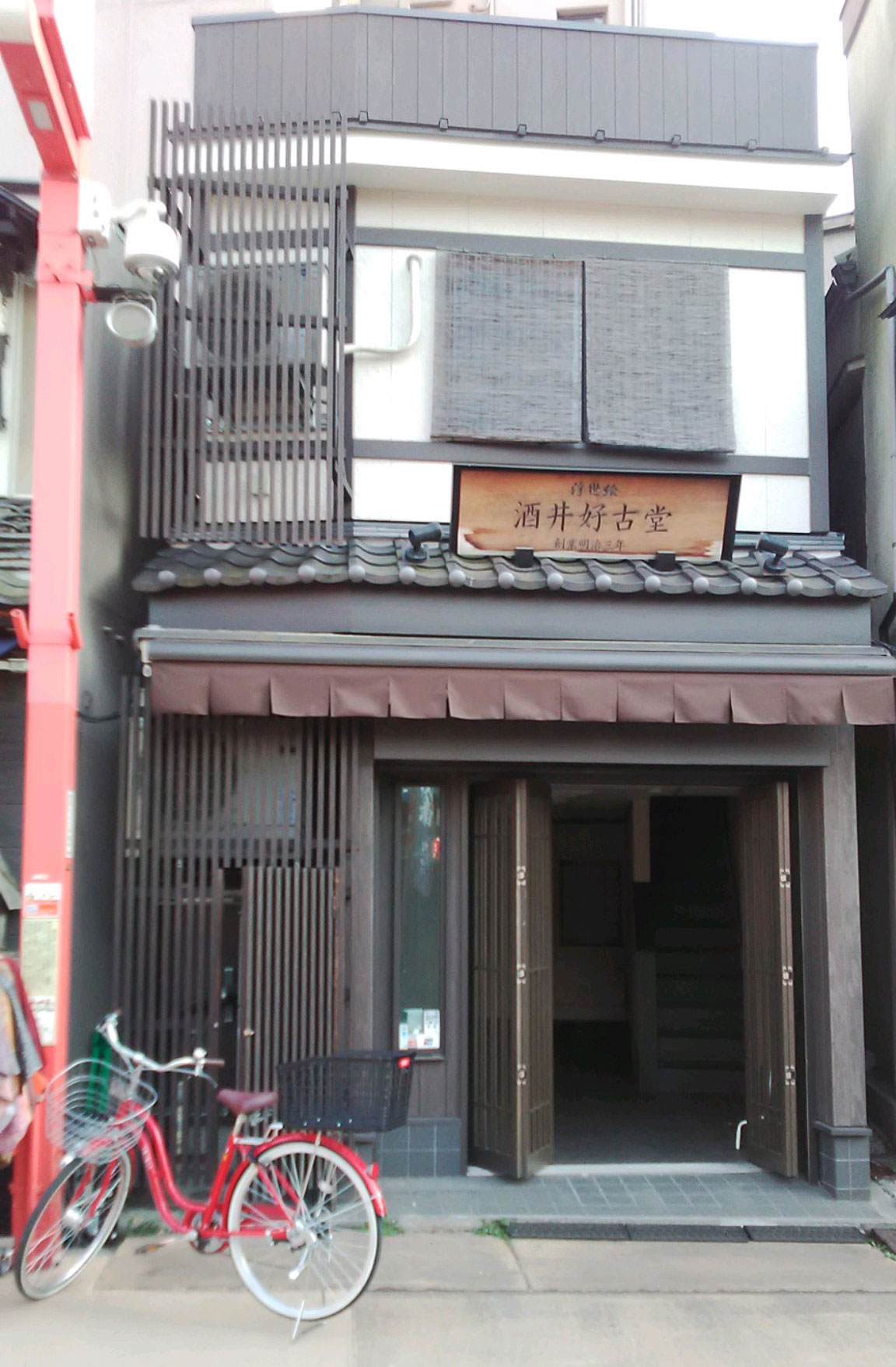 I confess to mixed feelings. As I said, I have no problem with having 'competition', and am saddened by their failure. But there is undeniably a little voice inside me that is seeing this happen and thinking, "Heh heh ... We're OK ... We figured this out ..."
But I think I'll do what I can to suppress that sort of thing. We are still a very long way from the exit of this long tunnel. As readers of our Instagram must have noticed yesterday from a post Cameron made there, our own shop has now been shut exactly a year. Unlike Sakai-san though, we haven't given up on this. Because of our strong online presence, backed by excellent social media skills, we hope to be able to carry on until some kind of 'normality' returns.
Our own hard work and 'smarts', plus wonderfully strong support from our fans/friends/customers ... this should see us through!
Added by: Julio on March 19, 2021
Interesting post Dave. I think even from the early days your ability to have a strong online presence has been key to your successes. With the later emergence of the many social media
channels this (together with your vision and strict quality control) has given you a heads up on the 'competition'. So glad that all is going well for you and the shop. As for me I am semi-retired from IT after taking a retirement package from Walgreens after 30 years. Looking for new challenges but after 45 years in the computer field maybe time to change directions ? All the best !

Added by: John on March 19, 2021
A concentration of secondhand print shops made Jimbocho a can't miss for collectors. Having several new print shops in Asakusa would do the same. But no one could justify opening a new shop in an area with high rents when there are no tourists.
Maybe it's something to think about once things open back up.

Added by: Dave on March 19, 2021
... Jimbocho ...
Yes, those were the days! There were dozens of places with good stocks of prints back when I first came here. Now down to the final two or three ...
There was never any chance of that happening here of course. I merely used the analogy to try to 'calm' those staff members who were worried about 'competition'.
And now these days, in this 'new world', Asakusa is changing extremely quickly. 'Shops' are disappearing and 'eateries' are taking over. The target age group is no longer 'uncles' who are out for a visit to the off-track betting center and then a glass of sake, but young couples. When I look out over the scene here this weekend, maybe the median age I see is somewhere around 30 ...
This isn't actually going to negatively impact us, I think. Post panic, Asakusa is still going to be a major 'magnet' for overseas visitors, and that will suit us just fine. (And of course, we ourselves will be doing plenty of the 'attracting' ...)

Added by: SHAIKH SHARIF AHMED on May 21, 2021
No worries Dave, you will soon become a reason for tourists to visit Asakusa. I am forecasting competition to the Japanese tourism board!