« More Mountain Cherry Wood | Front Page | Feeling Worn Down ... Again? »
Gampi Paper Now Available
Posted by Cameron Hilker on February 14, 2020 [Permalink]
New items are available on our website! Mokuhankan has long been your home for beautiful woodblock prints. This week, we added gampi paper to our catalogue and are finally taking the first steps toward also providing the supplies needed to make your own prints wherever you are in the world!⁠
We are excited to be slowly diversifying our offerings here at Mokuhankan. Starting now, we are offering 100% gampi paper sold in full, uncut sheets. Each sheet has approximately 96 cm by 62 cm of usable area and natural selvage around all four edges. We will ship it rolled up in a strong cardboard shipping tube.⁠
⁠
We currently have this gampi paper in two weights:⁠
We at Mokuhankan use gampi paper as transfer sheets, to move the image from a keyblock or computer-printed image onto our wood blocks. The thicker (5-monme) one is perfect for a smooth, 10-out-of-10 peel, as you sometimes see Dave do on the live stream on Twitch.
The thinner one does not peel quite so smoothly, but is useful in other ways. For example, it is so thin, that you can sometimes carve straight through it without peeling it at all (depending on how darkly you printed the image).
We do plan to make a video or photo guide showing how gampi is used for transferring images to blocks, so keep an eye out for that, too. There are also numerous uses for gampi outside the realm of mokuhanga printmaking, but we will leave those up to you to discover.
In the two photos below, I held one sheet of each weight of paper the same distance away from me. You can easily see in the second image how much more transparent the 3-monme sheet is!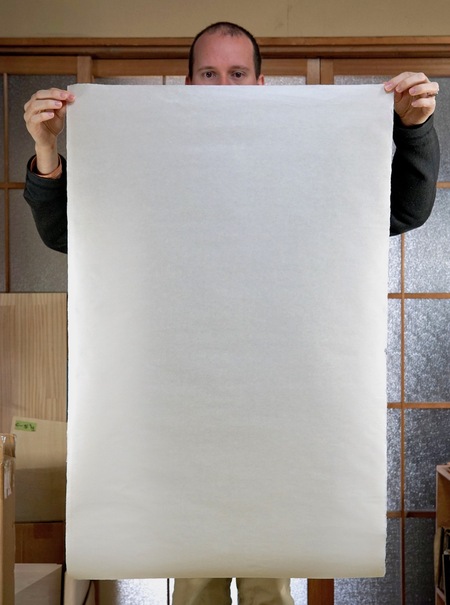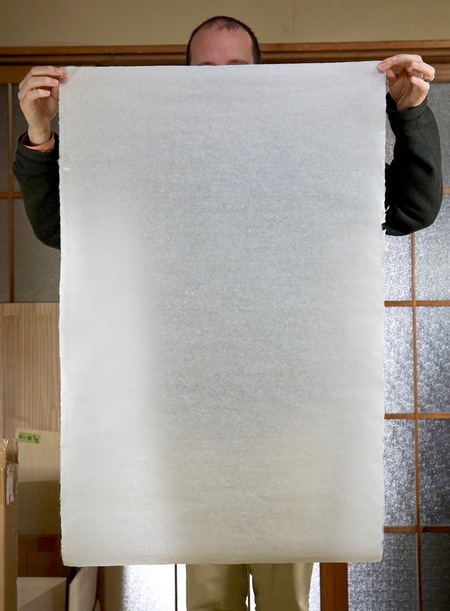 Here I held one sheet of each paper, putting my fingers behind them to again demonstrate the difference in opacity.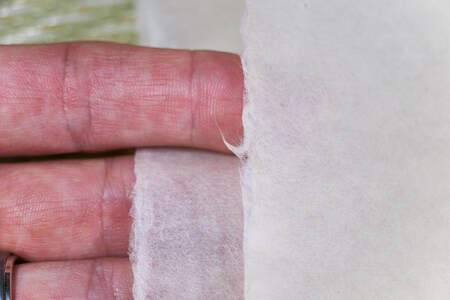 Here is small 3-monme gampi paper in a small, staggered stack.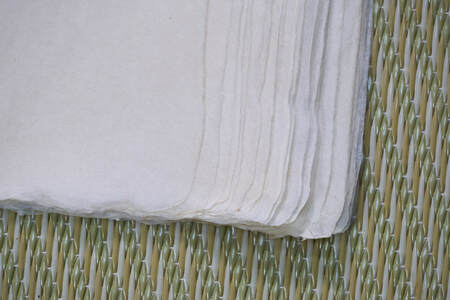 Kirra took a picture of me as I got the paper out and ready for the other pictures.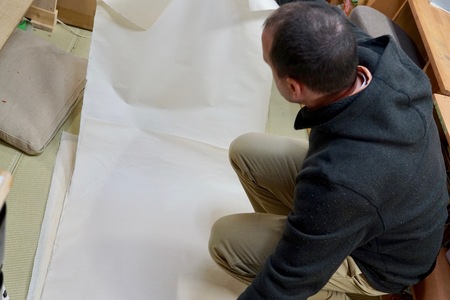 We look forward to adding other supplies to our shop over time.
Added by: Dave on February 13, 2020
Note from Dave: I forgot to ask the staff members to mention this in the blog post, but there has been some confusion about sizing on this paper. The thicker kozo (mulberry) paper that we use for our normal printmaking must always be sized (with a glue mixture) before we use it for our work.
These gampi sheets are unsized, but this is not a factor when using it for the purpose of transferring your image to the block that way that you have seen in our videos. We simply use a low-tack spray adhesive to make a two-layer lamination of this paper onto a stronger base, and we then run that lamination through a laser printer to create the image, or use a baren to print the key block onto the lamination for making color separations. In either case, sizing is not required.

Added by: Tom on February 18, 2020
Wow - that is some really good looking paper! :O