« Share in the fun - 2019 version! | Front Page | Welcome Back, Ayumi! »
Fabiola Gil Demonstrates Using Carbon Paper
Posted by Cameron Hilker on October 1, 2019 [Permalink]
Fabiola Gil from Spain is visiting Mokuhankan for a few weeks. I took some photos as she demonstrated how she uses carbon paper to take a first impression on her newly-carved key block.
Fabiola Gil is a mokuhanga printmaker based in Zaragoza, Spain. You can find out more about her and her work on her website, though most of the information is Spanish, which unfortunately may be a limiting factor for many of the readers of this blog.
She makes interesting work, which you can find in her shop or other pages around her website as well as on Facebook and Instagram, where she is regularly posting about her time here at Mokuhankan. She is spending this time here at Mokuhankan not as an apprentice or intern, but instead as an independent printmaker observing how things are done here, and pursuing her own work.
Fabiola brought with her many new designs, planning to turn one of them into a woodblock print during her time here. She got started right away and this first photo was taken early in her time here at Mokuhankan, just as she began carving the key block for her new design.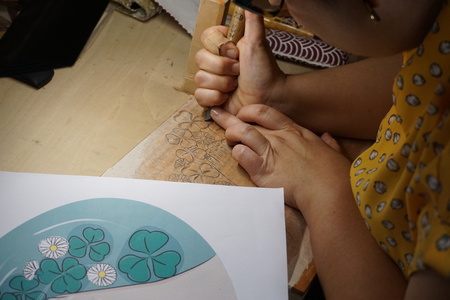 Not long after, initial carving was done!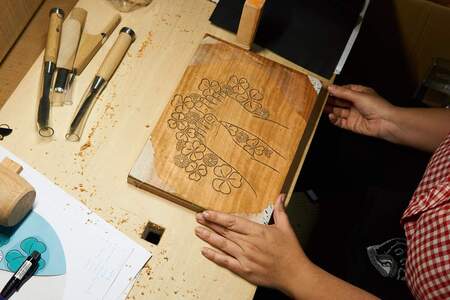 Before applying the pigment the first time, she prepared carbon paper and some thin washi paper to make a first impression. Doing initial impressions is important in order to double-check that the key lines are carved the way she wants and that she did not miss any spots in the design. Once the key lines are ready, these impressions will also be used to prepare all the subsequent color blocks.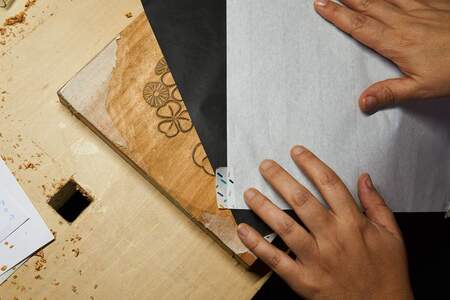 In the below photo you can see her attach the white paper she uses for the first impression directly to the woodblock itself using a few pieces of tape. She then slides the carbon paper with the carbon side up between the block and paper.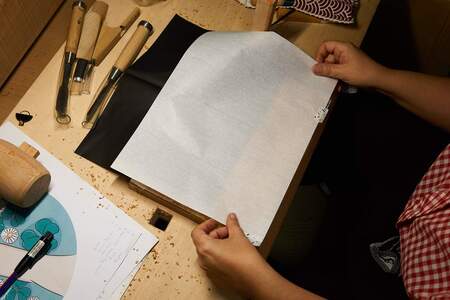 Then Fabiola uses the baren and prints, being careful to keep the thin white paper from tearing.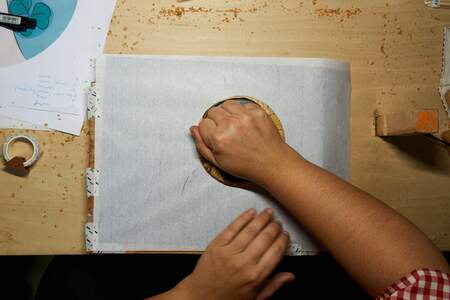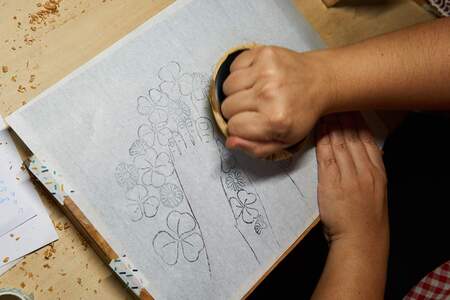 Finally, she compares the printed impression to the original design and makes any necessary adjustments to the carved block.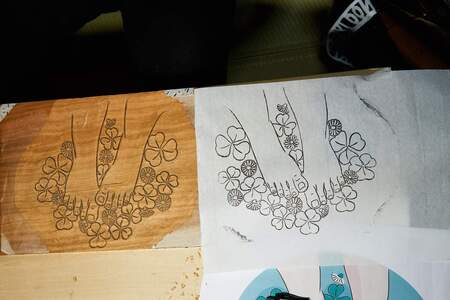 While carbon paper is not a tool I have seen used by other printers here at Mokuhankan, it is definitely one more technique you can put to use if you start making your own prints!
Added by: Shidohari on October 1, 2019, 12:24 pm
That's a great technique, and I'm glad it looks to be a great visit for her at your location so far. I wish all of you well.

Added by: weejohn on October 1, 2019, 1:51 pm
Cameron, great post many thx.,and Chapeau Fabiola

Added by: Karl on December 11, 2019, 11:36 am
Simple, and so effective, I should try this out before I do a test print.