« Ready to go ... 'before' | Front Page | 'Lost' Hasui Print - Found! »
Posted by Dave Bull on July 10, 2018 [Permalink]
And ... here we are after the prints and other items were brought down from the second floor ...
Let's start the little 'tour' outside ... the giant poster of the 'Rickshaw Cart' print stops people in their tracks!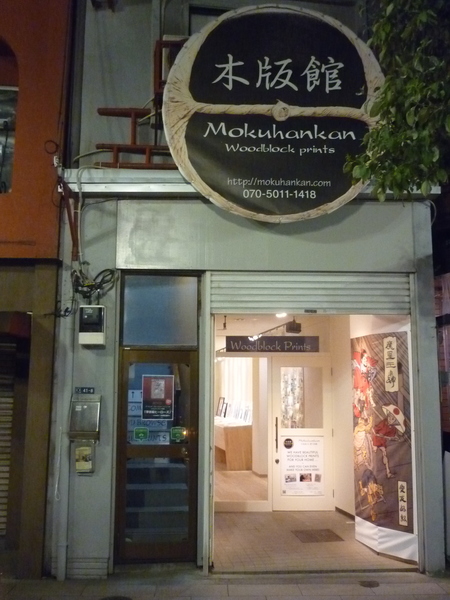 We're still not sure what kind of impression the place makes on people walking by ... can they actually tell what we do here?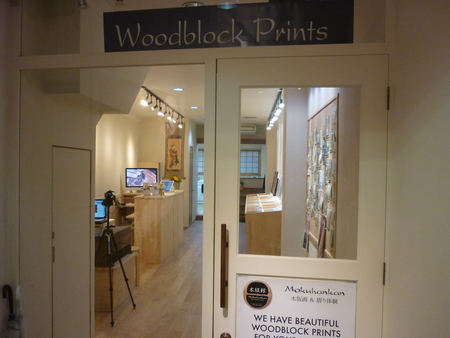 My bench is now populated ... with the camera ready for tomorrow morning's Twitch stream!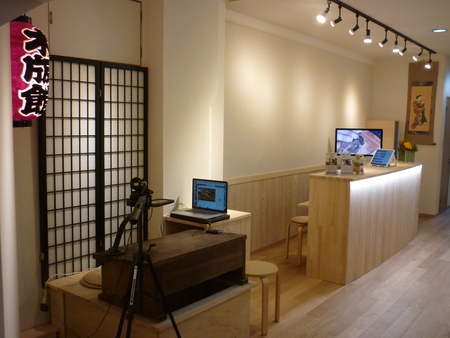 The HangaClub display is pretty much the same as what we had upstairs: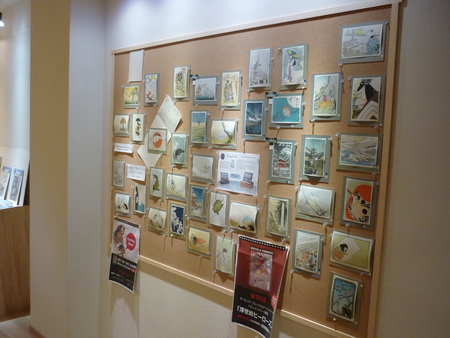 Even with all the prints in, it's still a bit of a sparse appearance: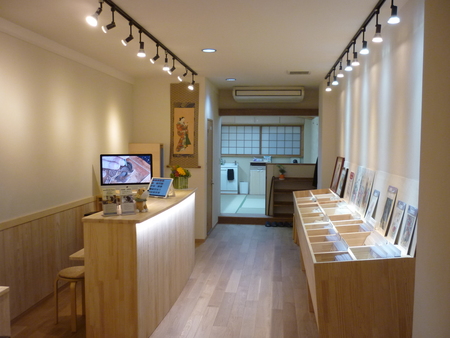 We would like to have these browser bins stuffed tight - but we just can't make prints quickly enough to build up stock ...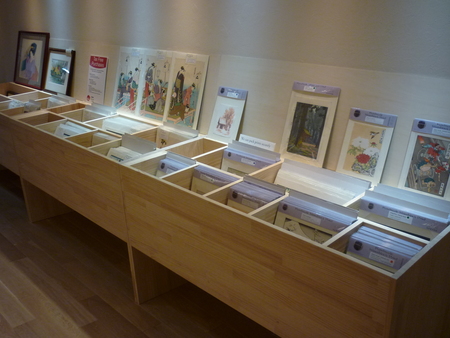 One thing different in the new shop, is that we have finally made space to display and show many of the larger format prints we have in our collection ... We have a number of the post-war reproductions of Goyo prints, for example ...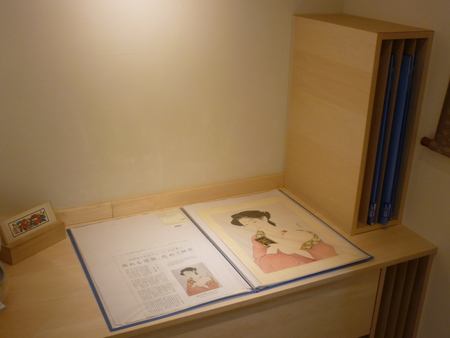 The Party room is now populated ... with coffee supplies ...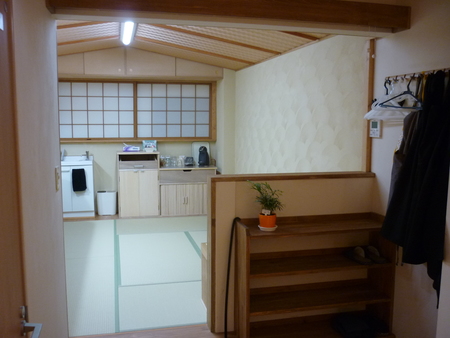 ... and woodblocks!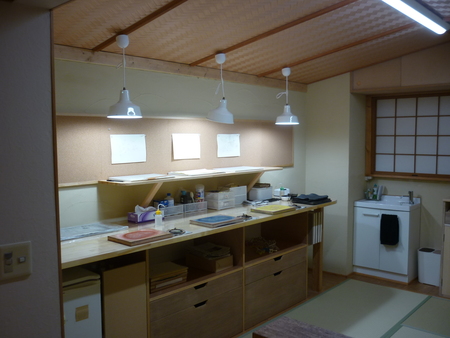 The shop isn't yet 'finished', as much of the signage isn't done yet, I have many many new Flea Market prints to process, and we haven't even got the genre labelling ready yet, to help people know what they are looking at ...
Over the coming days, weeks ... we'll try to get it all in place ... Thanks for looking!
Added by: Jacques on July 10, 2018, 1:39 pm
Many congratulations with the grand opening of the first floor (or ground floor as I would call it) of your Asakusa Mokuhankan shop Dave!
It looks fabulous!

Added by: Qaantar on July 10, 2018, 6:35 pm
おめでとうございます!
Congratulations on making it to the opening day, it's all looking absolutely spectacular!

Added by: Marc Kahn on July 15, 2018, 12:50 pm
So, it's been a few days since the ground floor opening. I'm certain that it has led to significantly greater foot traffic, but I'm curious if that is mostly just "lookers", or if there is a noticeable increase in sales.

Added by: Dave on July 15, 2018, 5:49 pm
Marc, it's both, as you might expect ... Sorry for the radio silence this week, but ...
A few points:
- there are _certainly_ many people now here who had never heard of us before, and who only came in because they saw the entrance. That did happen before, but not so often ...
- this new setup is all happening at exactly the same time that we are suddenly getting world-wide exposure in airplane entertainment systems; our documentary is playing in Delta, KLM, Air France, Cathay Pacific, Vanilla Air, and who knows how many others ... This is bringing in _tons_ of new people, and we're hearing that many of them are 'double punched' - they saw the doc, but might not have specifically sought us out, but when they then bump into us on this street ... well of course they come in.
- No specific increase in foot traffic from Japanese ... with one exception - over this past weekend, we had a lot of visits from people with kids in tow ... A family with a bunch of kids is sometimes desperate to find a way to occupy them, and we found ourselves flooded with kiddies on Saturday. This was not a good thing, and we are going to have to figure out how to shut that down. One or two 'young people' here together with their parents for a Print Party is OK, but this is not a day-care centre, and no way do we want a stream of pre-schoolers though here ...
- on the Saturday afternoon, the staff left as usual between 5:30 and 6:00, but I had desk work to do, so I just left the flag outside and the lights on while I did that. I didn't get any work done; I processed more print sales over the next three hours than we had done all day up to that point. It's clear that once the street outside gets dark, the shop is a beautifully lit up magnet, and nobody can walk by without seeing it. The staff and I are now starting to figure out how we can work out some evening shifts ...
Over all, we're of course still trying to find our sea-legs, but so far it looks very good indeed!

Added by: Lisa on July 27, 2018, 5:24 pm
Absolutely beautiful! Congratulations Dave and good luck.^_^