« Print Party video! | Front Page | Construction Update June 28 2018 »
Posted by Dave Bull on June 14, 2018 [Permalink]
The Share Certificates are shipping!
All the component parts are finally in place, and the initial group of Share Certificates are leaving the building today ... heading out to countries all over the world.
Regular watchers of our Twitch stream knew this was happening, because they saw the printing happening last Monday: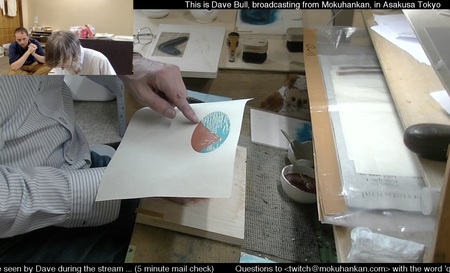 They didn't see the next step, which was to pass the woodblock-printed sheets over to Cameron, who ran them through our new ink-jet printer to pick up the background of the certificate image ...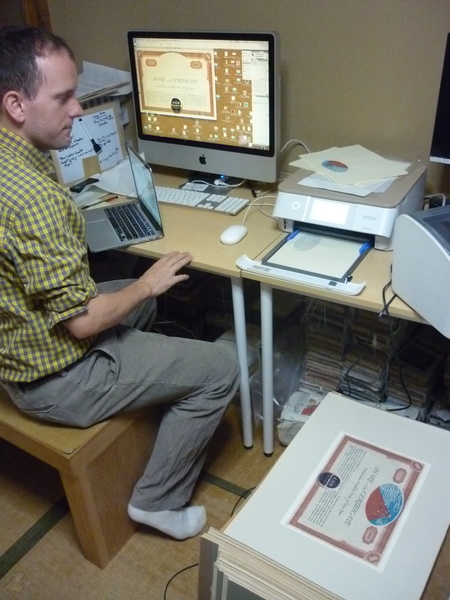 I then took the finished certificates back to my desk, and on yesterday's stream did the signing, numbering and dating of each one ...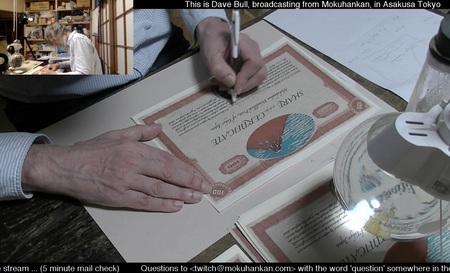 And here they are (were ...)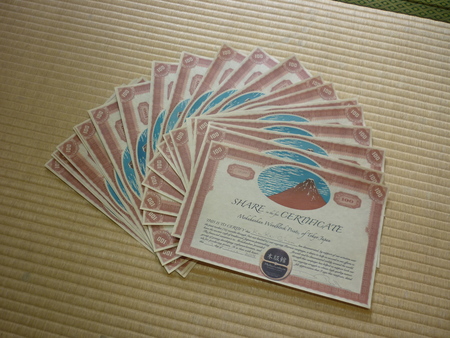 That stack has now been packed safely into strong envelopes, and they are on the way!
Thank you again to all the supporters who have taken part in the Patreon over the past year ... it has helped tremendously!
Added by: Jacques on June 22, 2018, 3:35 pm
I received my number 0016 Share Certificate yesterday. It's fun indeed, thank you!

Added by: Dave on June 23, 2018, 5:36 am
No ... it's thank you Jacques-san, for your support!
And may I ask ... did it arrive in clean condition? That's a type of packaging that we haven't used before, and I'm a tad nervous about it ...

Added by: Jacques on June 24, 2018, 6:49 am
No worries Dave: the corners of the thin cardboard envelope arrived bent, but the hard plastic cover you sent the certificate in protects it perfectly.

Added by: Marc Kahn on June 25, 2018, 11:00 am
"Share in the Fun" certificate is received. Thanks! It was fun to get it.
The packaging was too large to fit in my mailbox on the street. In order to avoid coming up the driveway to deliver to our front porch, the postman tried to fold it in half (like he would do to a magazine). However the inner sleeve was strong enough to keep a hard fold from happening, so it was arched in the mailbox, with no harm done.