« Great Wave video - part twelve ... | Front Page | Great Wave video … part thirteen »
Posted by Dave Bull at 11:50 PM, June 28, 2015 [Permalink]
I haven't been very successful at keeping this blog up to date recently, as just about everything else that I do here has a higher 'priority', but I came across something today that was just too rich to miss!
One day shortly after moving into the shop in Asakusa, I checked the Google Street View of our street (known as Roku Dori) and found - as expected - that our shop sign was not visible. The view I saw must have been taken perhaps a couple of years earlier, as a nearby large building was still just a hole in the ground. I suspected that it would be quite a while before the Google car made another pass down our street, although I of course don't know their schedule for refreshing these views …
Well, I checked again this evening just in case there had been an update, and found that - yay! - they've been by recently, and our shop - and its sign - are now visible! Here's the Google view as you enter the street, with our shop just barely visible over at the left ...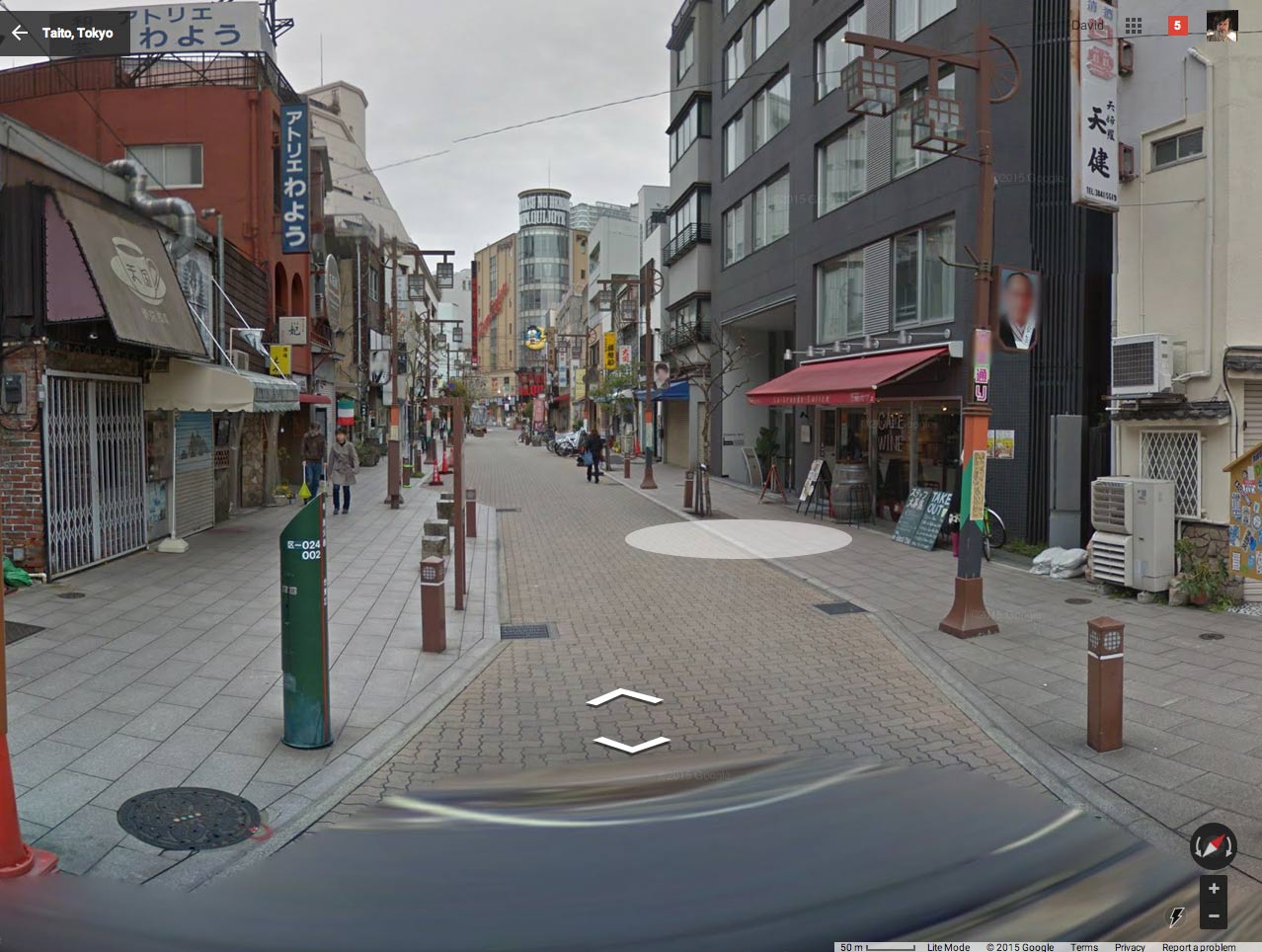 When you move closer, and 'turn your head' to the left, you see our sign clearly.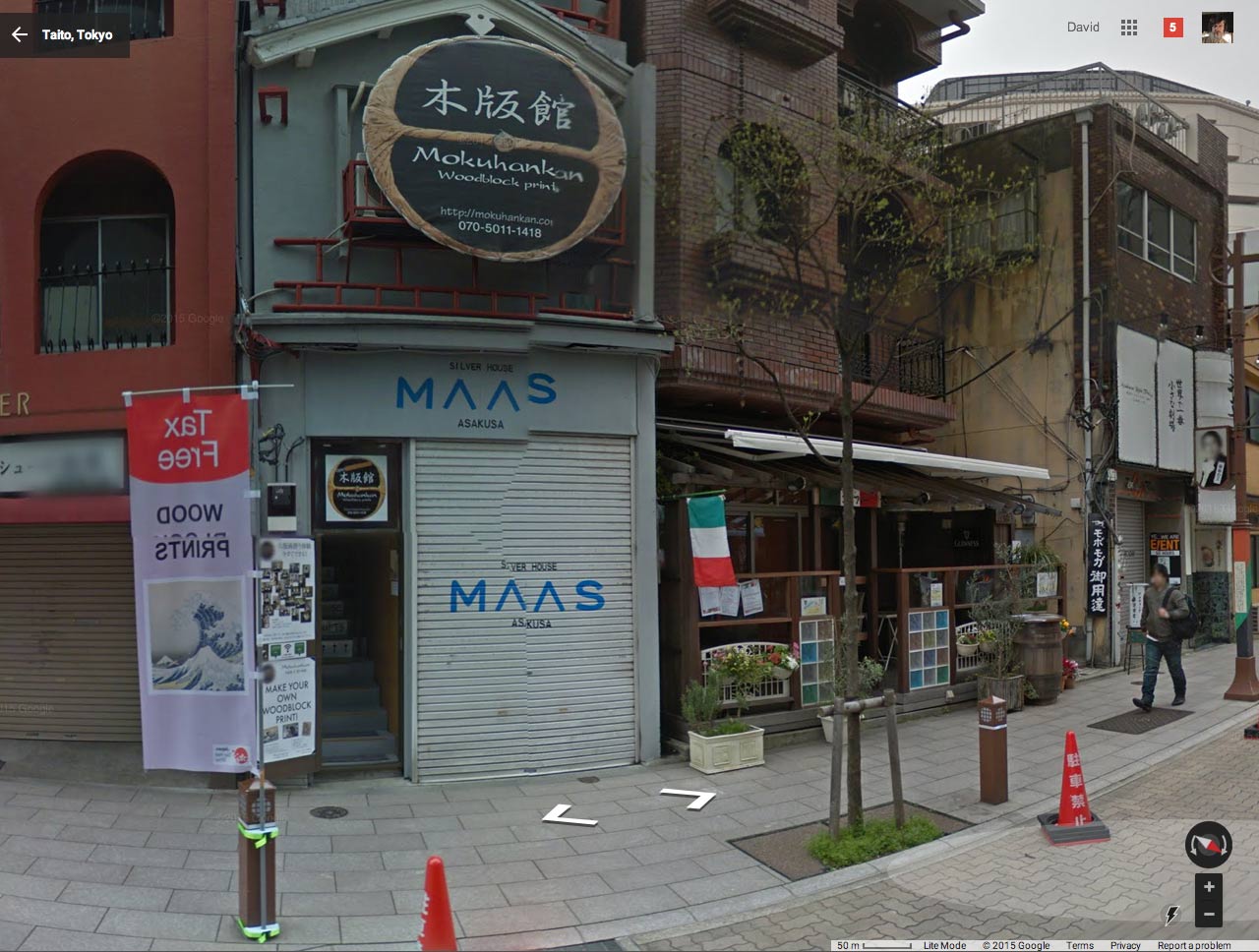 The front door is open, and one of our flags is outside. The neighbouring shoe shop is not open yet, so it must be around nine in the morning, I guess. But look at this! Move slightly to the left, and what do we see?? Dave is out there doing the morning street cleaning!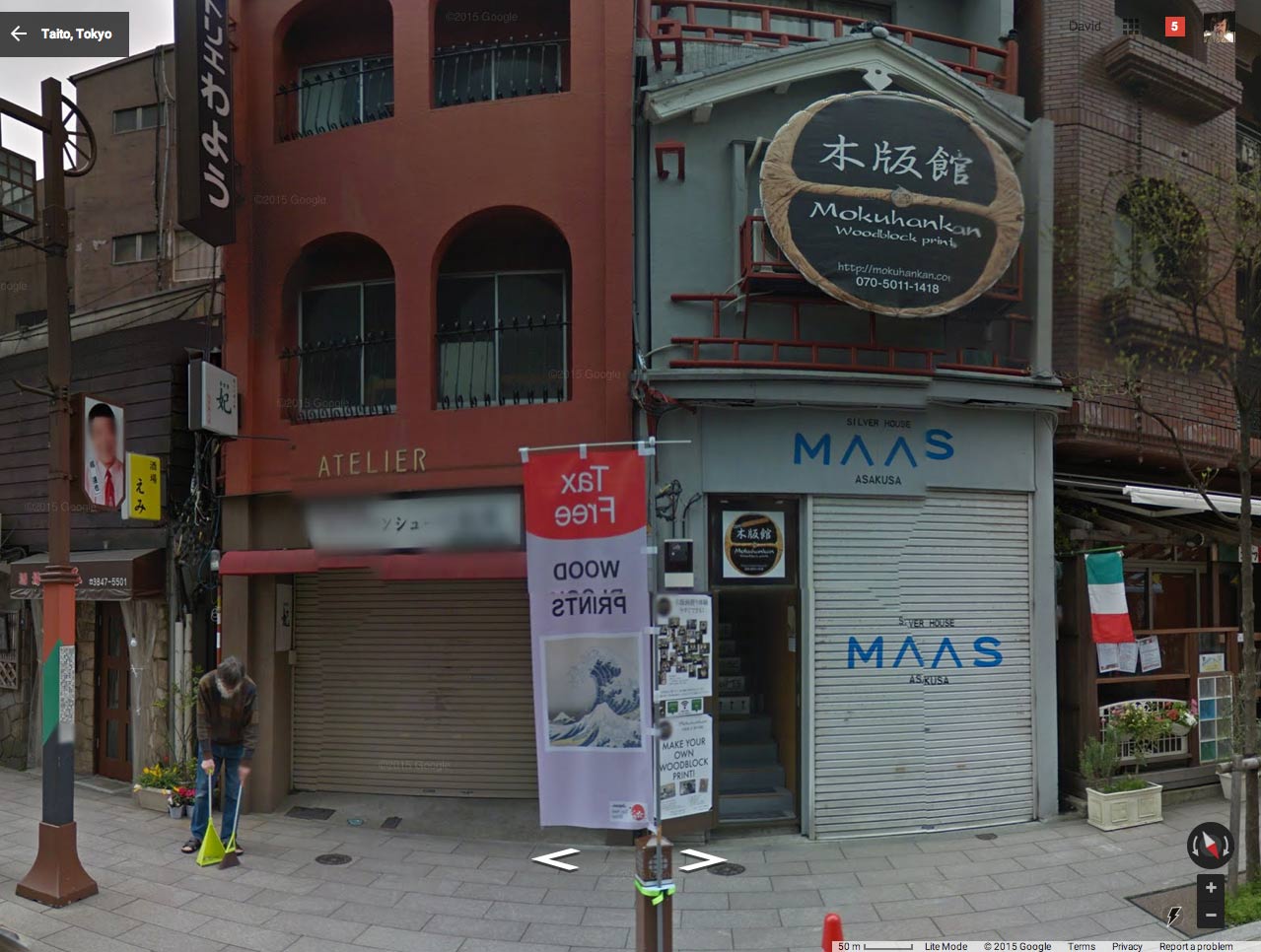 The Google car must have passed by right in front of me, and I never noticed. Too busy doing 'my part' to keep our neighbourhood clean … :-)
If you would like to view this yourself, just punch our address [Tokyo, Taito-ku, Asakusa 1-41-8] into a Google search box, and once the street map is visible, drop the little orange mannikin onto the street in front of our shop to bring up Street View. I have no idea how long I will be 'frozen in time' sweeping, before being replaced by a newer snapshot ...
Added by: Spencer on June 30, 2015 3:55 AM
Hey Dave! That's awesome! Just wondering, the flag says tax free, why are the prints tax free? Thanks!

Added by: Dave on June 30, 2015 9:28 AM
The tax being referred to is the Japanese local Consumption Tax (similar to the European VAT). It is levied on pretty much all things consumed in Japan, or purchased for use within Japan. It currently stands at 8%, a lot lower than most European taxes, but is scheduled to rise to 10% in the near future.
Travellers who will be staying for less than six months, and who will be taking purchased items out of the country can ask for an exemption from the tax, but must show a passport to be eligible (and the amount being purchased must be over 10,000 yen).
The older system needed travelers to pay the tax at each shop, and then try to get it back from Customs while leaving at the airport. That was clumsy, and the current system lets them simply purchase items with no tax being applied ...

Added by: Sharri LaPierrre on June 30, 2015 11:16 AM
Congratulations! Your dream job has come true. It was what you were meant to do! ;-)

Added by: Jacques on June 30, 2015 10:33 PM
They in fact took five pictures of you and your shop, as you will see when you move several steps up and down Roku Dori in Google Street View and turn the view to where you're standing ...
Any idea when we can expect your next Great Wave video Dave?!? :-)

Added by: Dave on July 1, 2015 3:57 AM
Yes, it's a one-way street, and the car would have entered from the right (seen from where I stand) and then passed along the length of the block … shooting as it went.
As for the next video, the scenes have all been in the computer for a couple of weeks now, but it's been difficult to find time to get it all edited into something comprehensible. Hopefully in a couple of days I can get it finished … we'll see. Today is the 1st of the month, which means a full day of paperwork, (including the payroll for 15 people), and then people keep coming up the stairs and 'bothering' me :-) …

Added by: Jacques on July 1, 2015 11:44 PM
It's good to hear that people are 'bothering' you all the time because I guess that means your Mokuhankan shop and print parties must be doing well ...

Added by: Dave on July 2, 2015 12:48 AM
The shop is doing well some days, and quiet other days. Overall, we're still not covering all the expenses, but we certainly hope that this will change as word gradually gets out bit by bit.
But it's also a massive time suck for me, and there are a ton of things that are not getting done these days: the Great Wave progress has been extremely slow, we haven't issued a new Ukiyoe Heroes print in months, my own collectors - the people waiting for the next 'Arts of Japan' print - probably think I'm dead or something, I'm way behind on keeping up with the (essential) social media stuff, and the next round of bringing in some new people for printing training just keeps getting postponed time and again …
I really don't know how to handle this situation. There is nowhere near enough money in the kitty to bring more people on board to help with the work. We've got our fingers crossed that the upcoming new edition of a major guidebook - due to be published around September - will feature our shop, as has been hinted by their editors. Our original budget plan was based on getting around a dozen people a day up the stairs for a Print Party, but after a half-year open, we're still averaging only around half that number. I'm convinced we'll be OK down the road, as this is a dynamite concept, but it's still early days, and it's taking time to get this thing off the runway and into the air ...

Added by: Jacques on July 3, 2015 5:25 AM
Until you are able to generate enough cash to bring more people on board to help with the work, I think your absolute top priority now should be:
1) to keep the Mokuhankan shop open for print parties and the selling of your prints as much as
possible (although you might consider closing it for another day of the week, if only to be able to
temporarily concentrate the revenues of the print parties in a smaller window of time and finish the project in point 2);
2) to get your Great Wave print reproductions done and out of the door as soon as possible, not because that's what I would like to happen but simply because of all the projects that you mentioned in your last post this seems to be the only one where people already paid you in advance (I might be wrong about this issue, but as far as the Arts of Japan project is concerned I'm pretty sure I'm right ...)
3) to provide a regular update video on the making of your Great Wave reproduction print. You've seen the reactions on your Great Wave videos on YouTube so far: everybody loves them (as indeed I do)! I expect these (past and future) videos will generate even more post-Kickstarter orders than you already had for this print.
I wouldn't be surprised if I overlooked some essential aspects of your situation here ... If I do please let me know!

Added by: Guillaume on July 3, 2015 5:41 AM
If the guidebook is the one it sounds like you're referring to, I would imagine a substantial increase in visitors could occur. However, there's a delay to this as new editions take time to propagate through the market.
I thought the original plan for the shop was to slowly have the manager take over the day-to-day operations to allow you to return to your work closer to how it was before. Has this proven to be impossible? I imagine many of the visitors like to see you there and chat, though. It would certainly make the visit extra interesting.
It just seems as though you try to do so much yourself. Down to sweeping the street, no less!
As for the video content, perhaps someone in your following could do editing of the footage you take on your behalf? I imagine it's fairly time consuming. I'd certainly be willing to give it a try if it's something you'd consider.
Apologies if any of this was presumptuous. Very much looking forward to the next prints (and videos).

Added by: Dave on July 3, 2015 9:03 AM
Getting the Great Wave out the door is now certainly my highest 'priority', but even having said that, I have done absolutely nothing to make it happen over the past couple of days. Tuesday was my weekly day out in Ome, where three staff members were there doing their work, and - of course - with a ton of questions and points that needed my input. Wednesday was the 1st of the month, and it was (early) morning right through to (late) evening paperwork. We've got a pretty smooth system for our payroll and general accounting, but even so, calculating and making the monthly payments to 14 staff members and then doing the monthly invoicing for over 300 subscribers takes a ton of time.
I have one other staff member here in the shop with me today, and we have only one Print Party scheduled, so if there aren't too many visitors (Can I say 'hopefully'? Of course not!) I'll be able to piece together the main structure of the next Great Wave video (showing the initial proofing sessions). An important point about the Great Wave production is that from later this week, it will be entirely out of my hands, and over to Numabe-san to begin the edition printing, so there should be no further delays due to my own scheduling …
As for the impact the Great Wave is going to have on our business, it is clearly going to be massive. We accepted 199 'orders' for it through the Kickstarter campaign, and of course those will be the first ones shipped, as they come off the blocks in batches. But over and above that, we now have just shy of 300 people who have left their contact information with me on the web page here, expressing interest in getting one. Recent visitors to the shop who saw the blocks on my bench all say the same thing … "Can I get one?" It's clear that Hokusai is going to be a major supporter of our activities for a long time to come!
As for the delegation issue, getting other staff members to take over different aspects of my job, that is now starting to happen, bit by bit. Shop manager Ishikawa-san is now handling all the 'behind the scenes' scheduling of the subscription print production, from getting the designs from Jed, right through to the printer's daily assignments. Teiko-san is taking on many of the Print Parties (she'll be doing the one this afternoon), although I myself do have to do many of them, as a lot of the visitors kind of expect me to be the host, even though I have been very careful not to promise that, either in our online descriptions, or in our pamphlets, etc. And staffer Lee-san is doing a wonderful job taking over much of the infrastructure stuff - he's building a new awning/entrance for the shop this week, a project he started completely on his own, after giving up on waiting for me to come to a decision on how to approach it.
So we are getting there, even if only slowly … Our goal is to get every single one of my jobs 'off-loaded' onto somebody else eventually. Unless we can figure out how to do that, this place has no future, because I'm obviously (I'm far and away the oldest person here) going to be the first one to 'leave'. I don't think that's a short-term problem, but it is a critical long-term issue ...

Added by: Dave on July 3, 2015 9:26 AM
Guillaume, as for video editing, I've had a couple of the collectors/supporters offer assistance with that, and I'm of two minds how to handle it. It's pretty clear that having good video exposure of our activities is absolutely critical to our success, so moving forward I want to create a facility within the company here to handle that, with some good equipment, good software, and of course run by a 'video person' who can create the projects from initial planning right through all the production stages up to the final publication step. That person will - I think - have to be here 'in house' because getting shots of work in production is something that happens on a 'bit by bit, day by day' basis.
Lee-san and I have a plan cooking at present for a new video series that will follow on after the Great Wave series ends soon, and although he has no video editing experience, he can't be much worse than me I think, so we're going to give it a try. Stand by for 'David's Choice - the video version', coming to a YouTube channel near you later this summer! :-)

Added by: Guillaume on July 4, 2015 11:14 AM
I certainly understand wanting to keep video production in-house, it certainly makes it more streamlined especially if you're planning to increase the volume.
I noticed on a recent YouTube video you said the next Ukiyo-e Heroes print would see a 90 minute documentary-style video done, is this what you're referring to? Or in addition? Certainly sounds like the multimedia portion of Mokuhankan is expanding one way or the other! Good luck, remember you've always got people willing to lend a helping hand if it's ever needed.

Added by: Dave on July 4, 2015 11:31 AM
There are various 'outside' projects cooking at the moment, three of which are under a kind of NDA setup - the producers have asked Jed and I not to discuss them publicly. I can perhaps mention without getting into trouble that such projects include an exhibition somewhere in Europe, a video game, and a documentary project of sorts. Sorry not to be more outgoing about this, but the publicity part of those things is out of my hands. Thanks for your understanding!