« Case by Case ... | Front Page | Journey's End... »
Posted by Dave Bull at 1:18 PM, October 6, 2013 [Permalink]
Some very big news today ... perhaps the biggest news since we opened up this little publishing venture.
I actually let the cat out of the bag in a post I made a couple of weeks ago, where I mentioned this: "[Top secret news] a young lady carver down in Kobe is working on her first trial job for us - a sample set of blocks for the new subscription series - 'Ukiyoe Heroes Portraits' - that will begin next January (replacing the Chibi Heroes) ..."
That was two cats, wasn't it - I mentioned what the new subscription series will be, and I let slip that we may have found a carver!
Well, her first blocks have come back, and ...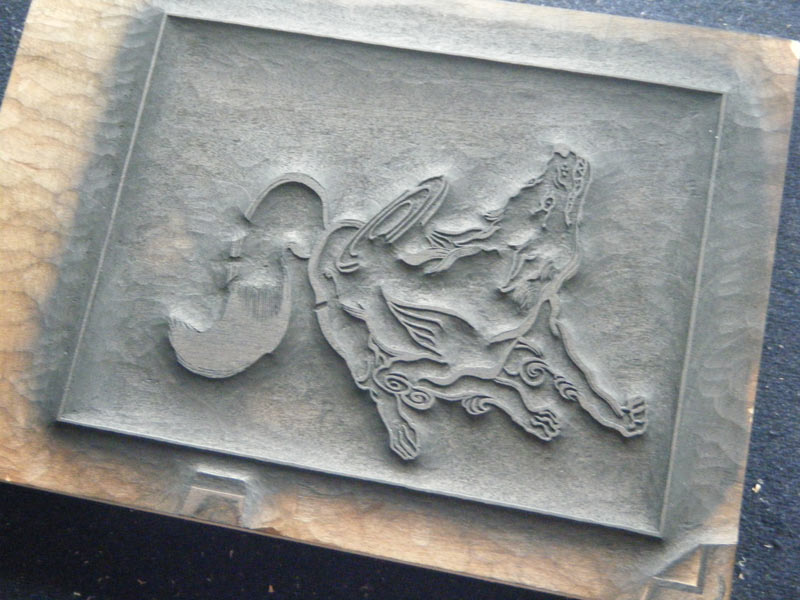 That's the key block for the first print of the new series, and here is one of the colour blocks (actually a second 'key', as it also defines colour areas):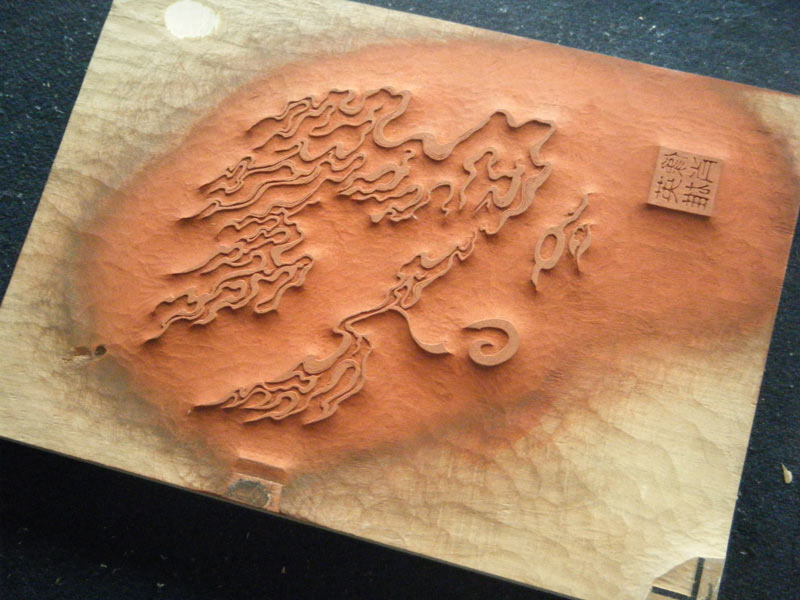 I had first learned about this young lady in a conversation with printer Numabe-san. He was working on a set of ukiyoe blocks that had been carved some years before in the Kyoto workshop of carver Uetani-san, and told me that some of them had been carved by a girl who was an apprentice there. He knows that we need another carver here, and said that these blocks looked quite good, and that I should investigate a bit further ...
I called around to try and find a phone number for her, and then called her up. It turned out that she was no longer carving. After the workshop had closed due to the age of the owner, she wasn't able to make a living on her own just yet, so had pretty much given up, and found other work (non print-related).
I certainly wasn't ready to just hang up the phone though, so pushed a bit, "If there were some work available, could you take it?" She demurred, "No, I've quit carving ..."
But Numabe-san had really been emphatic in praise of the blocks she had carved, and this just seemed like too good a chance to let slip away, so I pushed a bit more, asking if she would perhaps reconsider, and take a small job for us on a 'no deadline - do it whenever you have spare time' arrangement. She wasn't really excited about it, and we had to leave it there, but after I sent her some samples of the kind of prints we are currently producing - the Heroes and Chibies - she came around to some extent, because when I called her again, she agreed to give it a try.
Woot!
So I prepared a couple of blocks for the first print Jed and I are planning for next year's subscription series, and sent them off to her. As you can see from the images above, they have arrived.
How are they?
Very good. They show that she has an excellent knowledge of the fundamentals of traditional carving (much more than I myself do). She has actually carved a bit 'too much', not in a way that would affect the print, but simply to try and make the blocks themselves look more neat, clean, and attractive. In production work, this sort of thing is unnecessary, but it gives a pretty good indication of her character - she is eager to impress.
Some of the detail work is not so great - we certainly won't be asking her to carve any detailed ukiyoe hairlines just yet - but the fundamentals are all excellent. She has clearly been trained very well, and all she needs from here on in is experience (and general guidance).
I of course called her back right away, let her know that I was pleased with the work, and arranged to ship the blank colour blocks off to her, so that she could get the set completed. I and the printer ladies here are eagerly awaiting their return, and will begin test printing as soon as we get everything in hand.
Where do we go from here?
It's not clear just yet. I'm ready to hire her full time right now starting tomorrow, but she won't/can't do that. She said that her current employment is committed until the end of March (the usual time for employment contracts to run here in Japan). And I myself don't yet know just how much I can afford to pay her, not knowing anything at all about the pace at which she works, which will of course define her productivity to us.
At present, we've left it that we will send small jobs like this, which she will do as time permits. And we've arranged that she will come up here to Tokyo for a couple of days in November (at our invitation/expense) so that we can all get acquainted, and have a serious discussion about where to take this.
In the meantime, I'll start to think about how to rearrange the work space to make room for another carver. I think this will mean taking apart my 'private' workspace - where I do both carving and printing - and convert it for carving only, with two benches side by side. I'll have to do my printing (on the rare occasions I actually do any!) someplace else.
If she agrees to come on board, it will be a major expense for us, one that honestly we cannot afford at this point. All our carving to date has been done 'for free' by me, and because I take nothing out of the business beyond basic food expenses, we have not costed the carving into our prices. That will of course have to change.
The theory is that with the extra productivity on hand with two carvers we will be able to issue a number of new prints, and the revenue from them will go towards paying her costs.
We'll see.
I'll bring you photos, etc. as soon as I have some to show ...
But yes, this is perhaps the best news we've had in a long time, and potentially life-changing for a number of us!
Added by: Dave on October 6, 2013 1:27 PM
(I don't want to link to the new website for the upcoming series, because we don't want Google to catch it just yet, but for those who are impatient - if you inspect the URL schemas we've been using for the Heroes and Chibies, you should be able to track something down ...)
[Update: OK, we're open - the new 'Ukiyoe Heroes Portraits' website is here!] (But it was fun to see that more than a dozen people sniffed it out during the few days that my hint was there ...)

Added by: Jacques on October 7, 2013 3:18 AM
This is indeed great news Dave!
It also gives me great pleasure to hear that it is yet another lady who is now a potential candidate for becoming the second carver at Mokuhankan ...

Added by: Dave on October 7, 2013 8:04 AM
Yes, yet another young lady ... this is kind of getting a bit ridiculous, isn't it!
I think people are beginning to get a bit suspicious of my intentions here! :~)

Added by: Jacques on October 7, 2013 8:45 AM
No no, don't worry Dave, that's not what I meant at all: I trust your intentions completely.
What I'm referring to is an email exchange that we had a couple of years back during which you seemed to doubt whether women would be suitable for and/or capable of the work involved in woodblock carving and printing.
I'm just very happy to see my ideas confirmed that they definitely are!

Added by: Dave on October 7, 2013 9:17 AM
seemed to doubt whether women would be suitable
It's a hugely complex, and still very open question as to how this is all going to play out. It's still a basic fact that well over 90% of the productivity of this place is being provided by males (myself as carver, Numabe/Tetsui/Kubota as printers). We are the ones who are actually creating most of the products shipped from here, and we do it extremely efficiently (when calculated as products created vs time).
This is only natural, as the four of us are all very experienced professionals. The ladies working here in my workroom, in contrast, are all very much 'casual' labour: they come and go as they please (taking care of their kids, etc. the rest of the time), and only do a few hours a day here on any given day. They never get the chance to 'rev up' and get productive in the way that the professionals do.
This new young lady is actually the first one of them who is approaching this professionally - she is on a path that will lead to becoming a very productive full-time worker in the future. This is not true for any of the other women here, who - all the way through the bulk of their 'prime' years - are balancing family issues with this work.
I'm not complaining about this, and indeed I'm very happy to be able to provide them with work that can mesh with their other responsibilities. But it means that the bulk of the staff here are always operating at a level of far lower productivity than the 'regular' type of craftsman. It was to find a way through this 'problem' that I created the Chibi Heroes series last year. Those kind of prints can be created in small batches, on a 'bit-by-bit' approach. After a few days of off-again on-again work they get a batch of a few dozen finished, but honestly speaking - myself or Kubota-san could create such a batch before our morning coffee break.
Will - one day - a young lady show up who really wants to become a professional printer? Who will come here every day for a full schedule, sitting behind her bench from morning 'till evening, banging out prints one after the other, the way that Numabe-san does? Will this ever happen? No idea ... I certainly haven't seen any sight of such a person so far ...
And for her, would it be necessary to abandon thoughts of having a family to be able to achieve such a productive level? Damned if I know ... This whole question of women balancing family and job has got our societies in such a tangle that I haven't a clue how it is going to play out. All I can do is 'do my bit' and try to provide productive work of a type that can be handled by a woman in that situation ...

Added by: Jacques on October 7, 2013 8:00 PM
Thank you for your long and enlightening answer Dave. I had no idea that the division of the workload at Mokuhankan is that lopsided.
I just googled "child day care Japan" and now understand that there is a big shortage in public day care for children in Japan: "Japanese mothers are forced into an annual competition for day care slots that is grueling enough to merit its own name, "hokatsu." " ...

Added by: Andrew Stone on October 8, 2013 8:49 PM
Well, as an amateur print maker...I think her blocks look great. Certainly better than I can produce. Good luck with the project(s).