« Certain Victory! | Front Page | Major update to 'Heroes' website »
Nice newspaper coverage ...
Posted by Dave Bull at 7:57 AM, October 12, 2013 [Permalink]
A nice present arrived for Jed and I this morning - our Ukiyoe Heroes project has been covered in a story in the Financial Times (UK).
I'm not quite sure how their registration system works, so this link to the story may or may not work for you, but if it doesn't, just head to their front page, then follow the menu bar to the Arts section, and then to Visual Arts, you will see the story 'Israel Goldman on popular Japanese prints', by Peter Leggatt.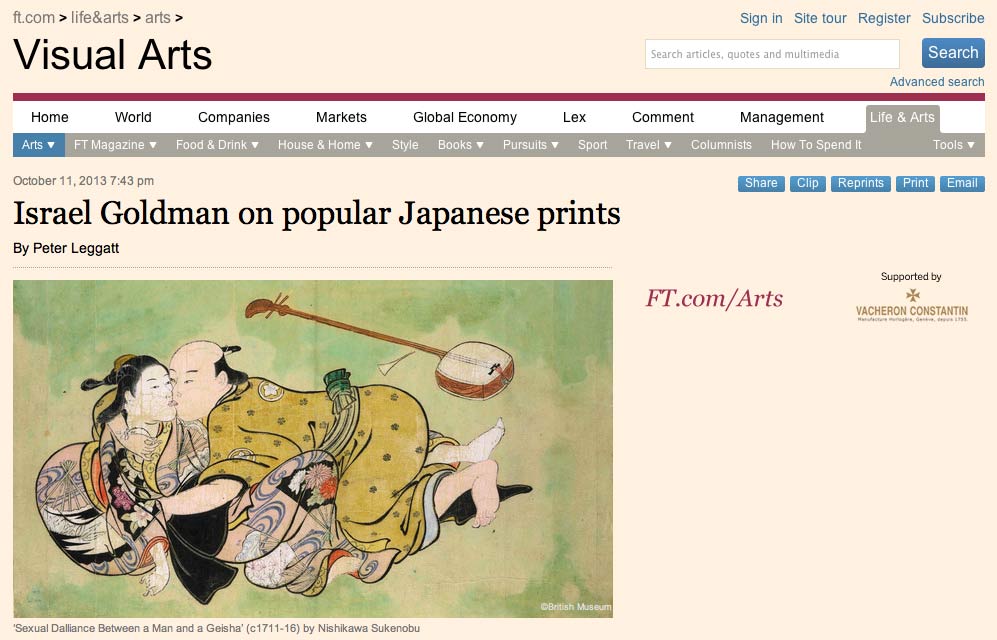 Our portion follows the main story, in what is probably a sidebar in the actual printed newspaper version, and is short, but concise and accurate, and includes a direct link to Jed's webshop.
Added by: Marc Kahn on October 13, 2013 6:17 AM
Nice article! Did Peter Leggatt interview you in preparation for the sidebar, or was this a total surprise to you? Are you in contact with Israel Goldman? I'm curious about how Mr. Leggatt made the connection between Ukiyo-e prints and the Ukiyoe Heroes projects.

Added by: Dave on October 13, 2013 7:40 AM
No interview ... no real contact at all. We received this email a few days previous, from a staffer there:
Hi Dave & Jed,

Peter Leggett is writing a piece for the Financial Times on Japanese art. He has mentioned Ukiyoe Heroes. Can you send me a small selection of images of your work. I need them as soon as possible.
We sent some images, which weren't used in the story. Perhaps they appear in the printed version (is there a printed version? I have no idea ...)
I have never had contact with Mr. Goldman; he lives in a very different part of the print world indeed ... (although I of course do wonder from time to time how my own prints will be received some hundreds of years from now - treasures for these dealers and Sotheby's, or ignored ...)

Added by: Dale on October 13, 2013 8:29 AM
The Financial Times article is excellent, Dave, and I am heartened to see the reference to your current work in the sidebar. I'd like to go out on a limb and say that I do not agree with Suzannah Yip's quote in the article that "There are no artists alive able to make prints of the same quality as those of the past." You, for one, create prints that rival the Meiji era prints (I think of your "Beauty of Four Seasons - Autumn" as just one example) using the same materials and methods available to the publishing houses of yore. These days, traditional paper, pigment, and tools are still available and woodblock prints made by single craftsmen, using traditional methods and traditional products, can indeed make the same high quality prints as those of the past.
As for the publishing houses of yore, it seems that you are single-handedly bringing back that tradition. I suspect that the Ukiyoe Heroes and the Chibi Heroes projects are just the beginning. You've been really busy hiring and training printers, seeking competent carvers, stocking your baren inventory for all to use: those efforts are now bearing fruit. Just keep those quality prints coming!

Added by: Dave on October 13, 2013 8:51 AM
single-handedly bringing back that tradition
If I live long enough ... it's slow going for sure. We very much need to break through our carving bottleneck (which may be happening, as regular readers know), but on top of that we still need much better - and more dynamic - management. And for years now I've been saying the same thing - I have to find a good manager - but haven't moved forward on that. I need a manager to help me find a manager ... :~)

Added by: Peter Leggatt on January 11, 2014 10:48 PM
Hi Dave et al,
Thanks for sharing the article, which I am glad you enjoyed. I only have one printed copy of the piece, and obviously didn't see this in time to get you one, but if you email the FT staffer who contacted you he/she may be able to send one over. I wish you continued good luck with your interesting project!
Mark Kahn--I discovered the Heroes project through an article on an art website/ blog--I can't remember where now--and thought it might make a contemporary and amusing (as well as genuinely remarkable) counterpoint to the piece.
Best,
Peter Leggatt