« General update ... | Front Page | Knife set - laser engraving »
Knife set - first sample set is 'ready' ...
Posted by Dave Bull at 2:34 AM, April 10, 2012 [Permalink]
It's time to bring a bit of an update on the progress of the tool project ...
I haven't been bringing you every blow-by-blow on the back and forth with the blacksmiths who are making our blades. The first ones we received weren't made to the shape we needed, and it wasn't easy to get them to understand just exactly what we wanted. Most of their experience is in making tools for carpenters, and a printmaker's chisels are used in quite a different way.
A typical carpenter's chisel - say, a mortising chisel - has a flat back, and a bevel. The back isn't actually completely flat, but is 'hollow ground' (in the case of fine tools). This is important for carpenters, because it allows the chisel to be used with the back face against the wood to be retained, and it can thus make perfectly flat cuts.
Our tools (I'm speaking of the chisels here, not the knife) are used the other way around - we place the bevel against the retained wood, in much the same way that a plane blade is used.
Here are a couple of snapshots - first, a couple of the tools in the first batch they made for us:
These would be impossible to use. The tip is completely horizontal, and the bevel is angular and harsh. Here are a couple of my own tools showing what such chisels should look like:
In any case, as I said, after much back and forthing, they have now produced a set of blades that match our requirements. I received the first shipment a few days ago, and took some time the other day to fit one set to some of the sample handles (and the most recent prototype case).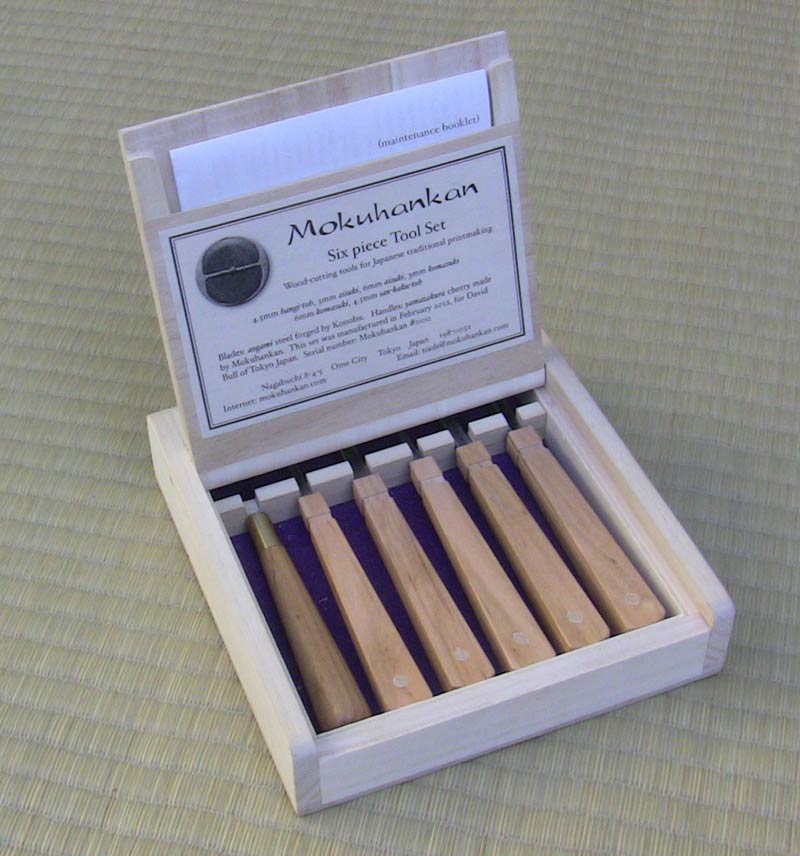 We still have quite some ways to go before we get this all figured out - the box is certainly not ready yet - but this is pretty much what the tools themselves will look like (these are not yet tied, of course; you'll have to imagine them with a yellow shamisen cord wrapped in that slot).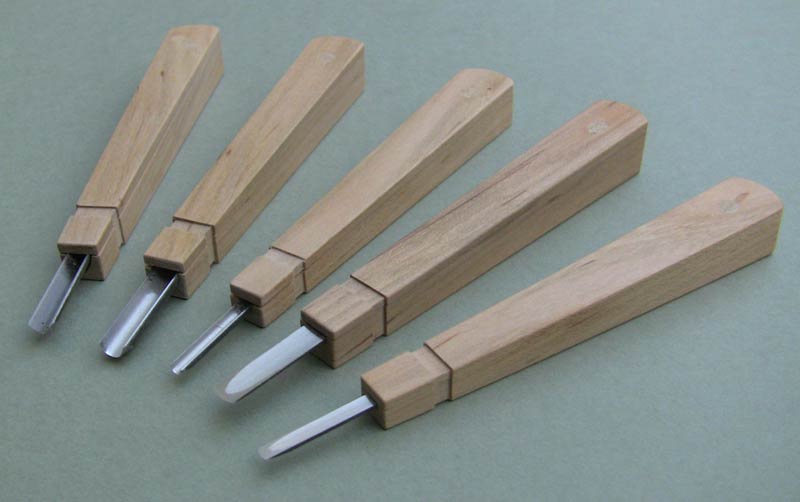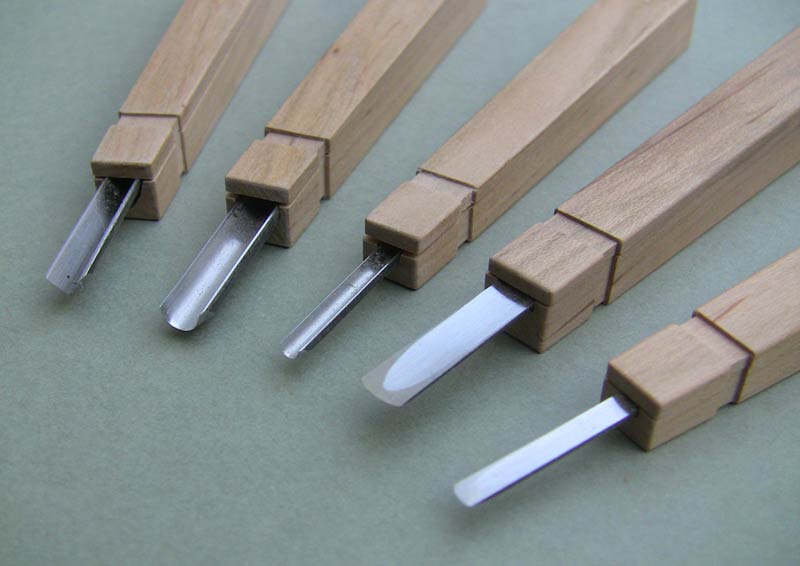 Added by: preston on April 10, 2012 11:14 PM
Dave, these look beautiful.
Do you have an idea on the final cost for the set?

Added by: Diane on April 10, 2012 11:26 PM
These look beautiful. I am also interested in them for myself.

Added by: paul dean on April 10, 2012 11:48 PM
ditto!

Added by: Sharri on April 11, 2012 3:24 AM
Me too! I don't know how much longer my arthritis is going to let me carve, but I can always display these as art in itself.

Added by: Peter J Dylag on April 11, 2012 6:22 AM
David San, they look beautiful!!! Do you have a price point in mind yet? Can you give us a ballpark figure so i can start saving my $ ? Monthly installments?
Best
Peter

Added by: Tom Kristensen on April 11, 2012 8:41 AM
Excitement is building out in customer land

Added by: James Mundie on April 17, 2012 10:18 AM
Gorgeous! Looking forward to seeing the set in its final form.

Added by: Tony on April 21, 2012 11:24 AM
Warmest greetings David san - Sensei,
I am in full agreement with Sharri, these are not just tools, these are exquisite object d'art worthy of a place amongst the finest.
....and as always with all that you and your wonderful extended family of artisans create, attention to details is without parallel.
Beautiful.

Added by: Jeremy Pearse on April 25, 2012 4:07 AM
Looks wonderful so far and I can see myself owning a set! In fact they look so nice that I'm not sure I would use them - show them off to friends maybe or display them next to my art collection;)

Added by: George Moon on October 18, 2012 8:23 AM
When they come up for sale I would like to know. These do look very nice. George Moon

Added by: marco antonio on January 18, 2013 1:10 PM
dear David
I'm from peru and artist I would like to learn the ukiyo-e could give some lessons in Spanish for all the public to follow you and also where you sell the tools they designed.
thanks

Added by: Roy Wood on October 22, 2013 1:22 AM
I am Very interested in your tool set. I am now in my mid seventies so need to renew my tools. Expense is not a major concern.
I follow your progress with great interest. Thank you.
RW

Added by: George Moon on November 11, 2015 10:46 AM
Hello, I purchased at auction a set of engraving tools. These were in a homemade chest with drawers and these drawers pull out and kneel! Meaning the front of the drawer after being pulled out half ways drops down. Just a really cool and useful feature. I am still interested in your tools. Hope they become available. I would send a prepayment if that would help.