« Knife set - handle prototyping continues ... | Front Page | The ad ... »
Knife set - sourcing the cherrywood
Posted by Dave Bull on February 20, 2012 [Permalink]
It's been five days or so since I posted about the carving tool project, and we've got a lot done in that time. Some of the progress has been smooth, and some has been less so.
We received the first samples of actual blades around a week ago. They are good, but they are 'not ready for prime time'. We have no problems with the steel - they seem to take an edge very well, and we'll give them a good workout over the next little while. It's the sharpening that is not acceptable. They - of course - know how to sharpen their own blades, but what they don't understand well is the requirements of a wood-block cutter. The shape and bevel they have put on these tools is what one might expect in a tool to be used by a carpenter. The bull-nose aisuki chisels need to have the corners knocked off, and a gentle curve shaped on the front edge, but these are perfectly square. Those sharp corners would cause havoc on one of my blocks ...
We had half expected this, and rather than try to explain in words how we want them shaped, we will simply put these on our stones, form them to our requirements, and send them back as models.
In the meantime, I have spent the past few days building jigs for making the handles. Rather than show photos of the chaos in the first basement at this stage, I'll wait until I get the group of jigs finished, and will then shoot a 'step by step' series of photos showing the process from raw plank to finished handle.
And speaking of raw wood! Let's have a few snapshots from a trip I made with Sato-san this afternoon to the massive lumber distribution market at Shin-Kiba. You've all heard of the Tsukiji Fish Market - the place where vast amounts of seafood products are traded early every morning. Well, there is a similar market zone for lumber. It used to be in the Kiba district of Tokyo, an area criss-crossed by small canals (used to transport the logs, of course), but was moved out to an area reclaimed from Tokyo Bay some 50 or so years ago. It's gigantic; it would take all day just to walk around it. Sato-san and I rode his motor-bike around, trying to hunt down the 'best' place for a permanent supply of wood for our tool handles.
It took us a while, following a 'chain' of introductions and recommendations, but just before noon we pulled up in front of this place: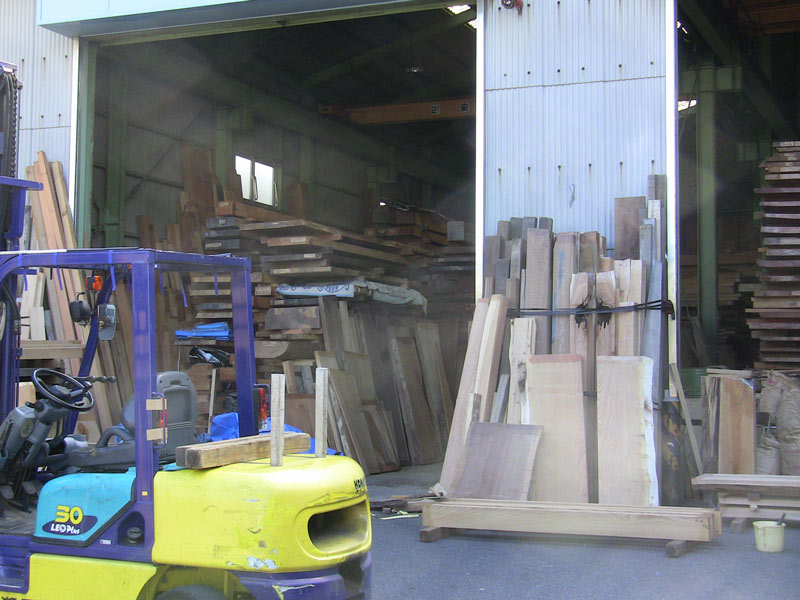 Looks good! And when we saw these planks sitting outside, we got our hopes up even higher: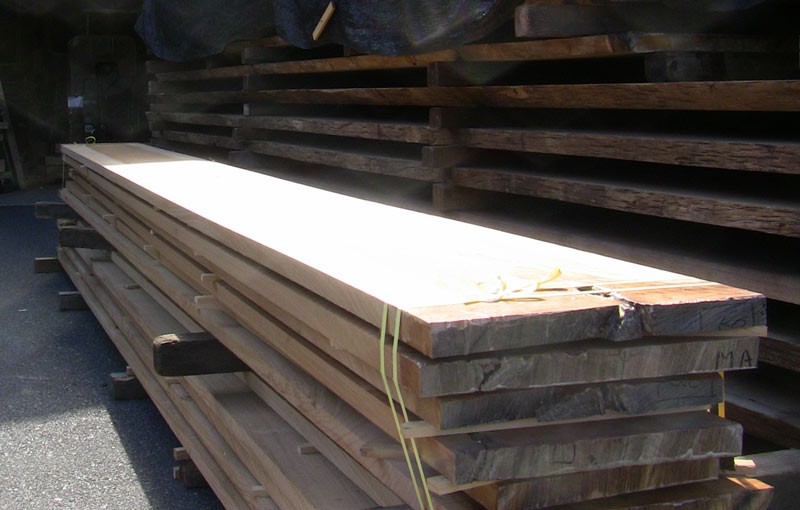 And then when we got inside, talked to the young man running the place, and had a look around, it was pretty clear that we had found it. This is all cherry! The Mother Lode!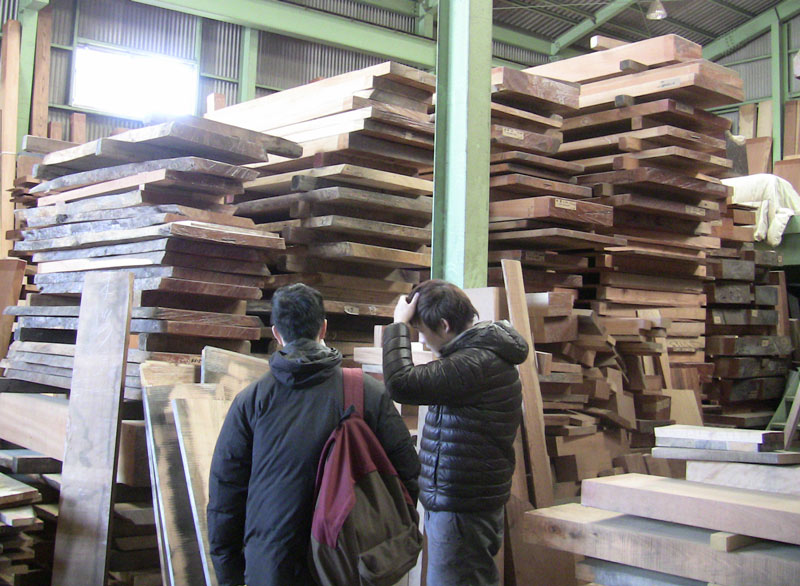 When the next earthquake comes to Tokyo, you'll probably feel it no matter where on the planet you are, because when this pile goes over ....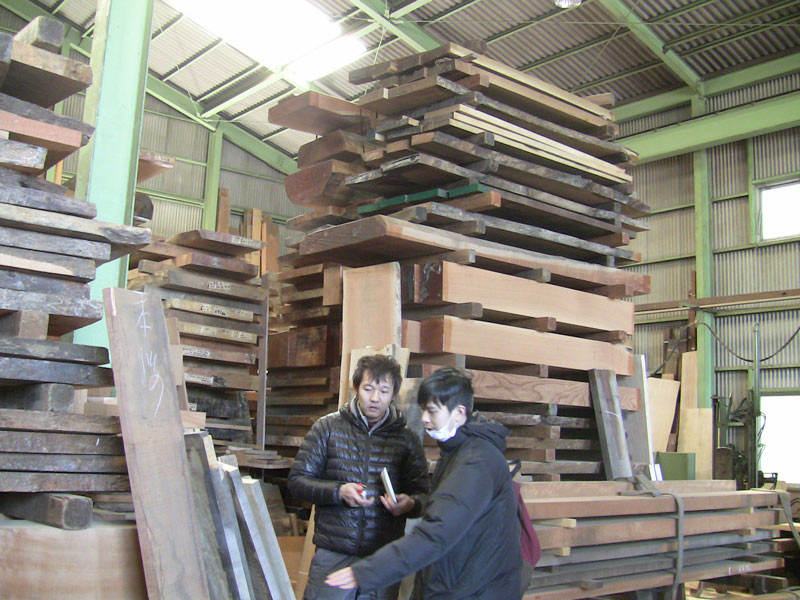 The young boy - who is part of the family who has been running this place since the year dot - was very friendly, and very willing to cooperate with our requirements, small as they may be. We got some quotes on wood for our handles, and for now, I brought back a few sample slabs that I will use for making more test handles.
And we had a real bonus. There was an elderly gentleman sweeping up at one side of the room, and Sato-san had the thought that this might be 'grandad'. He was right. He is no longer active in the business, but when we did some name-dropping - mentioning the late Shimano-san, the block planer from whom I received all the wood for my ten-year poets' series - he knew exactly who I was talking about. He should remember, because this is the place where all that wood came from!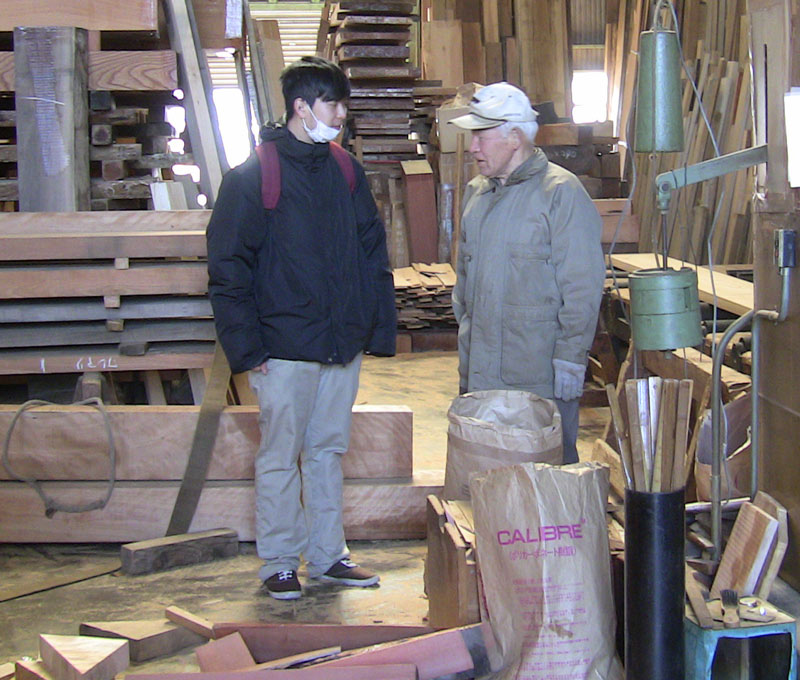 Once we are ready to place our main order with these guys, Sato-san and I are going to make arrangements to come over here again, bringing a little tape recorder with us. There is a lot of history that needs to be captured here!
Added by: Tom Kristensen on February 21, 2012, 2:44 am
They obviously don't auction off all this lumber every morning like seafood. So, how do you make a purchase?

Added by: Dave on February 21, 2012, 7:59 am
As far as I understand it, the auctioning aspect of the place happens at the 'input' end - where the dealers (wholesalers) bid on logs, some re-sawn slabs, and stuff off-loaded from boats from overseas.
At the point where Dave enters the picture, it's simply discussion and negotiation. When the young guy and I were looking at some slabs, he quickly measured the piece, then pulled out his calculator and worked out his price, probably pretty much the same way that a dealer in the west would do - basing it on board feet, or some such measure.
I then pulled out my own calculator, did a quick calculation on how many tool handles I could get from the piece, and could thus make a sensible decision on whether or not it was an acceptable price.
But yes, the Tsukiji analogy bring up a rather surreal image - all the ukiyo-e wood-carvers gathering there at four every morning, jostling each other to inspect the wood, making their bids with those secret signs, and then driving home with the cherry wood for the day's carving work! Heh-heh ...