« Knife set - stringing along ... | Front Page | Mokuhankan Partner news ... »
Posted by Dave Bull on February 9, 2012 [Permalink]
For readers waiting for news about the knife set, please hang on a bit. While we wait for the first samples to arrive, both Sato-san and I have been tied up with other things - he's been very busy carving colour blocks for a Hokusai reproduction the Takumi workshop is making for a TV presentation, and I've been spending most of my time getting the plans for my own next subscription series finalized (watch for news on that front this coming weekend!).
While Sato-san and I are busy with these things, Tsushima-san is plugging away at her current batch of the Plum Blossom print. (She booked off sick yesterday and today though - she finally got hit by the flu that has really taken hold in this area recently. Many of the local schools are closed because of this, making the game centres very happy, I'm sure!)
But on Monday and Tuesday, before she got sick, there were four of us working here together, and while we worked we were discussing how we might change the way that Mokuhankan prints are being packed for shipping.
So far, I've been packing single prints like this:
The problem though, is that with the print being mounted on a stiff paper/card support, inside a clear plastic envelope with a stiff 'title label', then going into a stiff cardboard type envelope, which needs another sheet of cardboard inside to stop it from being creased ... we end up with a postage cost of just over $9 ... And then - at the receiver's end - what do they do with the thing anyway? Frame the print and toss the packaging? Leave the print in the envelope?
Now my own subscription prints have no problem with either point - the postage is reasonable because of my custom packaging system, and there is of course no problem with how to 'use' the print, as I supply the storage/display case for them - but these single Mokuhankan items are 'failing' on both.
One place where Mokuhankan prints are OK (on both of these points) is the little Gift Prints. They are self-contained - need no framing, etc - and mail easily, cheaply and safely. So we were thinking about how we could gain those same advantages for other Mokuhankan single prints.
I'm sure that all the visitors to this site are familiar with the cases I use for my recent subscription prints. Here's the box for the just completed Mystique series: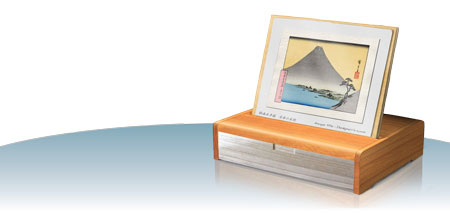 Suppose ... that it had a baby brother, available in the Mokuhankan shop: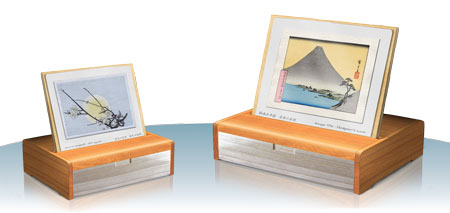 And suppose ... that instead of using the packaging that I showed in the photo above, we began to pack Mokuhankan prints the same way that my subscription prints are packed - mounted on an acid-free illustration board and wrapped in an explanatory pamphlet. This illustration is one of my Mystique prints - in the ko-ban size:
... but you could imagine the same thing prepared in a smaller size for Tsushima-san's new Plum Blossom print. (Let me get some Photoshop action going here ...)
So purchasers of the single Mokuhankan prints would have both a way to display their new print, and a place to keep it. (If they had one of the boxes of course.)
Now there are points on both sides of this:
In the plastic envelope - good points

when these are displayed, people can see what is inside
this kind of packaging will work well in a 'shop' situation (which we don't have at present, but expect at some point in the future)

- negative points

packaging is not suitable for long-term storage
after you get the print, now what do you do?
higher postage costs

Mounted on the board, and wrapped in the story - good points

long-term storage is solved (even for people with no case)
long-term storage is excellent (for people with a case)
postage costs per print are quite a bit lower
the case/collection system may encourage people to purchase more prints ... Fill it up!

- negative points

it's next-to-impossible for us to display these well in a 'shop' situation - you can't see the print!
collectors may not like it all that much, because you have to: get it out, open it up, look at it, close it up, put it away ... (this is a legitimate criticism of my subscription albums too ...)
potential purchasers may be put off buying single prints, because it looks like you have to buy the case too (not required, of course)
Anyway, I'll leave it there at the moment. Our initial thoughts are that making a little wooden case looks like a pretty good idea for the smaller prints from Mokuhankan, and we will probably go ahead with that part of it, especially considering that we are going to be building cases for my own next subscription series anyway, and quite possibly also for the new knife sets too. So tooling up for this would be no big deal ...
Your thoughts / comments / ideas / etc. would be most appreciated!
Added by: Dave on February 9, 2012, 4:39 pm
I should also mention another - major - point that I skated over in that post. This system would work well for the smaller prints - basically for the postcard-size prints in our catalogue, but what about larger work - prints on the scale of the one in the first photo, for example?
Do we prepare another wooden box, this one still larger? (How did I ever do any planning before I got Photoshop?)

Taking the prints in my Surimono Albums as an example (which are coming into the Mokuhankan catalogue one by one over the coming years), a box that would store/display them would need a footprint the size of an A4 sheet of paper. That's not too big for a desk I guess, but it is considerably larger than my current cases, and might be fairly expensive, not to mention pretty heavy to ship. (And it may need design modifications, to ensure stability, etc.)

Added by: Michael Kohne on February 9, 2012, 9:52 pm
Do you really need to do a display box for the larger prints? I'm thinking you could do a nice slip case for them. That could sit upright on a shelf and therefore not take up so much space.

Added by: Kalle on February 10, 2012, 5:20 am
Interesting, what about babushka boxes then you can ship all 3 sizes in one go.
Why can the retail prints not be in the plastic with the story folded behind them (print details visible on the back?
You may be able to devise a tent base for individual prints that is unfolded from the protective packing on ad-hock posted prints (shipping cost of card stand and posssible thin plastic cover would encourage people to own a box instead).
I would be happy with just a smaller panel and plastic for new prints if there was space in standard subscription box.

Added by: Lana Lambert on February 10, 2012, 10:20 am
Negative Points: "collectors may not like it all that much, because you have to: get it out, open it up, look at it, close it up, put it away ... (this is a legitimate criticism of my subscription albums too ...)"
Really? This was a plus for me. I admired the "wrapping the print in the story" presentation and being able to wrap my print back up and tuck it away in the box reinforced the fact that it was a real japanese woodblock print. That is, after all, the original culture of keeping your prints in Edo. I appreciated having a box to store my print in to protect it from the light and it was a tidy system.

Added by: Dave on February 11, 2012, 7:52 pm
Really? This was a plus for me.
The problem with having the prints all wrapped individually is that there is no way to simply 'browse' the collection. A year or so ago, I made a post about buying a collection of Hokusai prints, but I have to admit that there are still prints in that collection that I have never seen, because the set is so difficult to browse.
There are times when we would like to have one of these prints on display for clear inspection and enjoying for a while, and then there are times when we would just like to flip through the set on a more casual basis. My packaging does not easily permit the latter ...