« Six new prints added to Mokuhankan! | Front Page | Mokuhankan - first year financials ... »
Mokuhankan eBook printouts ...
Posted by Dave Bull on February 1, 2007 [Permalink]
The Mokuhankan eBooks have been available for a few months now, and have quickly become some of the best sellers in the catalogue.
I received an email the other day from a customer in England, Mr. Mark Mason, who wrote to express his appreciation for this material being available. He also mentioned "... purchased your 2 eBooks (Yoshida and Morley-Fletcher) printed them out and bound them, (I hope you don't mind; I've credited you on the inside cover) Yoshida is bound using a Japanese binding."
I wrote back saying that of course I didn't mind; this is the kind of thing I would hope would happen. I asked for bit more information on the printed books, and received in return a few photos that I'd like to share here. They look great!
Added by: Gary Luedtke on February 1, 2007, 10:27 pm
Mark, the bookbinding looks great, quite a nice job! I'd like to learn how you did these, if you would care to share that information please contact me.

Added by: Mark Mason on February 2, 2007, 12:41 am
Gary, thanks for the nice comment.
David suggested it might be a good idea to reply via the conversation pages in case others are interested.
This was my first attempt at bookbinding, and I only did it because I wanted to read David's eBooks as real books, rather than on a PC.
I'm just starting to produce woodblock prints, and so the Yoshida and Morley-Fletcher books were a perfect read for me.
So I ended up being diverted into bookbinding to avoid messing around with a pile of print-outs.
The Yoshida book is A4 size, and my first attempt at bookbinding was the Morley-Fletcher book at A5.
I copied the whole eBook into Microsoft Word, and after a few minor tinkers with the typeface and layout, and making sure the page breaks were ok. (Ebooks have something on every page, but in a printed book you may want a blank reverse page before the start of a new chapter, which is always on the face side.)
I printed the Morley-Fletcher book in 2 folios (sections)using my printer's preferences to print as a booklet with 2 pages on each side of a piece of A4. Each folio was folded down the middle to make 2 booklets which I then bound together.
The Yoshida book was printed out on A4, double sided.
As for the binding, I had a look at some older books I already own and worked at lot of it out myself, but I would recommend: "Hand Bookbinding" by Aldren A. Watson (Published very cheaply by Dover) for traditional hardback books, "Hand-Made Books" by Rob Shepherd, hard to find but has a chapter on Japanese binding, and a fantastic book called "Japanese Book-Binding" by Kojiro Ikegami which is worth every penny.
The covers are essentially grey cardboard pieces covered in fabric. Bookbinders cloth comes in a wide variety of qualities and have a paper backing to create a cleaner finish. I used a basic blue cotton, and a sheet of decorative paper to create the end papers.
The Yoshida book is a Western and Japanese hybrid binding which I just sat and worked out myself. I wanted to create a Japanese style binding that was sympathetic with the book, but with the sturdy nature of a Western hardback book.
The pages are bound together with twisted "strings" of strong Japanese paper, which are knotted and hammered flat. Then I created the cover using 5 pieces of card, glued to the fabric; 3 pieces for the spine and 1 each for the back and front. I had to allow room for the stitching and create recesses in the card spine for the thread to sit in. The cover was attached to the pages using the endpapers, and then holes were punched through the book ready for stitching.
Curiously I found an old Bookbinders Awl in my toolbox, I hadn't known exactly what it was until starting this project but it's come down to me from my father's side of the family. My Great Grandfather was a Print Compositer, so I think it belonged to him.
I followed Kojiro Ikegami's instructions for 4 hole binding (Yotsume Toji) to make sure I got the stitching correct.
I'd be happy to answer any more questions, if I'm able, but I'll leave it here for now.
The binding wasn't a quick process, but it was such a satisfying thing to do. Both books feel solid and should last a lifetime. The gentleman at a great old bookbinders materials shop in London which is full of fabrics including Japanese silks and beautiful decorative Japanese screenprinted papers ("Shepherds" - I think they have an online store)warned me that you can never just bind one book, and I now know what he means. I would love to combine it with my interest in Woodblock Printing and produce some small Manga sketchbooks. That's my next project.

Added by: Dave on February 2, 2007, 1:01 am
Here's another one of Mark's photos, showing the front cover of the Yoshida book: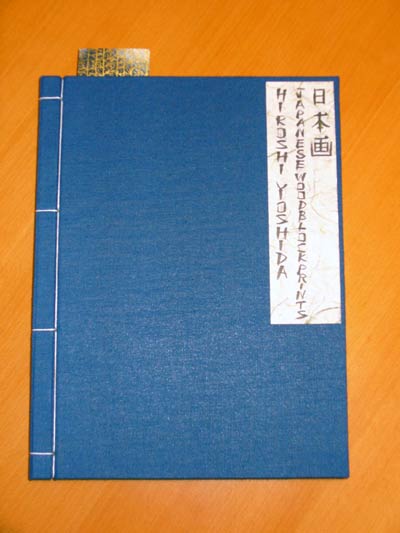 Added by: Dave on February 2, 2007, 2:49 pm
a fantastic book called "Japanese Book-Binding" by Kojiro Ikegami which is worth every penny
I can vouch for this ... I got this book a month or so ago, for the purpose of learning how to make traditionally bound Japanese books for my next print series. It's packed with info ...

Added by: Julio Rodriguez on February 3, 2007, 8:49 am
Thank you Mark for sharing the construction details, I been wanting to build my own cases and bindings for my print exchanges and this book sounds like it has all the information I would ever need...your books look great !

Added by: Freddy Gunawan on November 19, 2007, 8:32 am
I am a newstarter in bookbinding.Thank you very much if I can learn the process to make cordbinding Japanese Style as I look in photos.
Best Regard.
Freddy G
Bintaran Tengah 13 E
Yogyakarta
Indonesia
Phone +62 274 377350