« Here we go again! | Front Page | Ukiyoe Heroes Portraits - update video »
Posted by Dave Bull at 7:38 PM, December 12, 2015 [Permalink]
Back in the summer of 2012 when we started the Ukiyoe Heroes Kickstarter campaign, our Mokuhankan venture was just at the very beginning. The two women who were here training as printers at the time were only capable of doing very simple work. Long-time blog readers might remember that we were even printing such simple things as packaging for cookies!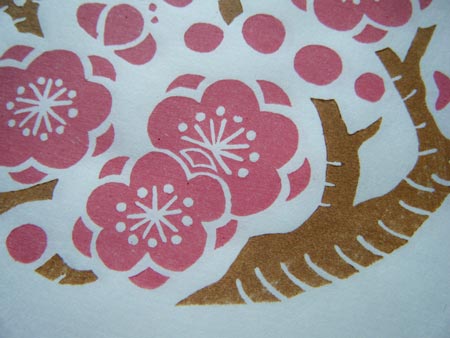 I started the Kickstarter campaign knowing full well that all the carving and printing work would be falling on my shoulders alone. I was ready to take that on, and organized the schedule - a new Heroes print every two months or so - around that plan. It didn't take long though before it became very obvious that the project was going to explode. Ukiyoe Heroes was clearly not a 'one man' job, and yet my 'immature' staff was simply incapable of doing that level of work. So I began to use a few outside craftsmen, and over the next three years, Shinkichi Numabe, Hirokazu Tetsui, and then Kenichi Kubota all came on board to produce beautiful editions of the prints for us (and are still doing so).
So why make a post about this now? Because look at this set of photographs, taken in the printers' room of our Asakusa shop! Two of the most difficult designs in the Heroes series, now being done right here 'in-house', by two young ladies, neither of whom has yet reached four years of experience. And the work is being done at a 'no compromises' level of quality ...
W∅∅t!
This is Ayumi Miyashita, who we have seen many times on this blog. She's doing the 'Hero Rests' design ...
Rich and deep colours; perfectly smooth grainless gradations ... Jed-san, are you watching?
Straight out of high school four years ago ... to this level ...
She has about 60 sheets in the batch, and I suspect we'll be sending around 59 of them to Jed for signing ... Here she is putting them out to shed most of their moisture before she puts them into the heavy drying boards.
On the other printing bench is Chiharu Kanai, who also has four years experience, although not starting here. She worked at another workshop first, then after leaving there was away from printing for a couple of years before we enticed her back.
She's working on the design Jed calls 'Flight of Fantasy' ...
In this next photo we can see the 'model' sample at the left, and her (still incomplete) version ... again, good rich deep colouring and wonderfully smooth gradations!
Here's her finished version ...
Ain't we got fun!
I posted the other day about the expansion into the 3rd floor of our building, and these two were 'bothered' all week by the banging and crashing from above as work got going. But they're not complaining, because the new workroom is coming along well.
And it has room for four printers ... We'll keep you posted!
Added by: Jed Henry on December 12, 2015 9:27 PM
I _am_ watching!
If Miyashita san and Kanai san stick with this, we're going to have a solid foundation of young printers for decades!
DAVE, PAY THEM WELL! :D KEEP THEM HAPPY!!!!!

Added by: Dave on December 12, 2015 9:38 PM
Jed-san, they're the two highest paid people in our outfit right now (perhaps not counting you :-) And as far as I can tell, they both seem very happy with their situation. They are constantly challenged with new work, with a smattering of 'easy' print jobs in the mix, and I don't detect any problems at all.
There is one 'issue' that will almost certainly come up at some point. They are young women, and as such will quite probably/possibly not be available for work at some point over the coming years. Luckily, woodblock printing work is something that can be done at home, not just in the workshop here, so it is not totally incompatible with family-raising duties. Their productivity will certainly drop (or disappear) during such a period, but we'll be ready and waiting for them when they are ready to return. It's not something I will be able to control; all I can do is provide such an interesting environment for them that they will want to come back as soon as they can!

Added by: Guillaume on December 13, 2015 12:57 AM
Wonderful, I remember how the original Kickstarter had as one of its primary goals to provide a means for young printers to learn and grow their skills. Another great success, it would seem.
Those two prints are so stunning, it's great that they still require fresh batches.
Perhaps it will be possible to make new full-size Ukiyo-e Heroes prints if you or your distant carver can ever manage to find the time. Though, I'm sure you have many different plans and priorities that are equally interesting.

Added by: Jakub Makalowski on December 28, 2015 3:27 PM
Feeling quite jealous of their skill. I still start to get gripped by fear whenever I move to the start of printing and how much lower success rates.
On a side note you probably aren't thinking of hiring more people with such a talented team, are you?