« 2nd Webcast with Jed Henry | Front Page | Ukiyoe Heroes - Kickstarter is now open »
Posted by Dave Bull at 2:31 AM, July 31, 2012 [Permalink]
Around six weeks ago, I made a couple of posts explaining why Mokuhankan - this little publishing venture of mine - was coming to the end of its rope.

The key point was the fact that the savings were running out before the new trainees had reached a level where they could pay for themselves. The math was very simple, and the results clear, as I wrote: "So we're broke. The revenue now coming in from that June print will be enough to pay the staff at the end of this month, but no more. There will be next to no revenue in July."
And there wasn't. I am just this evening preparing the invoices for the current subscription print for my own collectors, which Yasui-san will begin to mail on Monday, but even if payments arrive fairly quickly, the money will be too late to help me pay the staff (salaries and transportation expenses) tomorrow morning, the 1st of the month. I will be 'financing' that with my credit card.
Now when I started up the Mokuhankan venture a while back, I promised myself that I wouldn't let it incur any debt. If it couldn't pay its own way, it would fold. I wasn't about to lose my house, just for the 'fun' of trying this little plan. So why am I borrowing money for this now? (And will do so again at the end of next month ...)
Well, it's because of the Hail Mary plan. Those who have been following along, know that the Ukiyoe Heroes project has been in the planning and preparation stage for around two months now, and it is finally ready to go. The Kickstarter project will open up tomorrow, the 1st of August (exactly at the turn of midnight, New York time, for anybody who is that eager!).
That pass lofted into the air a couple of months back has actually travelled quite a long way down the field, and is now dropping towards its target in the end zone. If all goes well on Kickstarter over the next few days (weeks), we'll have a source of revenue to keep us going for the next little while. And based on the reaction over on the Ukiyoe Heroes Facebook page over the past couple of months, it seems pretty clear that there is a lot of interest in Jed's designs.
But just how much of that interest in the designs will translate into orders for actual woodblock prints is still very much unclear. (And lest some of my 'regular fans' think that this is a call to 'get over there and help me out!' I would like to emphasize that this is not what l am trying to say. Please don't misunderstand this, but it's not the 'regular crowd' that needs to step up at this point; this new project will only be successful if Jed and I can appeal to a much wider base than the type of person who is normally attracted to my work. We need those kids!)
Will this indeed be of interest to them?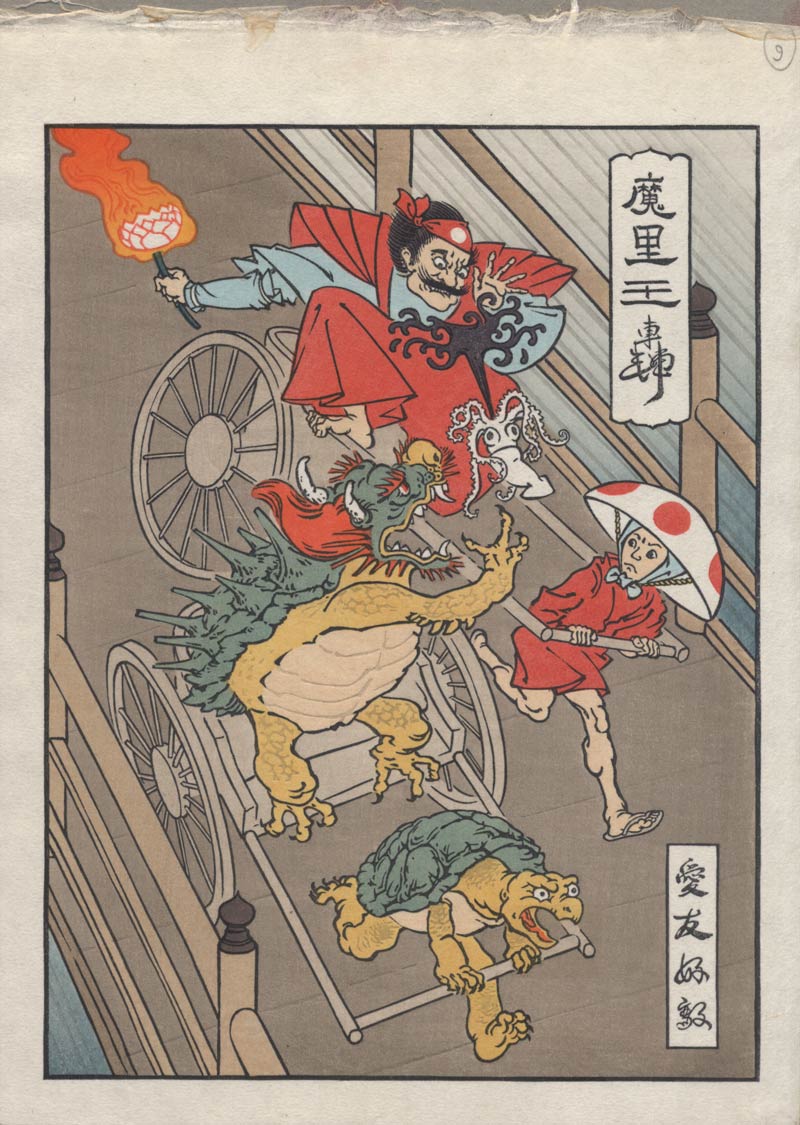 Closeups: [1] [2] [3] [4] [5] [6]
We're all about to find out!
Added by: Jacques on August 1, 2012 6:44 AM
I really hope that your Ukiyo-e Heroes project with Jed Henry - officially opening up in just a couple of hours - will be a huge success, resulting in heaps of orders, and thus allowing you to move successfully forward with all of your other Mokuhankan projects!
As far as I'm concerned, this would particularly involve the Takumi Workshop prints, the Shingo Ueda Partner shop, as well as the Mokuhankan Knives and Chisels Tools project...
Good luck Dave!

Added by: Tom Kristensen on August 1, 2012 4:34 PM
Congratulations are in order! Only a couple of hours into the Kickstarter campaign and I see orders for 55 woodblock prints. Well done team.