« Fujii-san's Kunimasa actor | Front Page | Carving and Printing (Dave and Ayumi) »
Posted by Dave Bull at 2:59 AM, May 22, 2012 [Permalink]
Here at Mokuhankan we're now in real 'Damn the Torpedoes!' mode. Any number of projects are pushing forward bit by bit, but as most of them have yet to produce any (much) revenue at all, our burn rate is getting pretty scary, and I'm far from confident that we'll be able to get things stable before reaching the end of the rope.
But one thing is certain - without making prints we're guaranteed to fail! And as I'm busy trying to run my own printmaking series, and Tsushima-san is only available a few hours per week, we have got to get more people started on that same ladder.
So - as I said - it's damn those torpedoes, and today saw the first visit from two young ladies who are interested in stepping onto the first rung.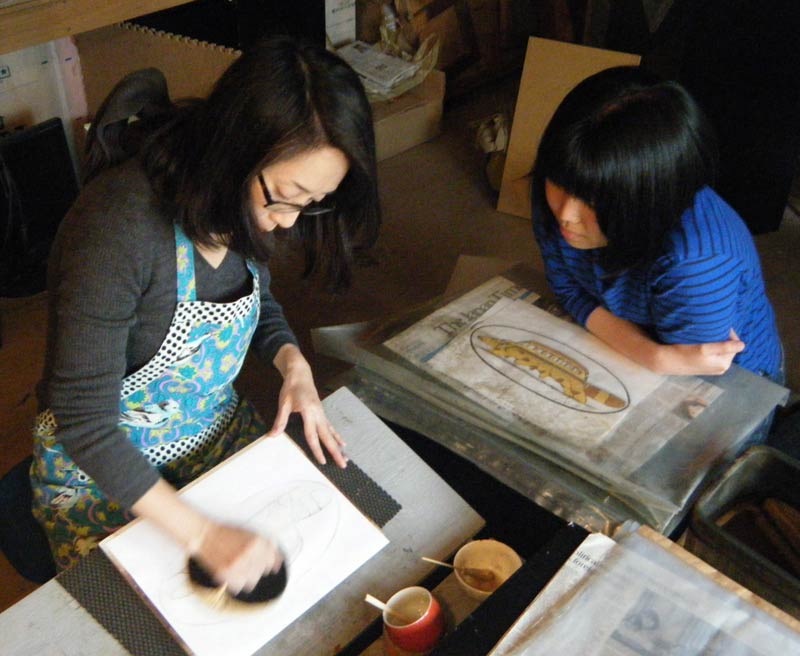 I'll introduce them properly later, after they've been here a few times. One of them has made a couple of prints already, working over at the Takumi Workshop run by carver Motoharu Asaka. The other young lady has never used a baren before, but is currently attending the baren making workshop being run this year by maker Goto-san.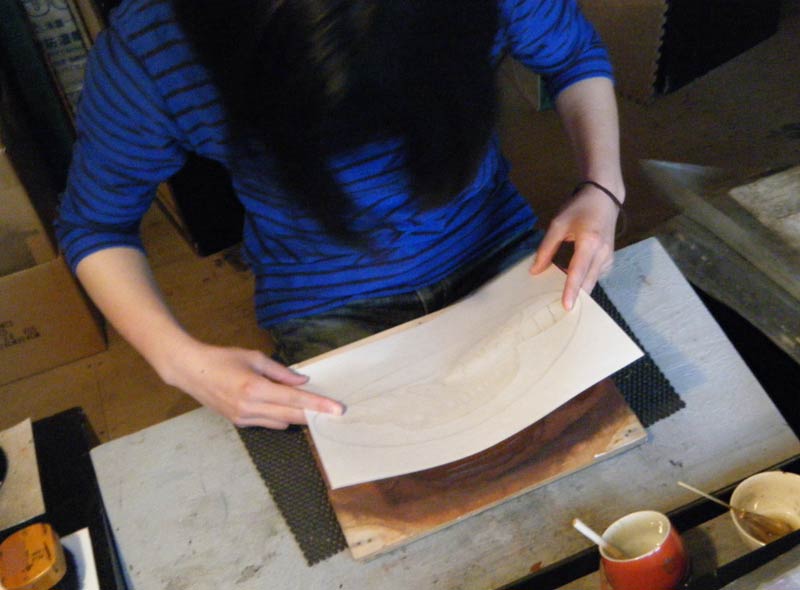 They are both interested in this from both points of view - having an interest in woodblock prints, and in wanting some work!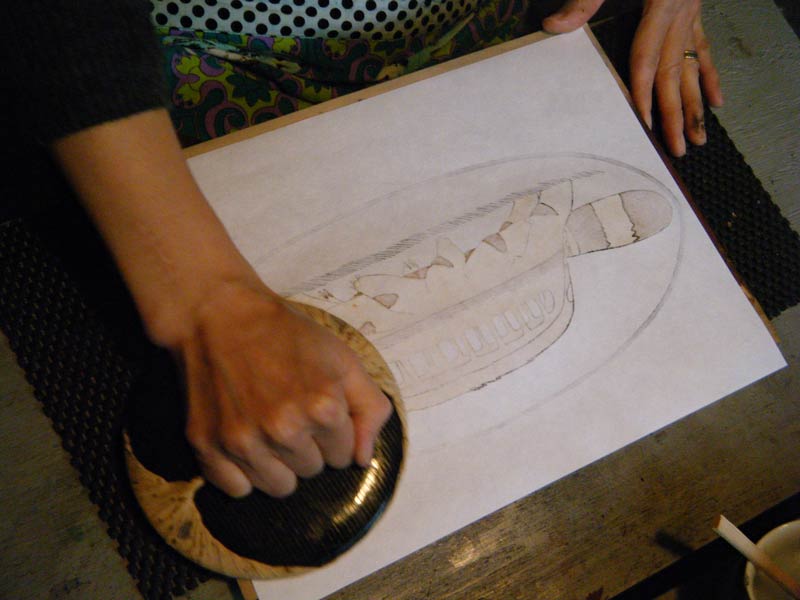 As you can see, I gave them one of our simpler sets of blocks for this first trial, and they made a nice little stack of prints over the course of a few hours.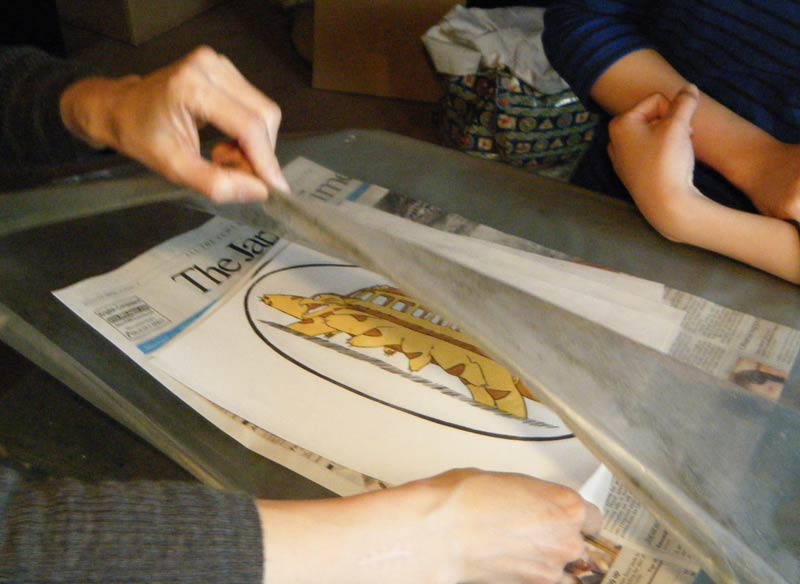 And while they worked with me on the training, printer Tsushima-san borrowed my workspace and kept busy with her proofing of the Hiroshi Yoshida design.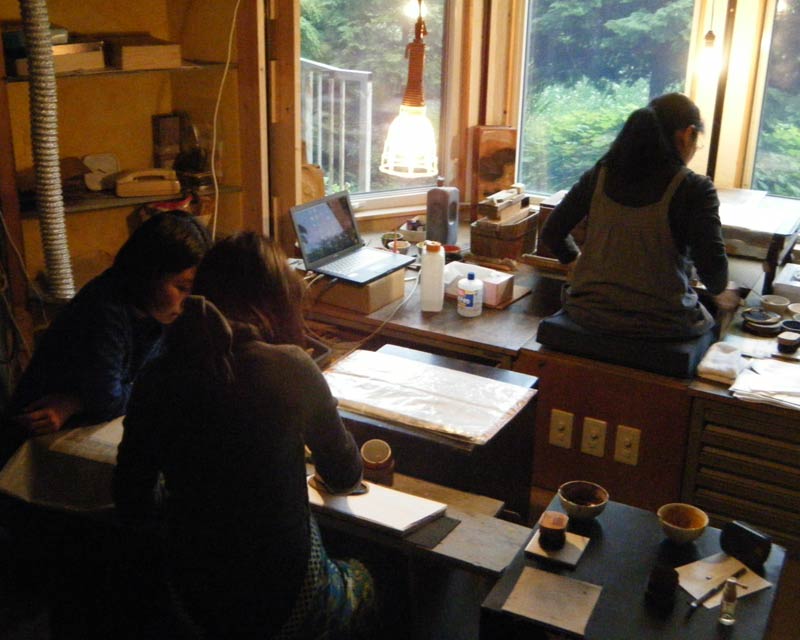 I hope we'll be able to show some results from that fairly soon!

In other news, I'm having another interview tomorrow, with a young lady who we met at the Design Festa last week. She's coming to talk about working here ... and this time, we're not talking about baren work, but the other 'b' word ... business!

Also, for those readers who can read Japanese - some of our staff members have begun to make posts on a new 'Mokuhankan Staff Blog' that we set up the other day. Not sure if they will be interested in keeping it up, but I certainly hope so!

Added by: Jennifer Martindale on May 23, 2012 6:59 PM
As always, amazed by the energy. The Staff Blog translates tolerably well online, enough to get the gist. Thank you to all for giving us the opportunity to see such a creative workplace with such care taken. Keep up the good work.

Added by: Julio Rodriguez on May 24, 2012 6:40 AM
Hey...I recognize those blocks; love that cat-bus ! I used them for a presentation here in Skokie, Illinois back in 2002....and if they survived my great basement flood of 2005 I think they will live on forever !!!