« Mokuhankan Shopping Cart now up and running ... | Front Page | Printer's update ... »
Hilo Bay (12) - Numabe's Proof (Updated)
Posted by Dave Bull at 9:30 PM, June 17, 2006
Continued from Hilo Bay [11] | Starting point of the thread is here
Quickie update ... Had a call from Numabe-san this evening. I have been waiting for him to let me know he was ready to start proofing, but the call was different ... he says he's 'pretty much finished' proofing, and now needs my input. Grrrr!!
I can understand actually; if I were in his position I would much rather work it out by myself without some guy standing there constantly 'interfering'. But I want to get into a relationship with him where he trusts me to be part of the process, without overly dictating minute-by-minute.
Anyway, he's calling for a block adjustment (separating two areas that are currently overlapped), so he needs some carving. We've arranged that I'll head down there Monday morning, to discuss the work so far, cut the block as needed, and then work out the final details together. If we can nail it down, we'll do so, and I'll give him the go-ahead to pull the edition. If I think we need more work, we'll do that. (I don't know at this point how many days he has spent on this, so don't know yet what my investment is ...)
Watch out for the next update Monday evening!

OK ... back from a long day downtown ...
When I arrived at the studio around ten, Numabe-san was hard at it, working on a batch of six proof sheets.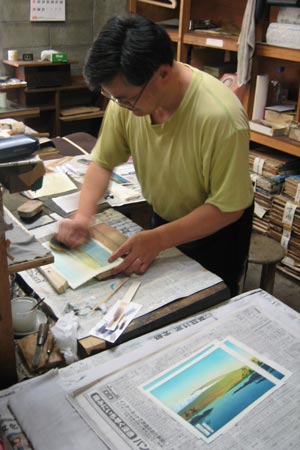 Six is more than I usually try myself at any one time (I'm speaking of proofing here, not editioning), as I find that trying too many variations at once is just too confusing, so I was a bit surprised to see so many sheets. But actually, these weren't all that different; because the print was already fairly 'close' - what with Gary's master printout, and my own proofs - it wasn't necessary for him to be trying wide variations. The goal for him in this proofing is to find out for himself how the blocks 'work', and then to try and 'bring it home' to where we want it.
Turns out that this is his third day of work on this one; he has assembled quite a library of test strips and notes on colour mixing, etc.: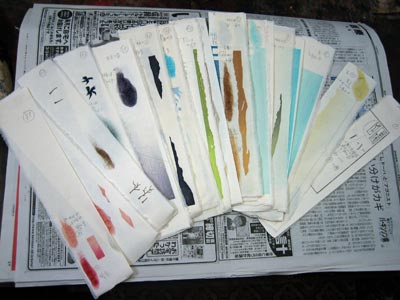 While he worked, I cut down the mountain block to the shape that he recommended. I don't totally agree with the way that he wants to print that area, but have no desire to force him to use my methods. He's the guy who is going to have to make all the copies, so it's only fair to let him work in a way that is comfortable for him. (The result will be visually identical - it is just that I like having areas underlay each other (letting 'B' build on top of 'A'), where he likes having them on separate blocks, printing more times if necessary, but allowing more independence of colour zones.)
We then had a good inspection of what he has done so far, going over the thing inch by inch together with the master copy: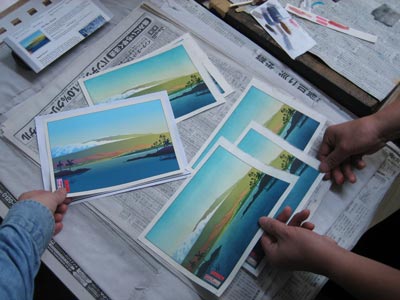 No single one of these proofs is 'OK' as it stands - we select the sky from this one, the cloud from this one, etc. etc., and he marks them up to keep track of our decisions: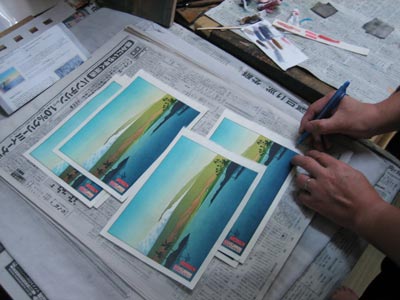 Some of the work he has done so far is very good - as I expected, his gradation across the mountain is smoother than mine, and his sky is cleaner too. He has done a better job than I did with the 'redness' of the soil on the mountainside. But he is still 'short' on a number of things: he hasn't got anywhere near the correct colour on the islands, his seashore isn't well defined (he was loose with the registration there, thinking that a bit of blurryness/overlap in that area was OK for this type of print), his tree trunks were too light, and he had printed the island shadow after doing the sea colours, which left it indented, something that looks fine in the proper context, but which just looks strange here (shadows on water should be 'under' the surface, not on top ...).
So ... we then got to the big question; cycle around again, or move on with editioning? This really comes down to a balance of a couple of things: how much I trust his ability to understand today's discussions, and how much more money I can afford to toss at this one. We banged it around for a while, and I then gave him the go-ahead to make 60 copies. After I left, he must have started moistening the paper, and he'll be printing in the morning ...

A few more thoughts on today's meeting ...
When I first came in, I went into the back room to drop off my bag and box of blocks (Aspen Grove ... more about that later), and just got a quick glance at the sheets on his worktable as I went by. "Wow, looks great!" was what I was thinking ... When I came back into the workroom a minute later, and got closer, I saw that what I had seen were my own proof copies sitting on the table where he could see them as he worked!
He then opened his damp stack and showed me his own proofs, and you know, there really isn't a whole lot of overall difference between his and mine, which at first was a bit disappointing for me. But as we talked, I realized that this actually shouldn't be such a surprise; after all, we gave him - both with Gary's master, and my proofs - a pretty close guideline to follow. So it's perhaps natural that he hasn't taken it much farther than I did. Where Numabe's talents will come out is once something is decided and editioning starts. He will produce a stack of pretty much identical prints, and he will do so no matter what problems he comes up against along the way. We've already found that the paper we are using is really not up to this job (anybody know where I can borrow a time machine, to go and buy some 'good stuff'?), but he can 'handle' its flaws much better than I can. He also has much better fundamental 'technique' than I ... getting consistent gradations, smoother sky colour, etc. etc.
As for the money questions, we decided to do the job based on the system I mentioned in an earlier post - not worrying about a 'per sheet' price, but with me agreeing to pay him his standard daily rate, once the job is done. That leaves me a bit 'exposed', but I guess it's the fairest way to handle this one; because I can't afford to order very many copies (even with the extras that will go to Gary), he just isn't going to be able to work in a particularly cost-effective way.
Anyway, it's well after midnight here, and that's enough for now ... Sure wish that some of these guys lived a bit closer!

The thread continues in Hilo Bay [13] ...
Added by: Gary on June 17, 2006 10:04 PM
Well, you had a pretty close proof of 'Hilo Bay' yourself to start with, so either he's capitalized on that, with the artist's suggestions in tow, or he's gone off base. More than likely he's gotten it close or he may not have even mentioned to you he did it, and just pretended he's now ready to start.
We'll keep our fingers crossed and our hopes up!

Added by: Gary on June 20, 2006 7:31 AM
Here's an update on my critique of Numabe-san's work. My personal favorite is the one in his left hand the third photo down, with a deeper contrast in the cloud shadows to be added. Otherwise it's looking good.
I have to add a caveat to this. I have a flat panel monitor and if my eye level is higher than perpendicular to the center of the screen, the images get lighter. If I am below perpendicular to center screen they get progressively darker, so I hope, and assume that looking at it exactly dead on will be an accurate representation of fact.
Otherwise it looks like Numabe-san is doing a fine job, it even appears he's got the cartouche right! :) If we can get that cloud shadow deeper on the left, you've got my hearty approval to proceed!
And what's this about paper? Don't you have a whole stack of blank Iwano-san's paper just standing by in the Mokuhankan supply room for just this type of occasion? :)
Gary

Added by: Dave on June 23, 2006 9:53 AM
And what's this about paper? Don't you have a whole stack of blank Iwano-san's paper just standing by ...
Of course I do ... For years now I've been buying more paper than I need - anywhere from 20% to 50% more. So I have quite a nice little stock accumulated.
It's 'good' paper, pretty much the best that money can buy. I don't want to get in trouble with the man who makes it for me, but honestly speaking, it just isn't as good as such paper used to be. (I have to qualify that immediately by saying that printers like myself and Numabe-san aren't as good as printers used to be, either!)
The quality of the paper - and of the sizing - is the single biggest headache for us. It's not that we are 'blaming our tools/supplies', but when we look at the incredible Meiji paper, we can only drool in envy at the pleasure the Meiji printers must have had when using it. (Although of course, for them it was nothing special, just 'normal').
Anyway, our immediate problem is more to do with the sizing than the inherent quality of the paper itself. The man who does all the sizing for this kind of paper these days, is getting a bit older, and seems to be losing his touch. He can no longer seem to find the right 'center' ... when the paper comes from him sized too 'hard', we ask him to pull back a little, but inevitably, next time we get some, it's barely sized at all.
The answer to this is staring us (printers) in the face; we have to move back to the system in place many many years ago, when sizing was done in printers' workshops - and done on a one-off basis for each job in turn, matching the sizing with the job waiting, and the weather.
Only problem is, there is nobody left alive who actually knows all the ins and outs of this. Numabe-san and I have discussed heading over to Misawa-san's place to have some training sessions with him (he's more than willing to show us what he knows), but we're just too damn busy all the time ... So round and round we go ... cursing the sizing, but not being able to climb out of this little rut we're in ...

Update: Numabe-san called me late two evenings ago. He's now part-way through the job, and wanted to tell me/ask me about a possible change. He did a few more tests on the sky block, and found a way to get the colour a bit richer, without picking up too much wood grain, which had been a problem during the initial proofing. He wanted my approval to go ahead with the new tonal balance.
Over the phone, I'm supposed to say 'yes/no'? He's not net-savvy at all (he doesn't own a computer), and I had an appointement with a visitor here, so I wasn't able to go and see him. So he's moving on to work on other areas of the print, and popping me a couple of sheets in the mail, for inspection/approval/comment.
A bit frustrating to work at a distance like this, but I'm not complaining ... at least he called me, rather than just plowing ahead ...

Added by: Dave on June 24, 2006 10:55 AM
Quick update ... I received the package with the new samples, and yes, the print will be much improved with this change. He's found a way to print the sky colour with a better saturation, but without getting 'grainy'. As a result, the 'glow' is greatly increased, due to the better contrast between the deeper sky, and the lighter areas.
I'm not sure exactly how he did this, and he kind of joked with me, not wanting to talk about it ... "Let's talk about it when the printing is finished ..."
(My guess is that he's using a modern steel 'baren' to print this .. we'll see ...)
Anyway, I gave him the go-ahead ...

Added by: Jacques on June 26, 2006 10:09 AM
The answer to this is staring us (printers) in the face; we have to move back to the system in place many many years ago, when sizing was done in printers' workshops - and done on a one-off basis for each job in turn, matching the sizing with the job waiting, and the weather. Only problem is, there is nobody left alive who actually knows all the ins and outs of this.
Dave, reading this I wondered: Do you know how firms like Adachi Hanga in Tokyo, and Uchida Art in Kyoto (who both claim to reproduce woodblock prints in the traditional way) currently deal with this problem? Are they sizing the paper themselves?

Added by: Dave on June 26, 2006 10:16 AM
Are they sizing the paper themselves?
I know nothing about how Uchida handles this, but as far as I know, Adachi sends their paper to the same place that everybody else does - to Misawa-san. There is nobody else here doing this work.
I have no 'inside' knowledge of their affairs though, and it is certainly possible that they are doing some of the sizing 'in house'; this situation has been developing for quite some time, and I'm sure they are considering such a step, if they haven't already taken it.