Yokai Faceoff
A Collaboration between Kawanabe Kyosai ...
and Jed Henry!
Do Yokai still exist in Japan?
To quote from Wikipedia - "Yōkai are a class of supernatural monsters, spirits and demons in Japanese folklore. ... Yōkai range eclectically from the malevolent to the mischievous, or occasionally bring good fortune to those who encounter them."
Back in the old days people were of course quite sure that such creatures actually existed, but in our 'enlightened' modern times, we are less confident. Designer Jed Henry isn't going to let that stop him though. He posed the questions, "Where might we find yokai in our modern society, and how would they terrorize us?"
Well, we're about to find out. Over the course of 2017, our workshop will create a set of 24 interesting woodblock prints: 12 images drawn by the Meiji-era designer Kawanabe Kyosai, and 12 created by Jed in answer to those questions.
The prints will be sent out to waiting subscribers at the pace of two each month (the Kyosai reproduction on the 1st of each month, and the Henry original on the 15th.)
The prints are being made in the Japanese traditional hagaki size: 11 x 15 cm (approximately 4.5 x 6 inches), and are all completely hand-carved and hand-printed.
Please take a look (below) at the prints made so far, and we hope you will consider joining us for the adventure!
---
The Set of Prints ...
Print #1 : 'Elephantine Yokai'
"You can run ... but you can't hide ...
from the 'Elephantine Yokai'"
Print #2 : 'Wrong Answer Yokai'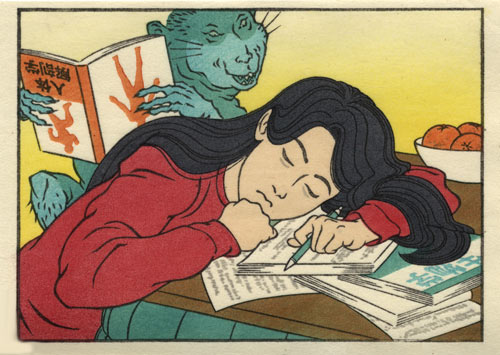 "Pity the poor kids who study hard yet get bad grades;
perhaps they had been haunted by the 'Wrong Answer Yokai'"
Print #3 : 'Running Fan Yokai'
"Ready to pounce any time of year, this yokai carries his own built-in method of bringing chills down your spine ..."
Print #4 : 'Bakeneko'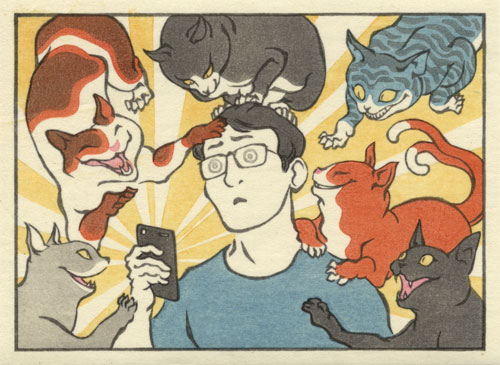 "After decades of decline as the nation modernized, the rise of social media has brought these strange creatures success beyond their wildest dreams!"
Print #5 : 'Blue Priest'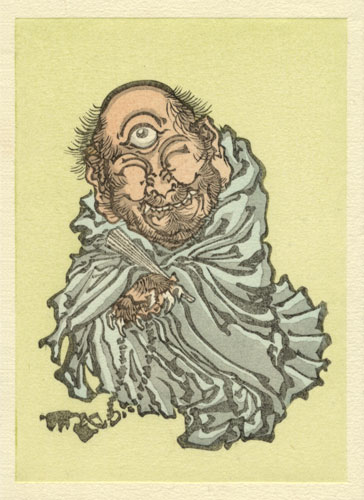 "A quite harmless yokai, unless of course you have heart-failure when coming face to face …"
Print #6 : 'Headlight Horror Yokai'
"High beams suddenly pierce the darkness, coming straight at you! You brace for impact just as they hurtle effortlessly, silently past you and return to the darkness."
Print #7 : 'Flying Temple Block'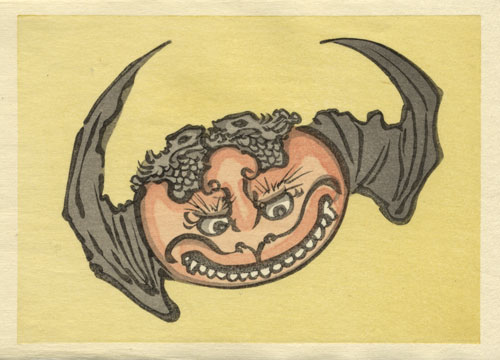 "After years of being pounded by priests chanting their sutras, this one has sprouted wings and returns to haunt their dreams ..."
Print #8 : 'Winds of Hell'
"A terrible spirit rides during the rush hour; once the doors have closed on the packed carriage there is no escape from a smell so foul that demons would cringe!"
Print #9 : 'Soul Shepherd'
"He wanders Purgatory, looking for souls that he can 'help find their way'. Just in which direction he will pull them, he will of course not reveal …"
Print #10 : 'Battery Drainer'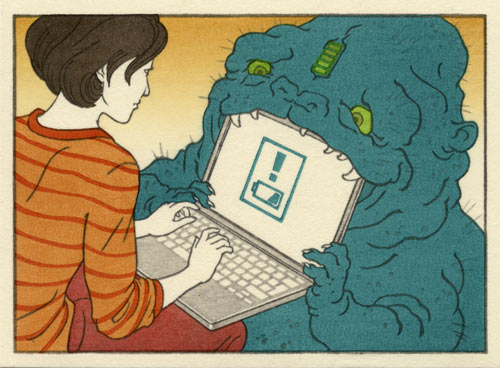 "Usually only sipping lightly, the Battery Drainer loses control once it tastes the zesty juice created by the sound of frantic typing at a looming deadline …"
Print #11 : 'Magic Hammer Yokai'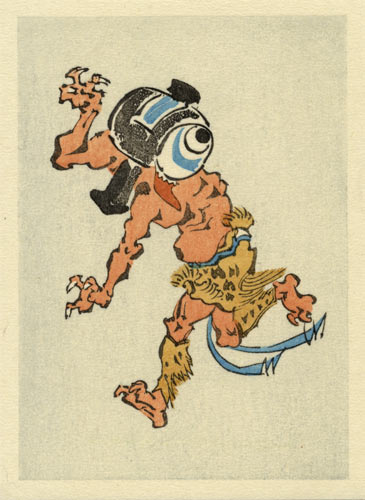 "The Magic Hammer will bring you the riches you desire … but of course you will overdo it, and lose everything …"
Print #12 : 'Neighbourhood Shrine Yokai'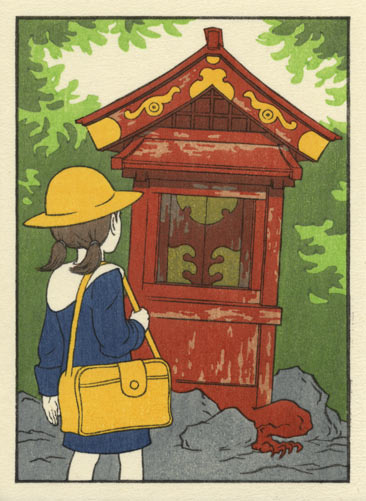 "It's been so long since I had a donation … I so much need to hear that 'clink clink' sound again … NO! No candy!"
Print #13 : 'Reality Distortion Mirror Yokai'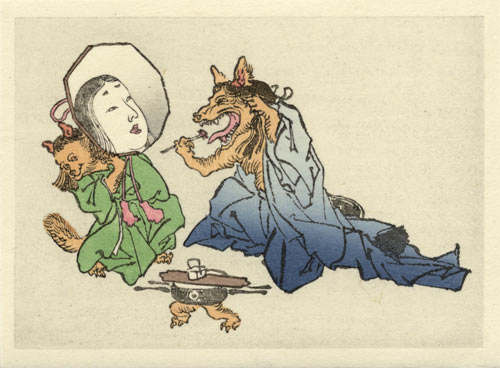 "What if your mirror understood what you wanted to see?
Would this be such a bad world ...?"
Print #14 : 'Lost Wallet Yokai'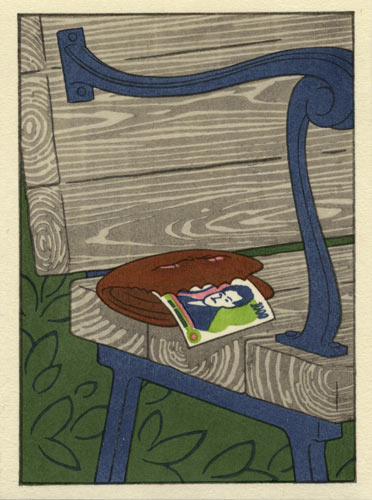 "Dreaming of what life might be like in far-off lands, this sharp-toothed yokai spends endless hours on a Tokyo park bench, waiting ... waiting ... waiting ..."
Print #15 : 'Incense Yokai'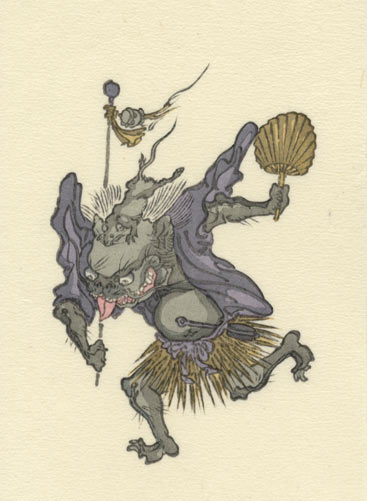 "The sweet scent of his incense wafts through space all around him. What exactly, is he trying to cover up?"
Print #16 : 'Negative Yokai'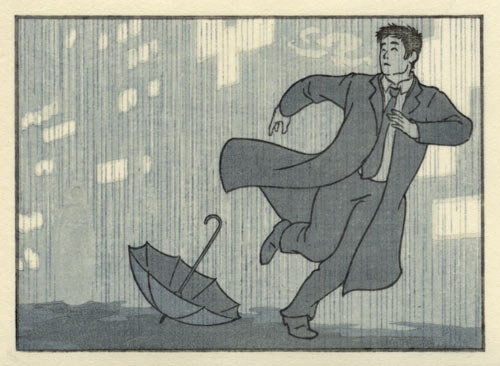 "Strange hollow shapes ... shuffling around in the heavy rain. Do they come and go with the clouds or do we only notice them when it rains?"
Print #17 : 'Death Metal Yokai'
(sent to subscribers on September 1st)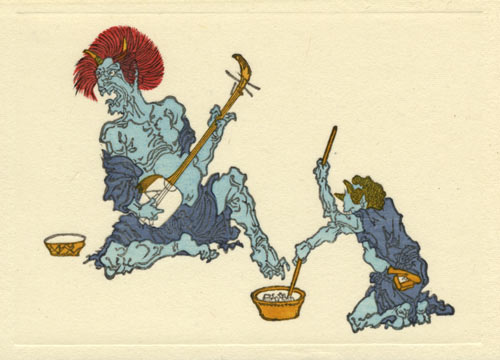 "No amps in 1881, but it didn't matter; he could still blow everybody out of the room."
Print #18 : 'The Next Station'
(sent to subscribers on September 15th)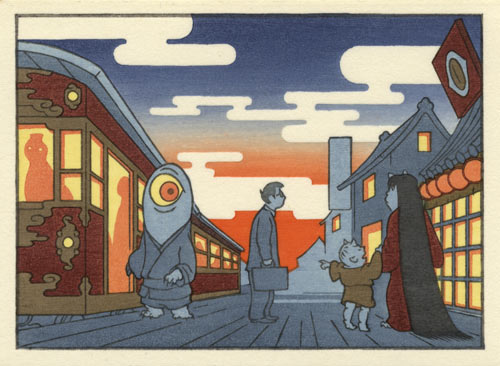 "He absolutely knew this would happen one day; sleeping for just one station too far ..."
Print #19 : 'Fireball Yokai'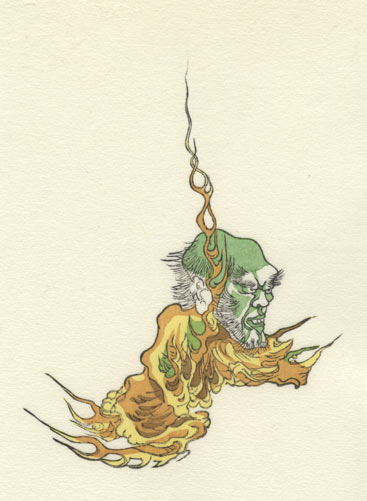 "Spend your life stealing money from the offertory, and what do you get for it? Well, you'll never be cold again!"
Print #20 : 'Character Bento Yokai'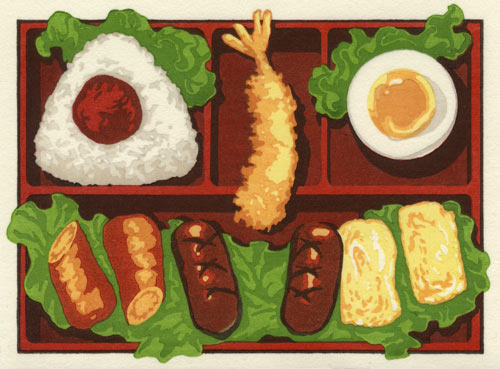 "Modern 'character bento' have provided a new niche … so of course a Yokai has evolved to fill it!"
Print #21 : 'Viral Yokai'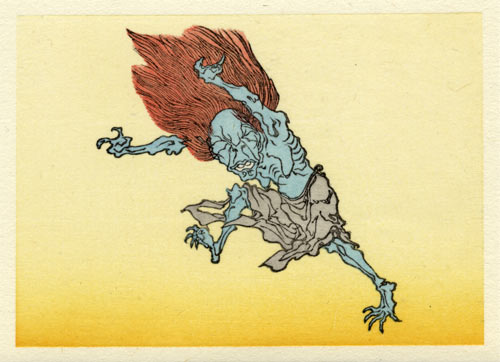 "'Going viral' is a benefit these days, but when you met
this hag back then ... it meant something different ..."
Print #22 : 'Costume Yokai'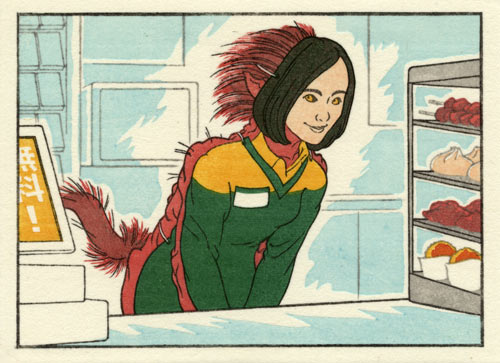 "In the land of the Yokai, when Halloween comes around,
what are you going to do?"
Print #23 : 'Warrior Horde'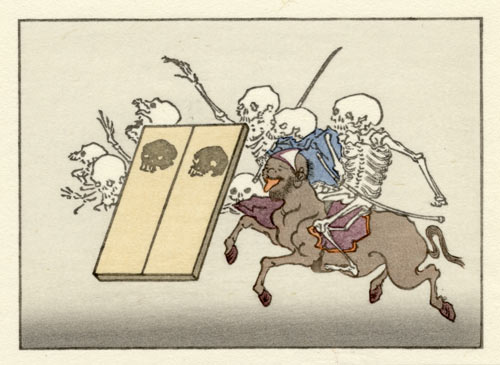 'Four Horsemen' they were not, but what they lacked in magnificent terror, they made up in enthusiasm ...
Print #24 : 'There's an app for that!'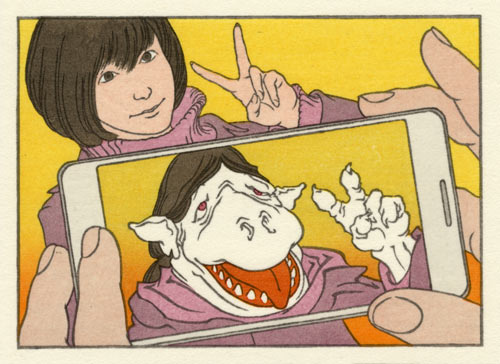 "In the old days, you needed a magic mirror to reveal their true form,
but now we have a new tool to expose them!"
. . .
---
Storage/Display
The prints will arrive in your mailbox secure in a strong envelope (with stiffener), but as they build up on your desk every couple of weeks, you are going to need a way to store them. We have prepared a small storage binder to go along with this print set.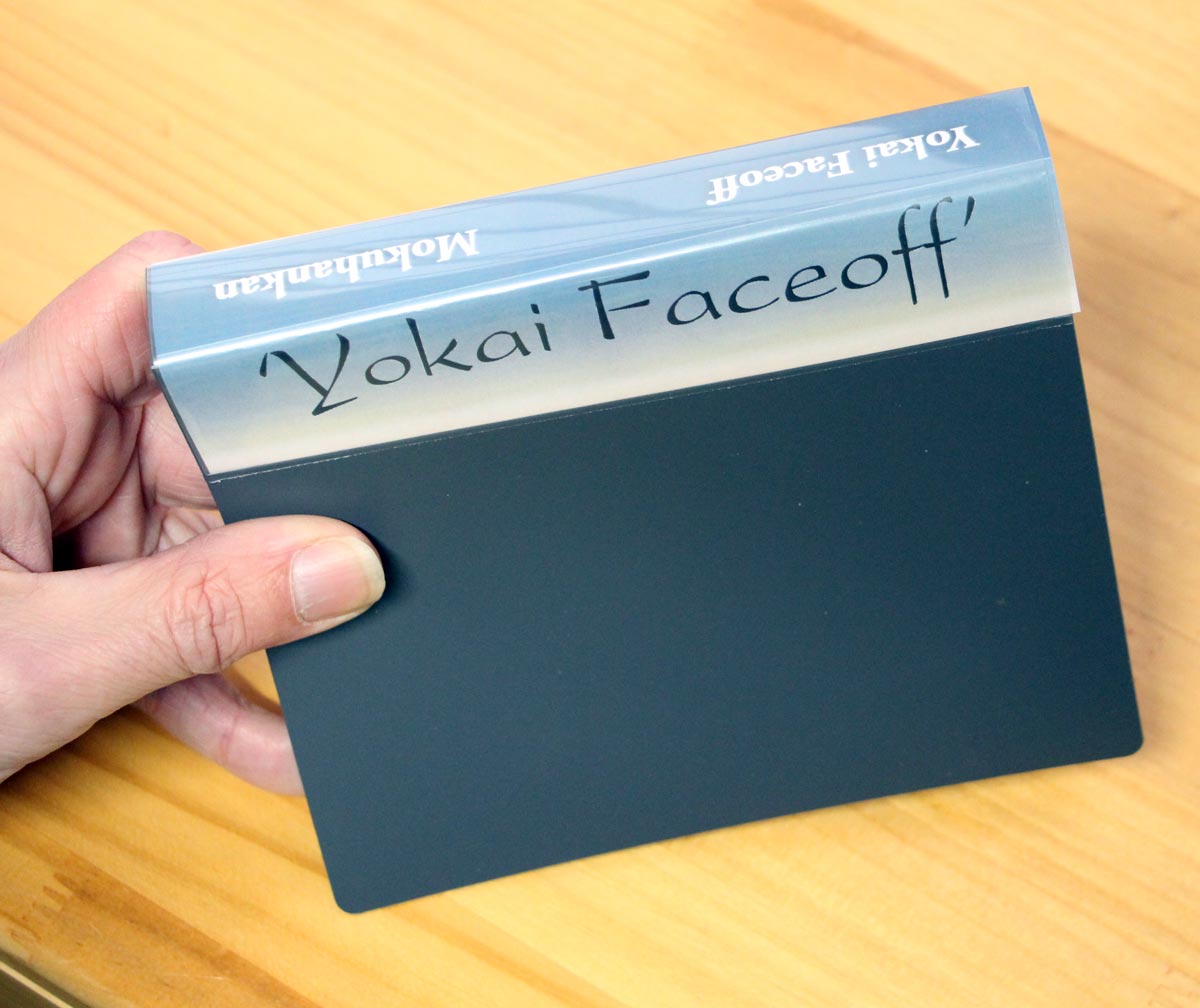 The binder is a compact 'Clear File', which we source here in Japan, and which the maker claims is 'Archival Safe and 100% Acid free'. It has enough double pockets for the complete print set, the accompanying descriptive sheets, and a Table of Contents.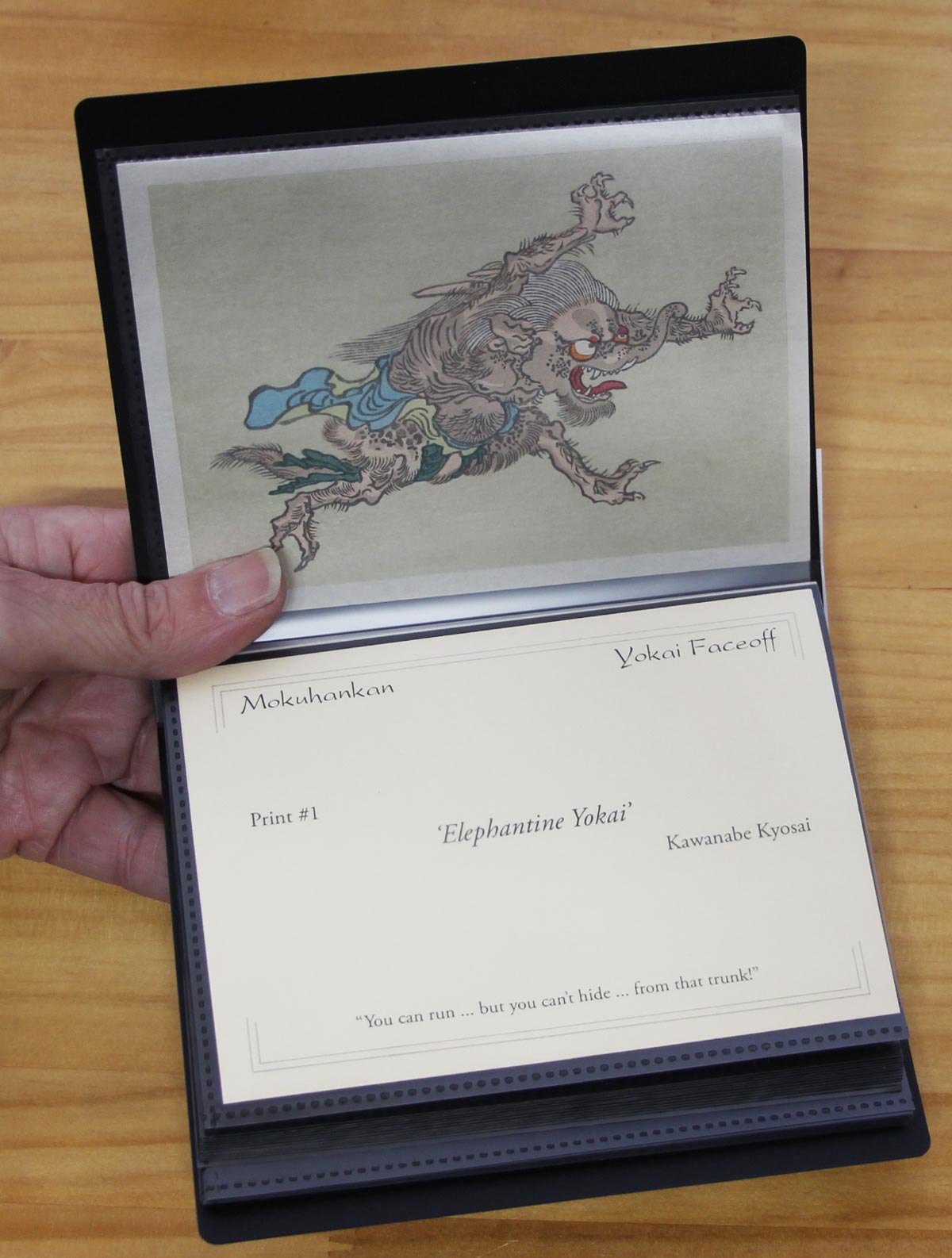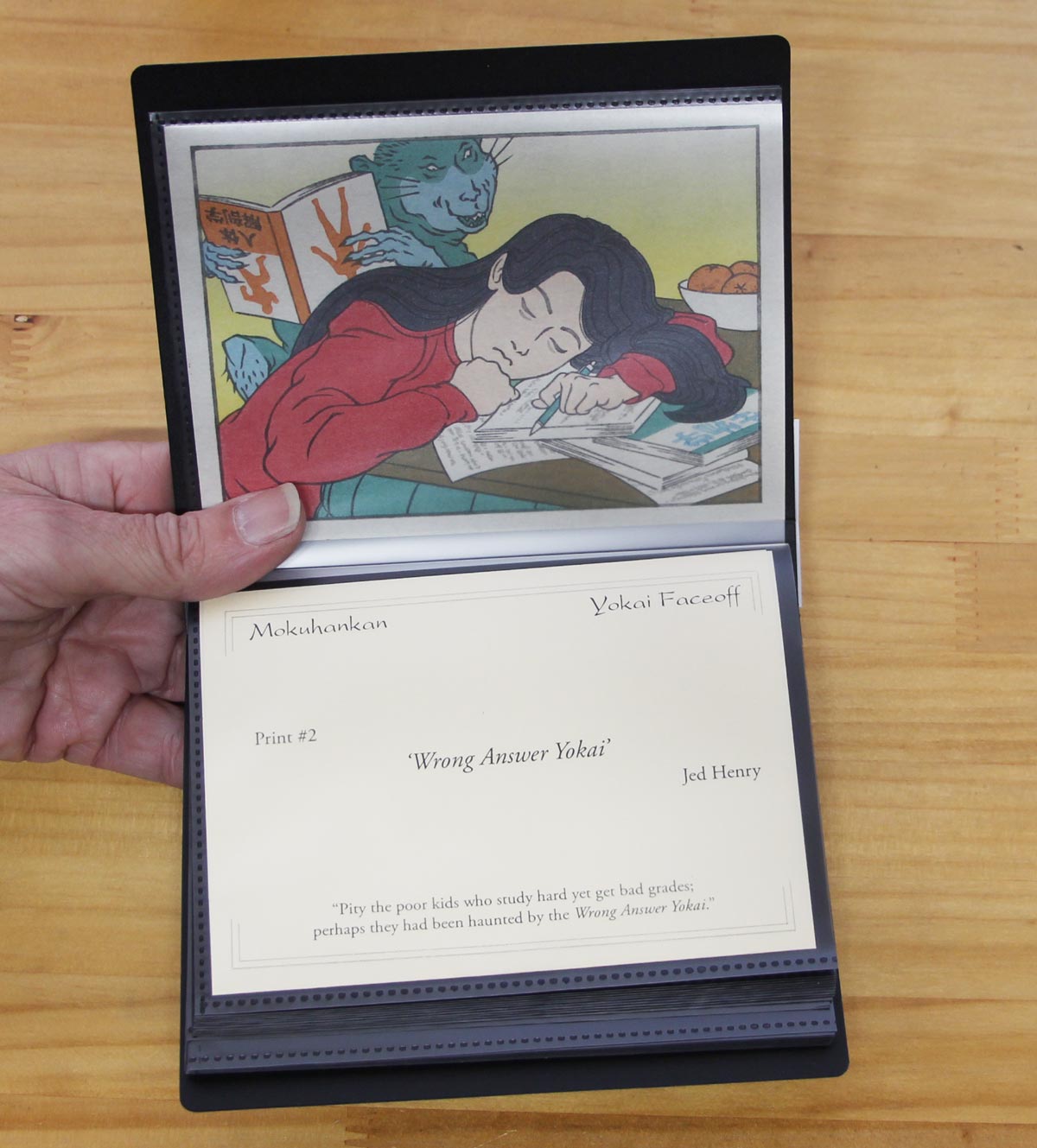 ---
Under raking light, the wonderful paper texture is clearly visible ... (click for a closeup) ... these are beautiful objects!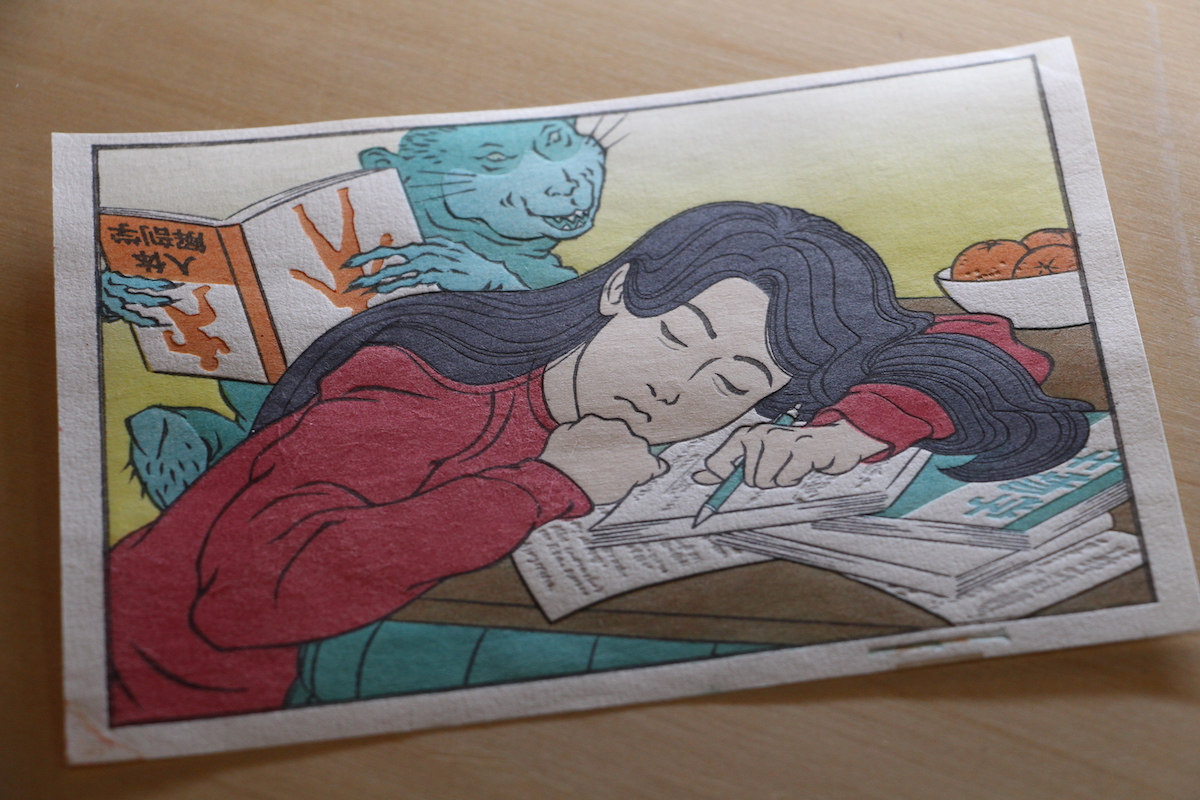 We hope you will join us for this interesting project!