Mystique of the Japanese Print
Explore the beauty of Japanese prints ...
The Mystique of the Japanese Print was originally created as the second in the 'Hanga Treasure Chest' print series made by woodblock printmaker David Bull, back in 2010~11. The set of 18 prints were carved and printed by Dave himself, and sent out to his personal subscribers. The hard cherry blocks are still in wonderful condition though, so the set is now being brought back to life in a new edition being prepared under Dave's supervision by the Mokuhankan printers.
From Dave's original description, back in 2010: "Join me in an exploration of the beauty of the Japanese woodblock print. What is it that makes them so attractive and interesting? How is the magic done? This series of eighteen prints will perform 'double-duty' - each one standing on its own as a beautiful print of course, but also serving as a demonstration of a particular feature of the genre. Learn while you enjoy! An explanatory pamphlet is included with each print, and by the time the series is over, you'll have had a 'seminar' on the traditional Japanese print (although without any exams!)."
The prints in this set have no single visual theme, nor are they of any particular 'genre'. They range far and wide through the entire field of Japanese print design, selected to serve the stated purpose - showing just where the attractiveness comes from. We see various techniques used, and explain by example what each one looks like.
The prints are in the traditional ko-ban size (13.5 x 19.5 cm - about 5 x 8 inches), and are sent out at the pace of one per month over an eighteen month period.
A beautiful paulownia storage case is shipped together with the first print. It includes a display stand, so you can always keep one of the prints on display, while the others are safely tucked away.
Check out the video at the bottom of this page, made by Dave some years ago, that originally introduced the series ...
Here are the first few prints. To see the rest of them, check the original website, set up when Dave first made the series ...
Presentation
The prints are mounted on acid-free mat board, and each one is wrapped in a folder which carries the descriptive story. These of course fit into the base of the storage case.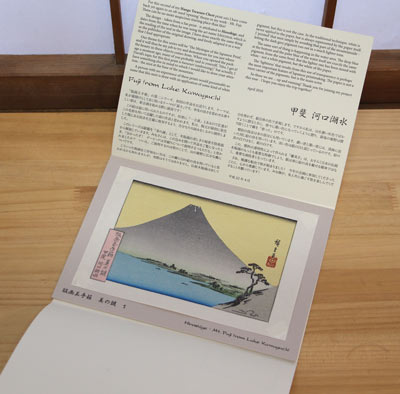 The display stand has an acrylic cover to protect the prints from dust and damage. As each new print arrives, month-by-month through the course of the project, you put it up on the stand, and slide the previous one into storage inside the case.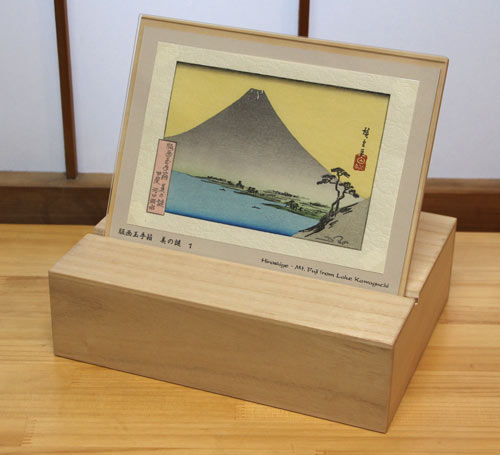 Each print carries our Mokuhankan identification embossment: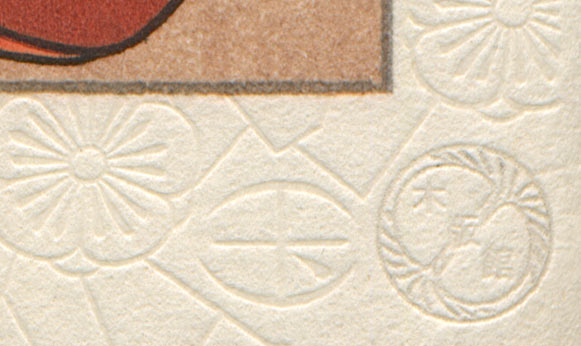 Beautiful prints ... interesting learning ... and all at a price that can't be beat. We hope you will consider collecting this interesting - and very educational! - set of prints!