My Solitudes
A book in 12 chapters, each bound with a woodblock print
Visit David's three 'private' nature retreats ...
The My Solitudes is a set of prints originally created by woodblock printmaker David Bull from 2007 to 2009. Each print was designed, carved and printed by himself, and sent out to his personal subscribers during those years. He made approximately 200 copies of each print, roughly half of which were subscribed to at the time. Dave's personal printmaking activities have now been brought into the Mokuhankan organization, which is handling management of subscriptions for the prints remaining from his original stock. (These are not later reprints by the Mokuhankan staff, but the originals carved and printed entirely by Dave himself.)
From Dave's original description, back in 2007: "Ever since childhood I have been interested in outdoor life, making frequent hiking and camping trips. In recent years I have explored areas near my home in Ome, a suburb of Tokyo, and have discovered three 'private' places to which I frequently return - one on a quiet river, one deep on a forested mountainside, and one on a deserted stretch of seacoast. In this series, the collectors will come along with me, as I return to these places with my camping gear - notebook and sketchbook in hand."
The series is not just a series of prints, it is actually a complete book written by Dave. Subscribers receive one volume each month for a year, each one with a woodblock print mounted inside, resulting in a complete set of 12 books/prints. The book is available in either English or Japanese.
The prints are 18.5 x 26 cm (about 7 x 10 inches), and are sent out at the pace of one per month over a 12 month period.
Dave's original website for the series is still online, where you can read more about the set.
Here are the first few prints. To see the rest of them, check the original website.
Concept
The book is written in a '3 by 4' arrangement; Dave visited three places (riverbank, forest, seacoast) once each over the course of the four seasons, resulting in a set of 12 stories - 'My Solitudes' - describing his activities and thoughts during those 12 camping visits to these quiet places. He then undertook the production of a set of 12 woodblock prints 'illustrating' the places, in a project that took three years (2007~2009). The two projects are being published in a combined form, with each print being mounted in a book which is one chapter in the overall volume.
The binding of each book is done in a unique pattern. Each location has its own woodblock printed pattern on the cover: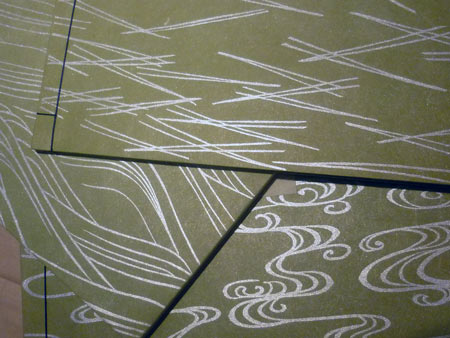 And each season has its own colour code:
Presentation
The book is available in two languages: English and Japanese. English books read from left to right, and the Japanese editions are bound the other way ...
itle="The print is inserted at the back of each book ..." >
Identification
Each print carries Dave's 'baren' identification embossment, a seal specially designed for this series, and the date ...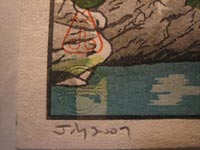 ... along with his signature: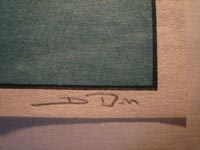 Storage
For the storage box, we have good news, and bad news. When Dave first issued this print set, he contracted with a box maker in China to deliver 200 paulownia boxes made to his design. The intial sample was excellent; the resulting shipment was mostly unusable junk. This time around, we are not considering overseas boxmaking, but simply do not have the resources here to take on the job ourselves. So we got a quote from a local supplier of paulownia boxes, for a box made to our own design, speifically for this set of 12 books.
Looks nice, doesn't it! Unfortunately, that level of competence comes at a price, and their quote to us came to an amount well over $200. So we have the sample here, and at this point - until we can find a better solution - that's all we are able to offer. A normal subscription to this series is for just the books/prints, with no storage. If you would like one of these cases, let us know, and we can place the order for you.
More information ...
Much more information about the set is available over on Dave's original website for the series. You will find a sample chapter of the book, complete slideshows showing all the printing stages of each design, and links to extensive blog postings made during the production of each of the prints, over a three year period.
We hope you will consider collecting this interesting set of prints!