Chibi Heroes!
... taking favorite video game heroes
and putting them back in the ukiyo-e style ...
What are Chibi Heroes?
'Chibi' is a word that a Japanese person might use to describe that insanely cute little toddler who lives next door: Playful? Check! Small scale? Of course! Did we mention cute? Double check!!
Our Chibi Heroes fit that name perfectly ... a fun collection of woodblock prints created by Dave Bull and his workshop as an offshoot of Jed Henry's larger Ukiyoe Heroes designs. We had a blast making these, and we hope you will enjoy collecting them!
every month a new pair of Chibies drops into your mailbox
designs by Jed Henry, carved and printed in the workshop of Dave Bull in Tokyo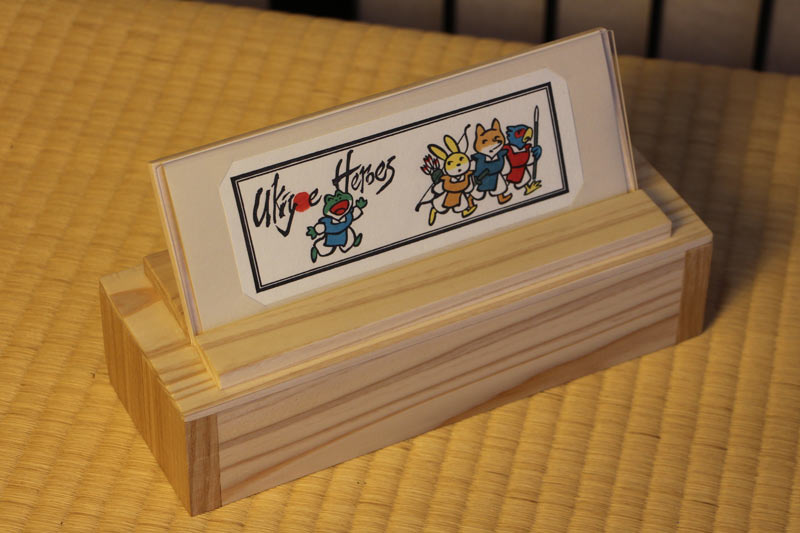 ---
The Set of Prints ...
---
Storage/Display
A combination storage/display case is available (illustrated above). It has space for all 24 prints inside, with an acrylic stand on top to display them in rotation one at a time ...
Another possible way to store your Chibies is with an album designed for collecting postage stamps. We can't supply this for you, but a search for 'postage stamp stockbook' should turn up many similar items. (Look for one that has black coloured pages - these show off the prints much more beautifully!)
We hope you will consider collecting this interesting - and fun - set of prints!