Legendary Loot!
The latest collaboration between Jed Henry and Dave Bull!
Just how ridiculous can Game Tropes get?
Over the past few years, Jed and Dave have collaborated on a number of different projects, most of them of course based on game characters. This series is a little bit different - instead of featuring famous characters, the series will feature famous tropes!
Quests ... bosses ... dungeons ... not to mention of course infinitely large bags of loot! All these things have been chewed over so endlessly, they are ripe for parody. And parody is what we do! Over the course of 2018, our workshop will create a set of 12 interesting woodblock prints drawn by Jed Henry in answer to the question posed above!
Schedule: the prints will be sent out to waiting subscribers once each month.
Size: the prints are being made slightly larger than the Japanese traditional hagaki size: 12 x 16 cm (approximately 4.5 x 6 inches).
Price: we want to make this series as accessible as possible; even though they are all completely hand-carved and hand-printed, they will be just $25 each (or the equivalent in other currencies).
We hope you will consider joining us for this adventure ... no special armor or power-ups required!
(Note: we were at first intending to call this series "The FaR P G Side" ... which should give you a pretty good idea of the kind of things we are going to do during the year ... :-)
---
---
The Set of Prints ...
---
Storage/Display
"How do I store my prints? How can I display them? Do I need to buy frames?" are some of the questions we receive about our subscription print sets, and after much experimentation and research, we have the answer to all those questions in one neat package. Introducing our combination storage/display box!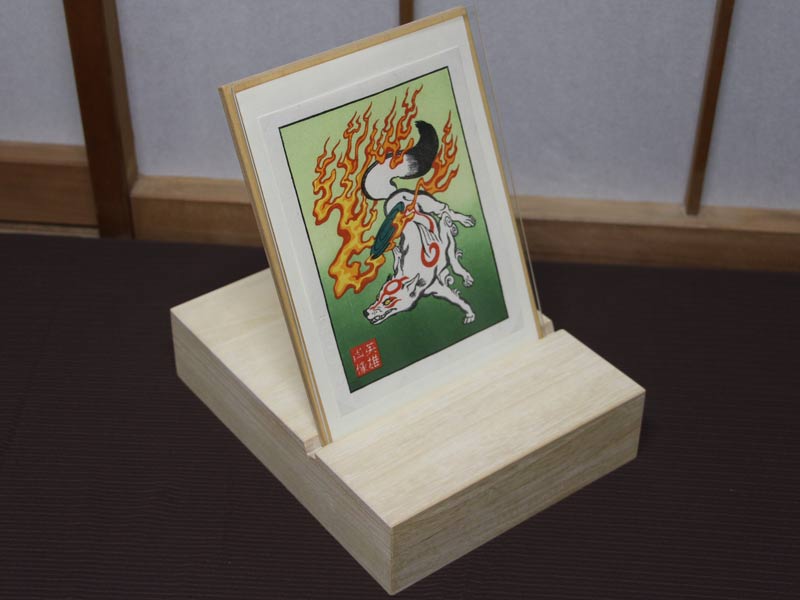 The box is an optional purchase - typically ordered together with the first print in the set, but also available later as an 'add-on' option. Each box has room for the complete set of 12 prints in this series, and incorporates a display stand with acrylic dustcover. Rotate the prints frequently (and don't place it where direct sunlight will fall on the print surface), and you have the perfect solution for both long-term storage, and daily enjoyment of your collection! Here is the page with photos and complete information.
---
Packaging/Shipping
If you are concerned about how safely the prints might be while being shipped to you, please have a look at how our shipping/packaging works!
---
Under raking light, the wonderful paper texture on our prints is clearly visible ... these are beautiful objects!
We hope you will join us for this interesting project!