Mokuhankan Recipe Contest!
Can you create a new (and tasty) confection for us?
A couple of years ago, I posted a long piece on our 'Conversations' blog entitled Mokuhankan in the year 201x, setting forth some of my 'vision' for this business in the coming years.
I talked about the shop we will have, the 'open studio' workroom, and other parts of the organization, including a small museum/gallery space, and a Library, where people could view prints from our collection. But I couldn't resist adding another section - a pleasant café where our patrons could relax and enjoy light meals. As part of my description of that (still totally imaginary) place, I included mention of a special confection that we had on the menu - a type of cookie shaped like our baren printing tool. I didn't go into too much detail - what it was made of, etc. - because nothing has yet been decided ... and of course it may not prove practical to create such a thing.
This is where you come in. Even though our café is still in the 'might be real one day' stage, we think it's time to get those baren cookies designed! We can't do this ourselves, so we are asking for suggestions, anything from simple hints on how we might proceed, right up to fully worked-out recipies.
We are in no position to pay anything for this at present, but we will make this promise: if your recipe turns out to be something that we can use (or adapt) when/if we do get this café up and running, we will happily pay a royalty to the recipe creator for each one we sell!
Background: What a baren looks like ...
Here is our baren, the firm disc that we use to press the printing paper onto the woodblocks. This one is just about 13cm wide (the standard size):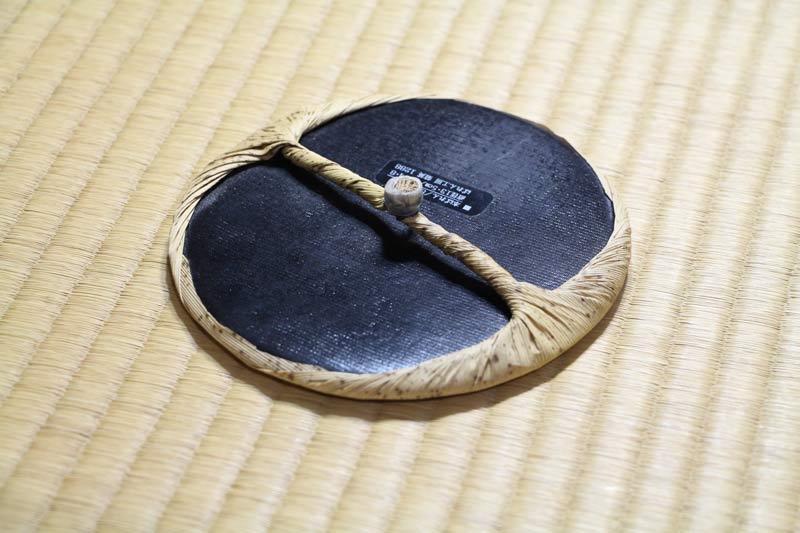 Looking at the underneath, we can see how the bamboo sheath cover wraps tightly around the disc, being tied on the top:
Here is a baren in use: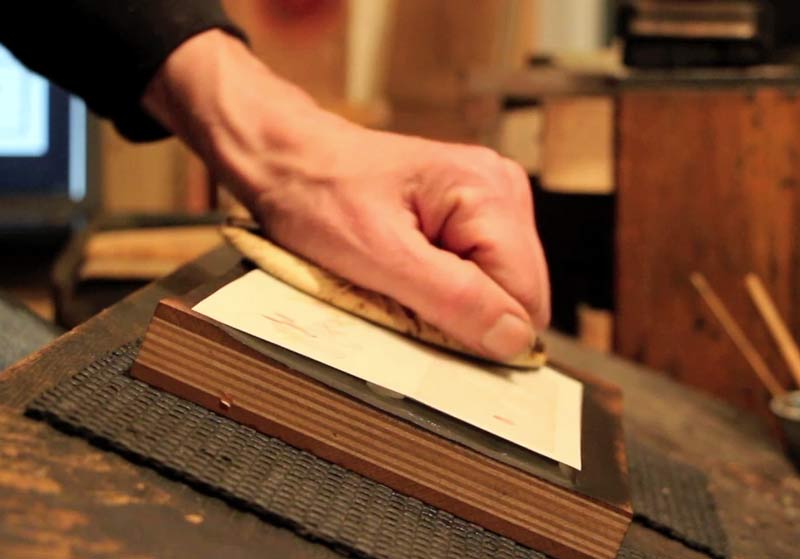 There are three main components to a baren: the outer bamboo sheath wrapper, a lacquered backing disc, and an inner coil: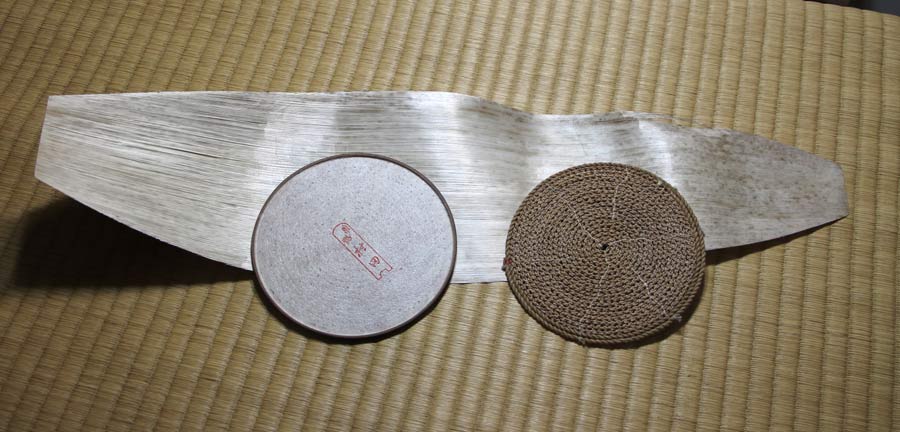 The backing disc is actually made up of many dozens of extremely thin sheets of Japanese washi layered together, and then covered on top with lacquer:
Here's a close-up of the inner coil, letting you see how it is woven from innumerable thin strips cut from another bamboo sheath: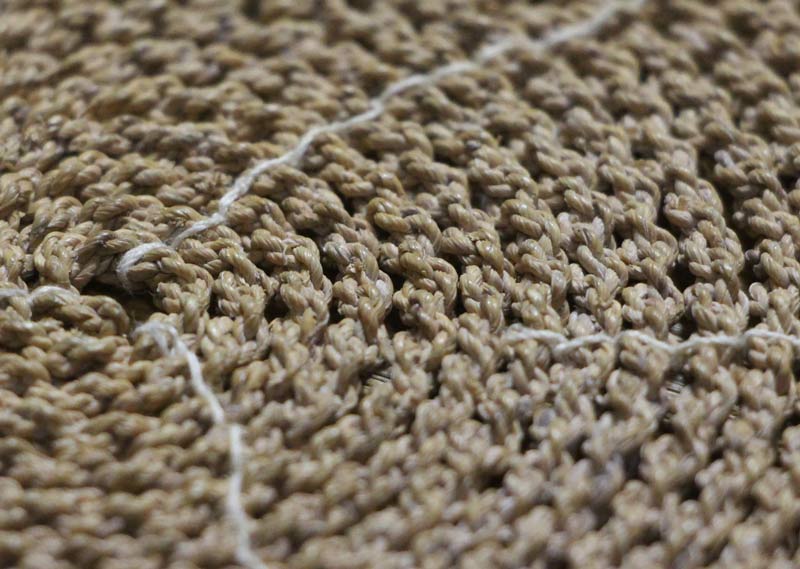 And this lets you see how it all fits together: the coil fits into the backing disc, and the bamboo sheath ties around: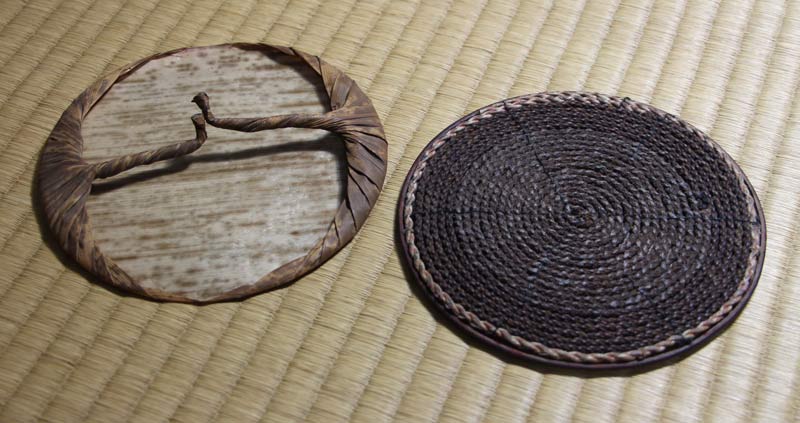 Our proposed confection ...
What we are thinking is to have baren 'cookies' in two types. One would be a rather specialty item, perhaps made in the same size as an actual baren, and resembling it quite closely. Perhaps the innermost part would actually be a kind of coiled-up edible substance, backed by a firm edible disc closely resembling the real one, and then wrapped in a sheet-like material that could be (hopefully) coloured in a way that matched a real baren in appearance.
But a second type of the confection could be smaller and simpler: perhaps the size of a 'regular' cookie, and without such inner detail; maybe just a dark disc with a lighter-coloured 'wrapper', something that just resembed a baren in overall appearance.
For either type, it could be that the dark material might be a chocolate disc, or perhaps something more 'cookie-like'; we have no strict preferences at this point.
Manufacture ...
An important consideration for us is not just how interesting - and delicious - your confection might be, but how practical it would be to produce. We will be making the initial trial batches ourselves, but if our tests seem promising, we will attempt to find a bakery (or confection manufacturer, of which there are many here in Japan) who would be able to make them for us in larger quantities. It will thus be essential that the item can be made with a minimum of fussing and time-consuming hand work.
As I mentioned above, we have no budget for this just yet, and we cannot 'buy' the rights to your confection recipe/design. If you are willing to take a flyer on this, and make a proposal with the expectation that it could earn you royalties later when (and if) we ever get this café off the ground, we would love to hear from you. Please use the contact form below to ask for more details, or to send your recipe, or - if you aren't concerned about keeping your ideas secret - post comments or suggestions on this blog entry.
Ladies and Gentlemen - start your ovens!