千社札コレクション (2011 春) (Senshafuda Collection - Spring 2011)
Designer: Kaori Seki | Carver: Tsunehisa Sato | Printer: Hirokazu Tetsui
Size: 17.5cm by 6.2cm | Enlargement | Shipping Code: [SEN]
Price: $ 38.50£ 27.75€ 30.00

Description: (transcribed from Dave's text included with the packaging of these prints):
Welcome, to the first issue in what I hope will become an ongoing series of prints from Mokuhankan - our Senshafuda Collection.

These days, most people here in Japan associate senshafuda with the simple name labels sometimes pasted on shrine walls or gates, but few know that in the early part of the 20th century, there was a thriving culture of creating and exchanging beautiful and colourful woodblock prints in this format. Seasonal motifs, traditional imagery, and topics of the day were all commonly featured on the highly collectible little prints, and we at Mokuhankan are going to have a go at bringing the genre back to life, nearly one hundred years later!

The three prints you see in this folder have been created by a 'team' of six people. This form of collaborative printmaking - which was the norm back in 'the old days' - is thought by some to be on its last legs, but I am not ready to accept that. And what better way to help bring the genre back to life again than to use some 'fresh legs'! I sought out a young artist, one with no experience at designing for prints, and gave her a mandate to come up with images that would not only showcase the beauty inherent in the traditional printmaking methods, but would also be interesting to a contemporary audience. I then hired two young - and extremely enthusiastic - craftsmen to turn the designs into actual prints.

The results are in front of you now. I may be biased, but I think we have succeeded in our mission to begin to revitalize the old genre. Pre-orders for these prints have been very strong, so even as I write this little note, we have already begun work on the production of the next set, which will be ready in early summer.

See you then, I hope!
Packaging: The three prints are packaged inside our 'patented' Roll-up folder, which includes the above description, along with the production credits: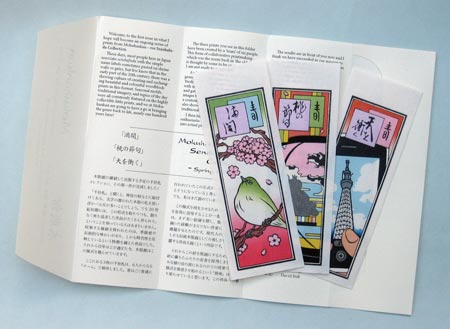 Here are the three prints individually, linked to enlargements:
Note: although our senshafuda prints are part of a seasonal series (Summer, Autumn and Winter sets will follow later), they are not being sold by subscription; each package of three is sold individually. You are of course free to collect them all though, and purchasers of this set will be given an Early Bird offer when subsequent sets are ready, to ensure that your collection can remain complete, if you wish.
We here at Mokuhankan hope you like these new prints that we have created, and that you will consider adding them to your collection, or using them as gifts for a friend.
More Information: