« Catalogue Catchup! | Front Page | A well-deserved (but short!) rest »
Posted by Dave Bull at 3:37 PM, March 1, 2013 [Permalink]
As promised yesterday, here is another batch of catalogue updates ... most of these made from blocks from my original 'Hanga Treasure Chest', which is now out of print. [As with yesterdays list, the first link in each pair is to the main 'large screen' website, and the second one is to the older 'standard' site ...]
Bush Warbler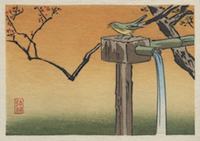 A reproduction of a 'light' little design by Takahashi Shotei, originally published as a matchbox size item back in early Showa. Printed by young Teiko-san ...
Girl on Bicycle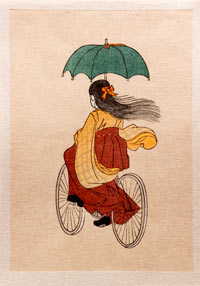 This one was among the most popular of the prints in the original series - it's a small portion 'clipped' from a larger ukiyo-e print by Chikanobu.
Rainy Fuji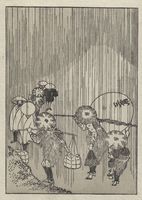 Back to Hokusai again - we can never have enough! This one is reproduced from his famous '100 Views of Fuji'.
Ogino Isaburo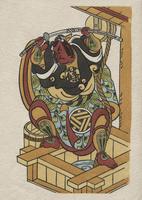 A moment of drama from the kabuki stage ... the 'hero' bursts forth from the well where he has been hiding, to rout the bad guys!