« Ukiyoe Heroes : Day One | Front Page | Ukiyoe Heroes : One third along ... »
Posted by Dave Bull at 2:24 AM, August 5, 2012 [Permalink]
Coming up for a bit of air here ... the past few days have been pretty frantic. The Kickstarter project doesn't need any particular attention from me at this stage; Jed-san is handling all the management and updates, etc. My part simply consists of getting the production moved forward as best I can.
We're 'ramping up' fairly slowly. Printers Fujii-san and Ayumi-san are currently working on test batches of the Rickshaw Cart print, to get familiar with the block set and the various quirks of the colouring. Once they've done this, they'll each be starting a main run for 'real'.
Tsushima-san and Ayumi-san will be doing runs of the little Chibi prints that were announced at the time of the Kickstarter opening. These are little items similar to the senshafuda prints I made last year, but much simpler in image and execution: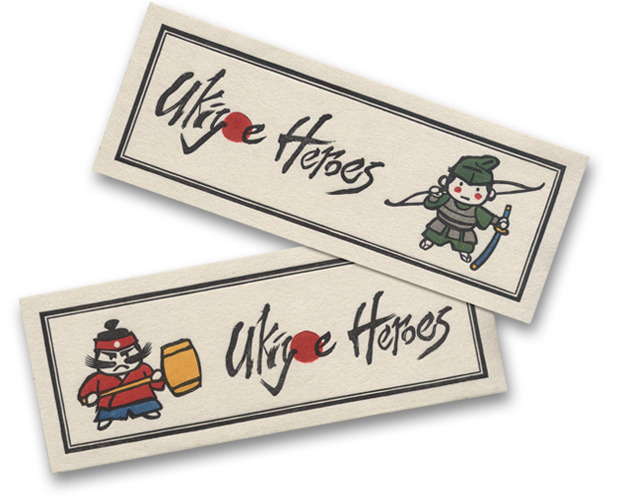 Jed wanted something that collectors of his giclée prints could have to show them how attractive actual woodblock can be, and there have been a ton of orders for them, so these ladies are going to be busy indeed for the next few weeks.

And speaking about the Kickstarter campaign, it has now passed the four day mark. We get some basic statistics from the Kickstarter people, among which is this graph of contributions to date (enlargeable):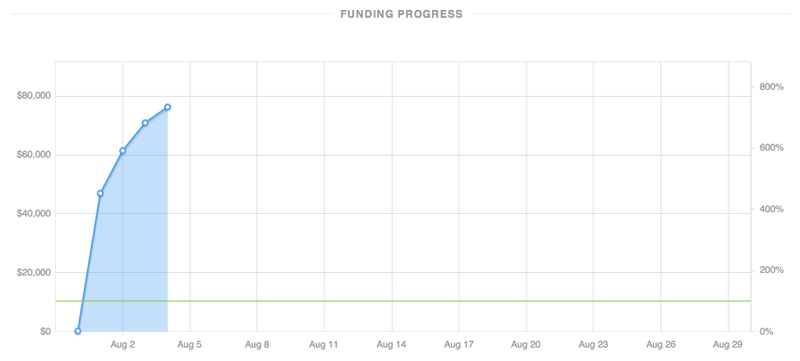 The horizontal green line down near the bottom is the original goal. Just how much this is going to level off, or keep climbing, remains to be seen ...
Added by: Tom Kristensen on August 6, 2012 7:16 AM
Amazing. If $10000 gets one design into production, does $70000 translate into seven designs?

Added by: Dave on August 6, 2012 7:37 AM
No, it's not that simple at all. Jed will be posting soon on the Kickstarter to give a run-down of how the costs/financing works.
The $10,000 was a number chosen to cover the costs of getting the first copy of the first physical print into existence, along with the Kickstarter setup costs: the video, the cost of printing giclées as rewards (at that stage we were assuming few, perhaps none, orders for 'real' prints), and etc. etc. So $10,000 = one print has no meaning in itself.
But now that we have learned the general ratio of giclées to prints, we are trying to work out the actual budget for moving forward - how to balance the woodblock production costs with the (considerable) fullfillment costs over on 'his side'. Supplying over 1,000 of those posters (all on handmade paper) is going to be neither simple nor inexpensive. So he will be soon setting some kind of production schedule, with the numbers based on his analysis of the costs, and the dates based on the estimates I have given him.
And of course now that we are 'Kickstarted', he also has to include some level of profit at his end (the 'feeding his kids' part of the equation). (The 'profit' (hah!) at my own end of this is built into the price that I quote him for making the prints).
So no, the (now) $80,000+ that is tallied on the Kickstarter certainly won't mean automatic sponsorship of 7~8 more designs; it will be something fewer than that. But whatever designs don't get actually scheduled during the course of the campaign will simply follow later one by one. Now that we know there is interest in them, we will be able to finance those ourselves from those profits from the earlier ones ...

Added by: Tom Kristensen on August 6, 2012 8:35 AM
The adage, be careful what you wish for, springs to mind. Distributing 1000 large giclee prints at $40 each is a huge job, especially give free shipping in the US. Hopefully the price point was set high enough. The smaller woodblocks are easier to handle and I suppose return a larger profit, but my bias is showing.
So, you would have a grip on the ratio of woodblocks to giclees? I was eyeballing all the different pledge packages and I came to a rough estimate of 1:2 in dollar terms, 1:3 in numbers (if we include the little chibi prints). This is an outstanding vote of confidence in the traditional print - very heartening for those of us in the old school.

Added by: Dave on August 6, 2012 8:59 AM
Well, doing the fullfillment on the giclée side is of course nothing at all to do with me. Jed has kept me up to date with his planning (and his contingency planning) and it seems that he is on top of it. He has contracted with what seems to be a very capable large printing firm to handle printing/shipping/etc., and I understand that he is keeping them informed about the quantities involved as things move forward during the month.
As for the giclée/print ratio - which I had hoped 'might' get down to as low as 10 to 1 - it is currently standing at 3.50 to 1 (this doesn't include the little Chibies, of which 200+ have been ordered so far). This has stunned both of us, and speaks so well for the future that we are just dancing around the room. That ratio - to my way of thinking - is far more important than the actual $ quantity of sales at present, and as you mention, is 'very heartening for those of us in the old school' ... which perhaps is about to become the 'new school'!

Added by: Dave on August 6, 2012 12:19 PM
Before I run off to the airport for the NHK documentary job, here's the graph a day later: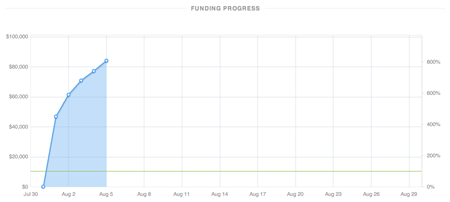 And that ratio is down to 3.38 to 1 ...

Added by: Mike on August 6, 2012 9:07 PM
If you look at Ben Turners comment at http://www.kickstarter.com/projects/1499165518/ukiyo-e-heroes/posts/281890.
I think he has a very valid point in that putting each woodblock print up as independent kickstart project free's them from dependence on preceeding woodblock sales target. It wouldn't be good if there was demand for a wodblock but that wodblock wasn't produced because an earlier wodblock didn't meet its target.
Individual kickstart projects is the clearest way to determine what demand there is for each woodblock print.


Added by: Jacques on August 8, 2012 5:51 AM
You guys now topped the magical $100,000 limit. Congratulations!!