« Another introduction! | Front Page | Coming up next! »
Posted by Dave Bull at 2:26 AM, May 6, 2012 [Permalink]
I said at the end of the previous post about the workroom expansion that I would post photos when I 'breakthrough' ... Well, 'breakthrough' hasn't happened yet, but we have some photos anyway.
Here's a photo showing the area in question. That is the outer wall of my workroom on the left, and we are looking at my neighbour's second basement level: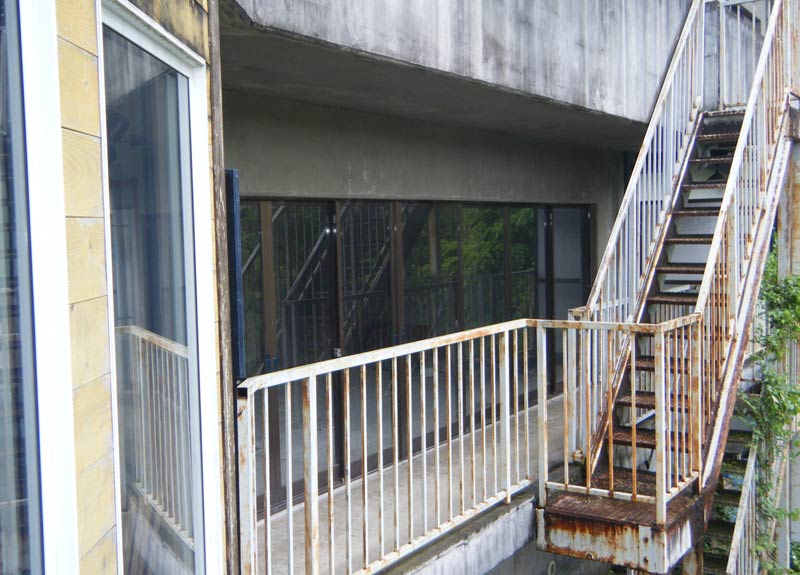 And if I go over there onto his 'balcony' and look back in this direction, we see this: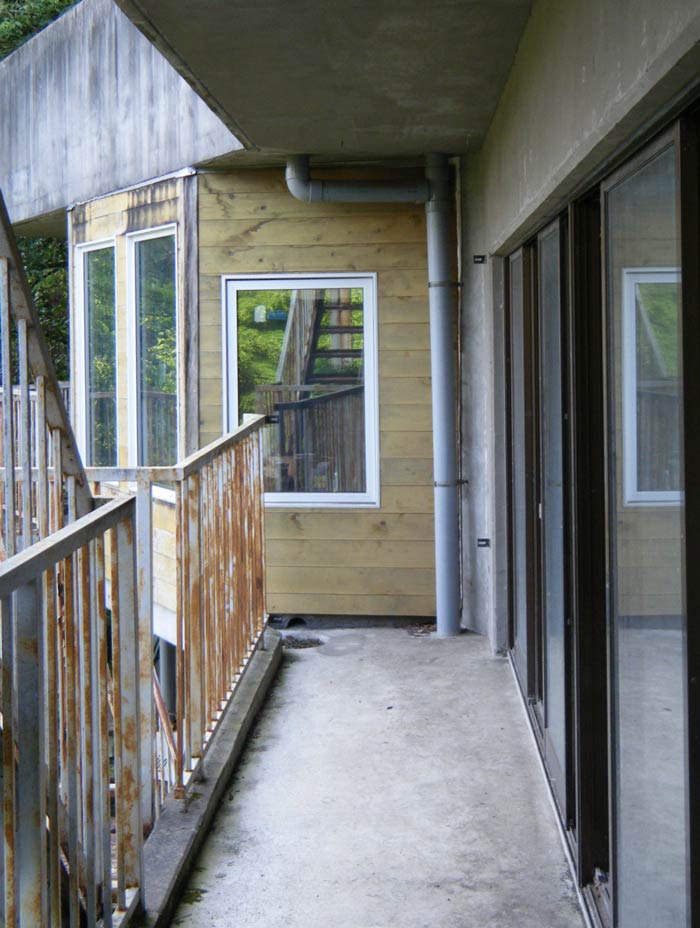 And going inside ...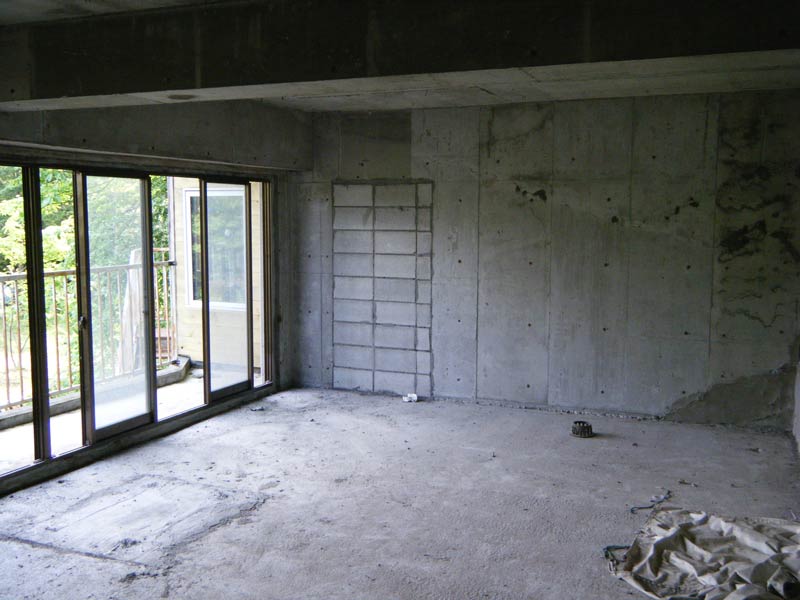 What you are seeing here is about half of the room (the concrete beam on the ceiling is the half-way point). The space is about 4 x 8 meters (something approaching 400 square feet).

The breeze-block patch you see on the wall there is of course the other side of what we saw in the earlier photo of my workroom. We've now cleared away the insulation and framing on our side, ready for opening it up: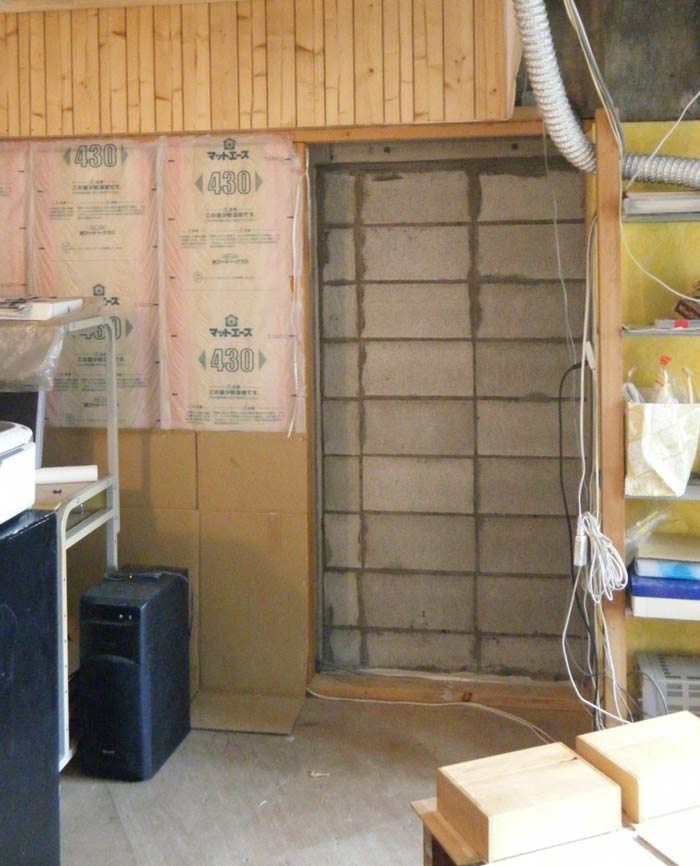 So, after teasing everybody with the photos earlier, I can now explain. There are three houses in a row, all perched on top of a single large concrete platform. When it was being built, there was no plan to use the lower levels at all; the platform was simply a way to create level 'ground' for building the houses. Gaps were left in the concrete walls down there to allow the workers passage back and forth as they built the place.
But somewhere during construction, somebody had the idea to make the lower levels accessible to the residents of the houses, so they enclosed the outer walls, blocked up the gaps between the units, and added a rat's nest of metal staircases for access. The 'rooms' themselves were left as bare concrete shells.
Although I myself found the presence of those two basement levels to this structure a huge 'selling point' when it came time to buy this building, my neighbours have never seen things the same way. The people in house #3 are using the first basement as a suite for Grandma, and the lowest one for storage (at least until recently, when their son began to use it for a personal room). The people in house #2 (my direct neighbours) had their B1 level outfitted as a playroom for their (then small) children, but in recent years are not using it at all. As for their B2 level, the owner has yet to set foot in the space, more than 18 years after he purchased the house.
Although that sounds simply incredible to me, it sort of makes sense from his point of view. These are north-facing rooms, at the lower level of a steep valley, right on the edge of a (damp) river, and are ... cold, cold, and cold. A typical Japanese father has no experience at all with home renovation, and will not even own such a thing as a hand drill. The only way available to him to turn this space into something liveable would involve calling a local builder, and of course spending a considerable amount of money. For what? They have a normal amount of room upstairs, and anyway, both parents work six days a week, and both children are out from morning 'till late at night with school activities. Their house is actually used only for sleeping.
So long story short, I have looked at that space for a number of years now, idly thinking 'what if ...' And now, with the expansion of our activities via the Mokuhankan venture, it has become time to make a move. I approached him the other week with a proposal to rent it, and he shrugged and gave a 'why not' kind of answer. I typed up a simple proposal outlining each of our responsibilities (rental fee, termination procedure, noise rules, maintenance, improvements, etc. etc.) and the two of us signed it. He gave me the key this morning, and I headed in there to clean up.
I removed an Egyptian layer of dust from the floor with brooms and a shovel, then hauled in my new compressor and blew all the rest away. I couldn't begin to smack the blocks out, because today is Sunday and everybody in the structure is at home, and any blows to the concrete resonate through the whole place. I'll get at that job sometime during the next week when everybody is out at work and school.

But I mean, can you actually believe this? What are the odds that - living in Tokyo as I do - there would be an unused space next door? And that the owner would let me use it? And that he wouldn't want an arm and a leg? And ... that there would be a doorway already cut in the concrete, so that we can simply step through into the wide open new area?
No way! Never 'gonna happen!
Added by: Gayle on May 7, 2012 12:54 AM
Looks like it's gonna happen! Creative thinking gets you everywhere. :-)

Added by: Sue Kallaugher on May 7, 2012 1:03 AM
Serendipity, meant to be.........

Added by: Sharri on May 7, 2012 3:00 AM
Things like that happen when you think outside the box - or house, as the case may be. Congrats!

Added by: Kim on May 7, 2012 4:02 AM
Looks like great natural light is streaming in through those big windows! I'm sure this light will help work in the nice warm weather, but you might have to put up an insulated curtain wall during those cold Japanese winter months!!!

Added by: Phil Bivins on May 7, 2012 9:52 AM
I don't believe in coincidences, things happen for a reason. So I say what a wonderful opportunity. I am certain that David will make great use of the space. All the best!

Added by: Julio Rodriguez on May 8, 2012 2:57 AM
Nice ! sounds like you are going to have to go out and buy more insulation, or is it just for storage ? Too bad about that staircase, it probably blocks an excellent view....while you are at it...paint the darn thing !!!!

Added by: Dave on May 8, 2012 9:30 AM
insulation ... paint ...
Right now, all that sort of thing will have to wait. The next few months are going to be extremely critical for us, as Mokuhankan's financial 'foundation' is very shaky right now (because of the currently low number of collectors of my own subscription series).
So any such 'improvements' will have to wait until at least this autumn. The room will be used for the next week or so for case varnishing and that sort of thing, and then once that job is out of the way, we need to build a few more printing 'stations' and hunt up some more trainees. This venture is only going to fly if we can develop a stable production base, and that means the sooner we get more people started on the first step of the ladder, the better ...